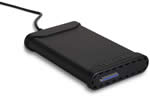 CES 2007: Toshiba enters the personal storage market in North America with new USB 2.0 portable external hard drives. The Toshiba USB 2.0 Portable External Hard Drive will be on retail store shelves in Spring 2007 at price points starting at $139.99.
Toshiba Press Release
IRVINE, Calif.—(BUSINESS WIRE)—Toshiba Storage Device Division (SDD), the industry pioneer in mobile storage products, will capitalize on its 2.5-inch hard disk drive (HDD) technology expertise and consumer brand leadership with a new line of USB 2.0 portable external hard drives in 100GB, 120GB and 160GB1 capacities. Available in North America, Toshiba's new personal storage line of 2.5-inch HDDs provides a unique solution for data back-up by enabling automatic power-on and save capabilities for worry-free content management.
As consumers are embracing a digital lifestyle, the importance of easy-to-use back-up solutions for personal memories and other entertainment content is critical. Toshiba's USB 2.0 Portable External Hard Drive line provides a worry-free solution for back-up of cherished photo, video, music and data files for the growing digital home and home office.
"The need for backing up and preserving digital data is increasing quickly among the massive consumer base," said Dave Reinsel, director of storage hardware research at International Data Corporation (IDC). "In 2006, more hard disk drive terabytes shipped into personal storage devices worldwide than in the enterprise storage market. This important inflection point exemplifies the critical need for companies to offer reliable and easy-to-use backup solutions that will help the masses protect and preserve their digital memories."
Simple, Scheduled, Automatic and Reliable
The Toshiba USB 2.0 Portable External Hard Drive is automatically powered through a USB cable when the computer is turned on for switch-free on/off functions. Bundled with the award-winning NTI Shadow™ software, the back-up solution eliminates the need to push a button or click an icon to activate back-up once parameters are set. The NTI Shadow™ software runs in the background, capturing updates to files and automatically saving them to the external drive. The often tedious back-up process is further simplified by choosing continuous or specific days, times and frequencies for back-up operation in the set-up process.
"We married our expertise in hard drives with years of consumer insight as a leading retail brand to design the best possible personal storage products," said Maciek Brzeski, vice president of marketing, Toshiba SDD. "This solution is for everyone from tech aficionados to novices – especially people who have been afraid of data back-up but know they need a solution for treasured personal memories. With click-free and switch-free operation, data back-up is a snap."
Style with Substance
Packaged in sleek black aluminum housing with a blue power-on indicator light, the Toshiba USB 2.0 Portable External Hard Drive is an attractive complement to any notebook or desktop PC. At 5.6-inches long by 3.5-inches wide and less than one inch tall (142.08mm by 88.0mm by 23.65mm), the drive is a space-saver on the desktop. The new external hard drive incorporates Toshiba's all-new, patent-pending shock mounting and ventilation system for a trouble-free mobile storage solution. For added security, Toshiba is including a one-year limited warranty program for its personal storage devices.
Availability
The Toshiba USB 2.0 Portable External Hard Drive will be on retail store shelves in Spring 2007 at price points starting at $139.99.
Product Specifications:
Product Name Toshiba USB 2.0 Portable External Hard Drive
Capacities 100GB, 120GB, 160GB
Dimensions 0.94" (H) x 3.5" (W) x 5.6" (L)
23.65mm (H) x 88.0mm (W) x 142.08mm (L)
Interface USB 2.0; (USB 1.1 Compatible)
Compatibility Microsoft Windows 2000/XP/Vista
Macintosh OS X 10.3.9 (Universal Application)
System Requirements Available USB 2.0 Port
CD-ROM Drive (for software)
USB 1.1 requires 2 USB Ports
About Toshiba Storage Device Division
Toshiba SDD, a division of Toshiba America Information Systems, Inc., leads the market in the development, design and manufacturing of small form factor 2.5-inch, 1.8-inch and 0.85-inch hard disk drives, as well as next-generation HD DVD storage products. Toshiba SDD markets high-quality peripherals to original equipment manufacturers, value-added resellers, value-added dealers, systems integrators and distributors in the United States. Inherent in the Toshiba storage family are the high-quality engineering and manufacturing capabilities that have established Toshiba products as worldwide leaders. For more information, visit www.toshibastorage.com.
About Toshiba America Information Systems, Inc. (TAIS)
Headquartered in Irvine, Calif., TAIS is comprised of four business units: Digital Products Division, Imaging Systems Division, Storage Device Division and Telecommunication Systems Division. Together, these divisions provide mobile products and solutions, including industry leading portable computers; projectors; imaging products for the security, medical and manufacturing markets; storage products for automotive, computer and consumer electronics applications; and telephony equipment and associated applications.
TAIS provides sales, marketing and services for its wide range of information products in the United States and Latin America. TAIS is an independent operating company owned by Toshiba America, Inc., a subsidiary of Toshiba Corporation, which is a global leader in high technology and integrated manufacturing of electrical and electronic components, products and systems, as well as major infrastructure systems. Toshiba has more than 172,000 employees worldwide and annual sales of over US $54 billion (FY2005). For more information on Toshiba's leading innovations, visit the company's web site at www.toshiba.com.
© 2007 Toshiba America Information Systems, Inc. All product, service and company names are trademarks, registered trademarks or service marks of their respective owners. Information including without limitation product prices, specifications, availability, content of services, and contact information is subject to change without notice.
1 Toshiba defines a gigabyte (GB) as one billion bytes.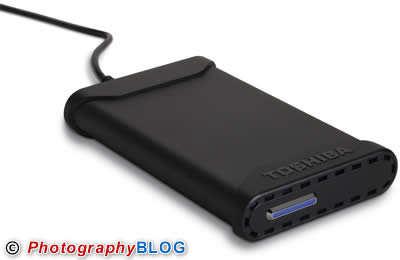 Your Comments