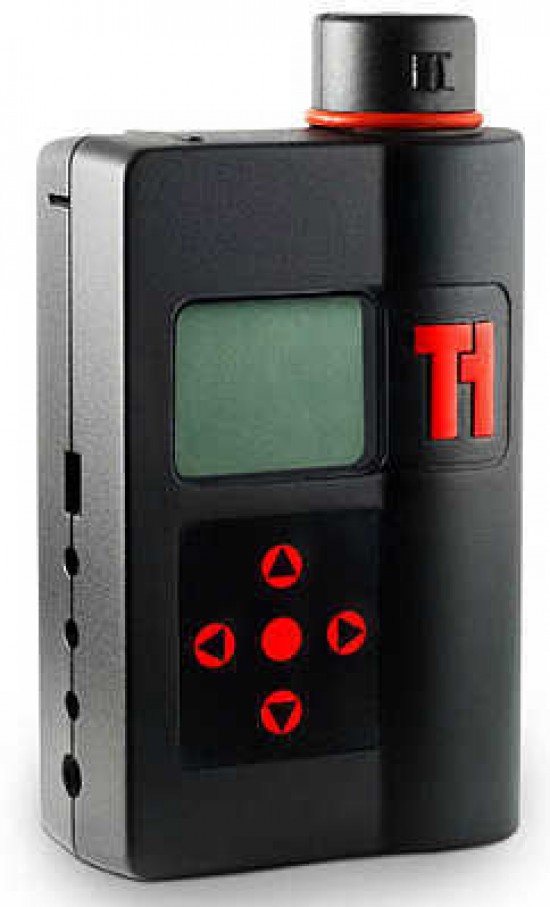 Triggertrap's Redsnap accessory, a modular camera trigger for high-speed, camera-trap and time-lapse photography, has exceeded its funding goal of $50,000 on Kickstarter by nearly 6 times. Billed as "one of the fastest, easiest to use, and most affordable high-speed flash- and camera triggers money can't yet buy," Triggertrap Redsnap uses interchangeable sensor modules that you can snap on when you need them, and tuck away in your camera bag when you don't. It has three outputs, so you can hook up three cameras, three flashes, or a combination of both. It also has a special connector allowing it to talk to the Triggertrap Mobile App for iOS and Android. With over £288,000 pledged, Triggertrap Redsnap has exceeded all of its stretch goals, and will go into production in the first half of 2014.
Triggertrap Press Release
Triggertrap Returns to Kickstarter with Redsnap
An infinitely expandable high-speed camera triggering tool, Triggertrap Redsnap will put an endlessly creative set of sensor triggering capabilities at the fingertips of photographers of any skill level
LONDON – Triggertrap, developer of creatively-thrilling camera triggering solutions which eliminate the barriers to exciting photographic techniques, today announced its latest Kickstarter campaign to support the next generation of camera triggering technology from the boffins at the Triggertrap skunk works. Its latest invention is the Triggertrap Redsnap (short URL:tri.gg/kick), an infinitely expandable modular triggering system that puts high-speed lasers, motion sensors and sound triggers in the camera bag of every photographer at a fraction of the price of currently available accessories.
The Kickstarter campaign will bring Redsnap into the hands of professional and enthusiast photographers everywhere. Campaign backers will be rewarded not only with bragging rights as early adopters, but with cool wallet-jamming savings with backer packages being offered at about half of the anticipated retail price! With an array of funding options, backers will find several prepackaged kits available for their individual photographic needs ranging from the Timelapse Kit (£35) to a Wildlife Kit (£120) and multiple all-inclusive kits (£125-£190). For those backers that simply can't wait to get their hands on Redsnap, top backers will earn special Queue Jumper status (£1,000), and be eligible for one of the extremely limited pre-production prototypes.
With each of its successive projects Triggertrap has continued to break down the traditional barriers to entry of creative photography techniques. The very company itself was brought to life compliments of the Kickstarter faithful back in 2011 with the launch of the Triggertrap v1. More recently, the company developed Triggertrap Mobile, which became tremendously popular. With Redsnap, Triggertrap is continuing to democratize once-complex, virtually unreachable photography techniques.
"We were extremely fortunate to have the community's support for our first Kickstarter campaigns, and the support of our backers has not only provided the initial funding for multiple Triggertrap projects, but has been a point of inspiration that keeps us reaching for the next innovation," said CEO and Triggertrap inventor Haje Jan Kamps. "If you thought Triggertrap v1 and Triggertrap Mobile opened your eyes to new techniques, Redsnap will leave you dizzy with creative options."
Redsnap for High-Speed Flights of Fancy
Want to capture darts popping balloons, or the aggression-relief of smashing glass bottles with a hammer? These are techniques that traditionally would require numerous expensive tools; with Triggertrap Redsnap this is just the beginning of the brave new photographic world that will avail itself. How about speeding bullets, elusive night-stalking wildlife, or month-long timelapses? Now we're talking!
The sensor modules are interchangeable, configurations are endlessly expandable, so they can be snapped on when you need them, tucked away when you don't, or daisy-chained together for the unique triggering demands of just about any shoot.
Redsnap features three outputs, to hook up three cameras, three flashes or a combination of both. It also has a special connector allowing it to talk to our best-selling Triggertrap Mobile iOS and Android app, which features 14 additional triggering functions.
Geek Out with Some Redsnap Functionality
As a modular system, each kit builds off Redsnap, which on its own is a powerful camera triggering tool, and then snaps on additional blocks for laser sensors, infrared motion sensors and much more. The ability to make completely customizable combinations makes Redsnap one of the fastest, easiest to use and most affordable high-speed flash and camera triggers that money can't buy…at least not yet!
Features of the Redsnap base block include:
·         A barrel of Timelapses: Running on a single set of AA batteries, month-long timelapses are a reality that can go on and on and on…
·         TimeWarp: As seen on Triggertrap Mobile, Redsnap features the world-exclusive TimeWarp mode, which enables photographers to take timelapses with acceleration
·         Long Exposure HDR: Redsnap makes Long Exposure HDR photography easy: Choose intervals from 1/3 to 2 EV steps, and up to 19 bracketed exposures per HDR set. Why would you need 19 exposures? Absolutely no idea, but it's there if you want it.
·         Star Trail mode: Take a series of long exposure shots to get low-noise star trail photos, or hedge your bets to ensure you capture rare natural phenomena like meteors or slightly less natural, and slightly less rare phenomena like fireworks!
Triggertrap is continuing to develop new sensor blocks, but at launch, the initial lineup includes:
·         High Speed Laser Sensor: With a reaction time of less than 60 microseconds, a typical bullet only has the time to fly 24 millimeters before your flash captures the bullet in flight – think about that!
·         High Speed Sound Sensor: The sound sensor allows you to capture popping balloons, things smashing, and all manner of other cool destructive projects. Let your imagination be the limit!
·         High Speed Light Sensor: Forget missing the photo of the great lightning strike, the high speed light sensor stays on the lookout for you.
·         Passive Infrared Sensor: Think 'burglar alarm'; the Passive Infrared (PIR) sensor doesn't use a beam (hence the 'passive' thing), so it's completely invisible - perfect for capturing sneaky photos whenever the sensor detects movement. Set it up out in nature to capture tigers, and lions, and bears (oh my!), but don't let 'wildlife' limit your imagination. The PIR sensor can be used to shoot everything that moves: doors opening, cars driving by, and even kittens chasing butterflies (awwwww).
Don't take our word for it. Check out the video and Kickstarter page to see just what Redsnap is capable of here, or jump over to the Triggertrap home page for some added detail atwww.triggertrap.com.
As a product still under development, Triggertrap Redsnap is subject to revisions before final availability.
About Triggertrap
Triggertrap Ltd was founded in 2011, and was brought to life through crowd-funding site Kickstarter. Based in the UK, the company's flagship smartphone-based camera triggering solution, Triggertrap Mobile, has been downloaded more than half a million times and their triggers are in use by thousands of photographers in more than a hundred different countries. For more information, please visit www.triggertrap.com.
Your Comments