Vegas Post is New High-end Video Post Production Suite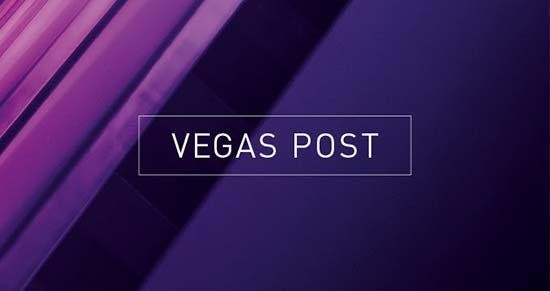 Vegas Post is a powerful new suite of video editing, VFX, compositing and imaging tools for video professionals, editors and VFX artists.
Vegas Post is now available online priced at $999 / € 999 / £799.
VEGAS Creative Software Press Release

VEGAS POST released: The smart alternative for creative video editing & post production
For the first time, VEGAS Creative Software integrates video editing, VFX, compositing tools and image processing into a powerful video post production suite.
Madison, WI (August 13, 2019) – VEGAS Creative Software (www.vegascreativesoftware.com) announced today the immediate availability of VEGAS POST, a powerful new suite of video editing, VFX, compositing and imaging tools for video professionals, editors and VFX artists.
Announced at NAB 2019 as a joint collaboration between VEGAS Creative Software and FXhome – creators of the popular editing and VFX software, HitFilm – VEGAS POST offers industry-renowned editing tools coupled with FXhome's expertise in compositing and visual effects. The result of this partnership is a comprehensive array of features and capabilities, ideally suited for video professionals in post production facilities of all sizes and requirements – from individual artists to large post production studios, broadcasters and SME (small/medium enterprise) installations.
This jointly-developed software solution includes the brand new VEGAS Pro 17 for fast, professional video editing, VEGAS Effects for high-end compositing and effects, and VEGAS Image for creative image processing. With a perpetual license and flexible subscription plans available, VEGAS POST provides an attractive new alternative to conventional solutions in the market.
"We're so pleased to partner with VEGAS Creative Software in this new venture," says FXhome's CEO and Founder, Josh Davies. "With the combined force of VEGAS and FXhome technology in one product, we're offering professional filmmakers, editors and VFX artists a powerful workflow, more flexibility and value for money."
"VEGAS POST brings a true alternative to the high-end post production market," says VEGAS Product Manager, Gary Rebholz. "Everything is anchored by VEGAS Pro, which with version 17 delivers over 30 new features that make editing faster and more efficient than ever. Add to that the powerful compositing, VFX, titling and particle generation tools of VEGAS Effects and the sleek image-editing approach of VEGAS Image, and you've got a ton of power at the top end of post production. We're very excited to release VEGAS POST!"
VEGAS POST: What's Included
With the new VEGAS Pro 17, VEGAS Effects and VEGAS Image at its core, the VEGAS POST suite of tools offers the VEGAS community of editors and VFX artists a comprehensive creative workflow, including:
VEGAS Pro 17
With more than 30 new features, VEGAS Pro 17 hits a new milestone in high-performance video editing software with such features as:
Nested timelines for high-speed workflow
Logical unified Color Grading panel
Complete HDR workflow including HLG support
Planar Motion Tracking
Optical-Flow Slow Motion
GPU accelerated decoding for AVC/HEVC
VEGAS Effects
For highly efficient post production, the new VEGAS POST integrates creative effects tools directly into the video editing workflow, including:
Over 800 effects and filters
Particle generators for super-realistic effects
3D model rendering
Green Screen removal
Muzzle Flash generator
Video scopes for accurate color analysis
VEGAS Image
VEGAS Image is a powerful photo editing tool that keeps image data RAW and all layers self-contained. Flexible layers can be accessed and adjusted in real time and as many times as needed, without disturbing anything else in the image. Key features include:
Built-in keying tools like Chroma Key
Professional compositing tools
Easy color adjustment
Dozens of powerful image filters and effects
LUT support
Flexible layer access and adjustment
Learn more at www.vegascreativesoftware.com/...
Pricing and availability
VEGAS POST is now available online:
VEGAS POST – $999.00 / € 999,00 / £799.00
VEGAS POST 365 – starting at $21.00 / € 21,00 / £16.80 per month
VEGAS Creative Software – a MAGIX brand
In May 2016, MAGIX acquired the multiple award-winning VEGAS Pro and VEGAS Movie Studio product lines, along with other video and audio products. VEGAS Creative Software stands poised to take video editing to a new level. The development teams in the US and Germany are continuously working on innovative solutions and building tools that push the boundaries of what's currently possible. The goal: to provide users at all levels – from video editing amateurs to creative professionals – with tools that are perfectly suited to their needs and demands.
Your Comments