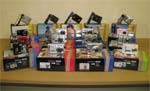 Around 13,000 new and boxed Vivitar cameras are being sold at auction, after Vivitar UK went into administration last month. The sale starts on 14th October and ends on the 16th, with 990 lots up for grabs, so if you've ever wanted to buy more than 10 cameras at once for a song, now is your chance. The Vivitar worldwide brand name was recently purchased by Sakar International, who intend to continue selling Vivitar-branded digital cameras in the US.
Website: Vivitar Camera Auction
King Sturge Press Release
King Sturge to sell thousands of cameras
08 October 2008
Along with other photographic equipment to be sold at an online auction opening 14 October
Photography enthusiasts have the opportunity to snap up a bargain when King Sturge dispose of the assets of camera manufacturer Vivitar this month.
Around 13,000 digital cameras and camcorders, all brand new and boxed, will be sold at an online auction along with other photographic equipment.
Vivitar UK's warehousing equipment will also be sold through King Sturge's website at an auction opening on 14th October at 10am and closing on 16th October at 1pm.
The 990 lots will be sold over two days with the auction for lots 1 - 400 closing on day one and lots 401 – 990 closing on day two.
The sale comes after administrators Eddie Kerr & Brian Hamblin of PKF (UK) LLP asked King Sturge to dispose of the company's assets.
Vivitar is one of the best known names in photography with a history going back to 1938 in the USA. Parent company Syntax-Brillian recently sold the brand name and intellectual property to US company Sakar International but Sakar did not purchase the firm's stock or physical assets.
Now King Sturge is disposing of the assets of Vivitar's UK subsidiary with an online auction which has already attracted considerable interest from the photographic industry.
King Sturge partner in charge Mike Hanson said: "This is an interesting disposal and one which has already sparked numerous inquiries. We are expecting bidding to be lively when the auction opens on 14th October ."
Sakar International Press Release
Sakar Acquires Vivitar Brand, Expanding Footprint in Camera Business
Consumer electronics manufacturer Sakar International today announced the acquisition of the Vivitar worldwide brand name and associated intellectual property from Syntax-Brillian Corporation, the parent company of 70-year-old photographic equipment maker Vivitar Corporation. The acquisition equips Sakar with a well-known camera brand that the company will use to expand its own mass-market camera line, add higher-price camera SKUs, introduce other Vivitar-branded consumer products, and gain overall market visibility.
Sakar is a market leader in digital cameras and related accessories to the mass retail channel and a producer of various other technology, toy and consumer electronic products. The company's current camera products retail from $20 to $100.
The Vivitar-branded cameras that Sakar plans to introduce will sell for $70 to $300, enabling the company to reach a new market segment that will significantly broaden its customer base and market penetration. The new products will leverage Vivitar's existing SKUs, patents and engineering expertise.
In addition, Sakar plans to add other Vivitar-branded products, including camera accessories and digital photo frames, as well as explore licensing opportunities in various categories. Sakar currently holds licenses for major brand franchises including Crayola, Hello Kitty, Star Wars, Leap Frog, Spiderman, The Incredible Hulk, Iron Man, Jeep, Made for iPod and For Dummies. 
"This acquisition positions our company to substantially increase market share in the camera space as well as leverage the Vivitar brand name in numerous other ways," said Sakar CEO and founder Charles Saka. "It is a core building block for our next phase of growth."
"Linking ourselves to Vivitar will strengthen our presence on the retail shelf while also enabling retailers to buy more product from a single source," added Sakar COO Ralph Sasson. "We will now have an even more extensive product line at multiple price points."
Vivitar was founded in 1938 and grew to become a leading manufacturer of both digital and film cameras, including one of the broadest product lines of digital cameras spanning entry-level VGA cameras to twelve-megapixel digital cameras with zoom optics for the amateur and serious digital photographer. The company was acquired by Syntax-Brillian in 2006.
Sakar's acquisition of Vivitar was completed on August 21, 2008. Sakar did not purchase Vivitar's equipment, facilities or receivables. Terms were not disclosed.
Your Comments