Wacom Graphire4 Classic White Edition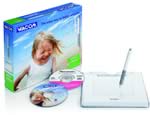 Wacom Press Release
Special edition white Graphire4 Classic pen tablet launched

Wacom, the leading manufacturer of pen tablets and interactive pen displays, today announces a special edition of its pen tablet range aimed at design-oriented users, the Graphire4 Classic White Edition. Matching many white laptops and computers in the marketplace today particularly from Apple, the new pen tablet provides the advanced features, precision and pressure sensitivity of the rest of the Graphire4 family and is ideal for image editing and optimising digital photographs. The special edition comes in either A6 or A5 size and will be available in November 2006 in time for Christmas.
The Graphire4 Classic White Edition pen tablet offers exactly the same features and functionality as the existing Graphire4 Classic pen tablet, which is styled in metallic silver. Two freely programmable buttons (ExpressKeys) are located at the top of the tablet, which can be configured with frequently used modifier keys such as Ctrl and Alt – practical for quickly accessing important additional functions in standard imaging software. Also integrated is a scroll wheel, which is ideal for zooming in and out of photographs or alternatively used for browsing. For further convenience and safe storage, the tablet houses an integrated pen compartment.

The pen, which is also styled in white, comes with a rubberised grip area for increased comfort. There are two separate buttons on the pen, which are set as right and double-click by default - the top button works as double click, which supersedes tapping twice with the pen tip on the tablet. For quick corrections, the pen can simply be flipped upside down in order to use the pressure sensitive eraser at the other end. The white pen has 512 levels of pressure sensitivity for advanced precision and works with Wacom's unique, patented pen technology, which means that the pen is cordless and battery-free, making it maintenance free.

Wacom's new pen tablet comes with Corel Painter Essentials3 (PC/Mac) – a natural painting and drawing programme.
System requirements
Graphire4 is PC and Mac compatible and runs on Windows 98SE, ME, 2000 or XP and Mac OS X 10.2.8 or higher.
Pricing and availability
The new Graphire4 Classic White Edition (A6) is priced at £74.99, the Graphire4 Classic XL White Edition (A5) at £149.99. All prices include VAT.
The products are available in the UK from Computers Unlimited and key retail shops. They carry a two-year warranty.