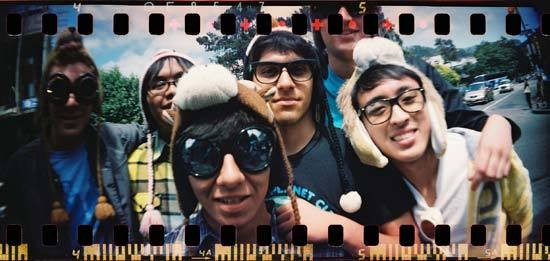 Win a Lomography camera in our Festive Competition! Just in time for Christmas, we have two great Lomography cameras to give away to two lucky winners - the Diana Mini En Rose and the Sprocket Rocket.
This competition is now closed.
The lucky winner of the Diana Mini En Rose is Ashley McKnight.
The lucky winner of the Sprocket Rocket is Graham Morris.
To enter, please send the answer to the following question in an email with the title "Photography Blog" to competitionsuk@lomography.com
Question: What's the name of the world's first wide-angle camera dedicated entirely to sprockets?
The two winners will be chosen at random on the 15th of December and announced on Photography Blog.
By entering this competition you agree to receive promotional emails from Lomography and Photography Blog. Lomography and Photography Blog will not pass on your details, or send you any rubbish. You can unsubscribe at any time.
The Diana Mini En Rose
The Diana Mini hails from the famous medium-format Diana F+ family. Now we introduce you to its clone, the Diana Mini En Rose. Extra-sweet and charming in its rosy pink colour, this little plastic camera takes lovely 35mm pictures, and allows you to shoot in two formats – square or half-frames. A single roll of film (36 shots) gives you 72 shots if you're using the half-frame option!
The Diana Mini En Rose package includes the Diana Flash Black with color gel filters. Slip one into the flash and beam some colored light into your pictures!
Features        
•        Uses all kinds of 35mm film and standard development
•        Two formats to choose from, in just one flick of a switch – Half-Frame Format (can take up to 72 shots in a 35mm roll), and Square Format
•        Easily shoot multiple long exposures
•        Includes the Diana Flash Black and color gel filters for Colorsplashing your images!
http://microsites.lomography.com/dianamini/
The Sprocket Rocket
The Sprocket Rocket is here to take analogue photography into an exciting new era! It's the world's first wide-angle camera dedicated entirely to sprockets! You can also remix your photos and your memories with the unique dual winding knobs. Dance, dart and flutter between frames to your heart's content - taking multiple exposures has never been so easy! Simply load it with any 35mm film to produce 18 mind-blowing and sprock-ified panoramas!
Features        
•        Uses all kinds of 35mm film (color negatives, slide, black & white, redscale)
•        Super-wide angle lens captures entire width of film including sprocket holes!
•        Scrolling knobs allow easy multiple exposures
•        B-setting mode for nighttime/long-exposures
•        Zone focusing
•        Hotshoe for flash and standard tripod screw
http://microsites.lomography.com/sprocketrocket
Your Comments