Win A Sigma 18-35mm f/1.8 DC HSM
June 17, 2013
|
Zoltan Arva-Toth
|
Comment
|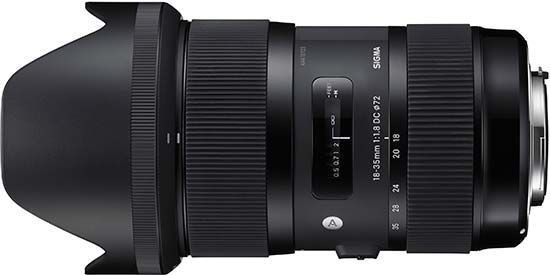 SIgma UK have teamed up with landscape photographer Lea Tippett and are giving away to one lucky winner a shiny new Sigma 18-35mm f/1.8 DC HSM lens and a two-day photo workshop in Dartmoor National Park. To enter this competition simply email your best landscape photo to competition@sigma-imaging-uk.com along with up to 80 words telling Sigma how you would benefit from a 2 day landscape photography workshop. Closing date for entries is 31st July 2013. The winner will be notified by email/phone by Friday 16th August 2013.  This competition is open to adult UK residents only. The workshop will take place on Saturday 28th and Sunday 29th September 2013 and accommodation and meals on the nights of Friday 27th and Saturday 28th September will be included
Sigma Press Release
Win a Sigma 18-35mm f/1.8 DC HSM and learn how to get the most from it with a weekend's tuition with Pro landscape photographer Lea Tippett
To celebrate the launch of the Sigma 18-35mm f/1.8 DC HSM lens, we've teamed up with Pro landscape photographer Lea Tippett and are giving away to one lucky winner a shiny new Sigma 18-35mm f/1.8 DC HSM lens and a two day photo workshop in Dartmoor National Park. The workshop will include visits to many of the finest photographic locations in the area such as Bowerman's Nose, Postbridge, The Windy Post and Great Staple Tor.
The workshop will take place on Saturday 28th and Sunday 29th September 2013 and accommodation and meals on the nights of Friday 27th and Saturday 28th September will be included. The weekend is designed for you to learn how to get the most out of your new fast aperture zoom lens and to give you some great advice on how to take stunning landscape photos. Lea will take you through the principles of successful landscape photography, basic camera techniques along with advising on composition and making the most of available lighting. The lucky winner will be given their 18-35mm f/1.8 DC HSM lens at the start of the workshop and one of Sigma's staff members will be on hand to answer any technical questions regarding the lens.
The Sigma 18-35mm f/1.8 DC HSM is the world's first f/1.8 constant aperture zoom lens for SLRs and is available for Canon, Nikon and Sigma SLR cameras with an APS-C size image sensor. Falling into the Art product line in Sigma's Global vision campaign, this new lens has been designed with a focus on sophisticated optical performance and tremendous expressive power. With unsurpassed expressive performance, these lenses reach the high standards demanded by photographers with an artistic, creative inclination. For more details on this new lens, visit
To be in with a chance of winning a Sigma 18-35mm f/1.8 DC HSM and weekend's tuition for you and your partner, simply email us your best landscape photograph along with no more than 80 words telling us how you would benefit from a weekend's landscape photography tuition with this superb camera.
About Lea Tippett
Lea Tippett has been capturing stunning landscape images for many years and, as a Sigma camera user, is perfectly placed to advise on how to get the most out of Sigma products. Born in Cornwall, he specialises if taking landscape photographs in the south west of England and his knowledge of the area is second to none. He took the leap into digital SLR photography in 2004 when he purchased the Sigma SD9 and found the camera travelled everywhere he did. He now uses the Sigma SD15, SD1 Merrill cameras with a selection of Sigma lenses.
How to enter…
To enter this competition simply email your best landscape photo to competition@sigma-imaging-uk.com along with up to 80 words telling us how you would benefit from a 2 day landscape photography workshop. Ensure your submitted image is between 2 and 3 megabytes in size and saved in JPEG format. Please include with your entry your Name, Phone Number(s) and Postal Address. Sigma Imaging UK Ltd and Lea Tippett will select one winner from the entries and the judges' decision is final. Closing date for entries is 31st July 2013.
TERMS AND CONDITIONS: The winner will be notified by email/phone by Friday 16th August 2013.  This competition is open to UK residents only. All entrants must be at least 18 years old. Employees of Sigma Imaging (UK) Ltd and their immediate families and agents may not enter. Entries must be received by 31st July 2013. Entries not in accordance with these rules will be disqualified: by entering the competition, competitors will be deemed to have agreed to be bound by these rules. The prize must be taken as offered with no alternative. In the event that the prize cannot be supplied no liability will attach to Sigma Imaging (UK) Ltd. Copyright of all images submitted for this competition remains with the respective entrants. Sigma Imaging (UK) Ltd reserves the right to reproduce any submitted images for its own use in connection to this competition without prior permission from the photographer. Where an image is used, the photographer will be credited. Sigma Imaging (UK) Ltd may choose to showcase any submitted images on this website or on its social media as a means of promoting the competition. All photographs submitted must be the work of the individual who submits them.
Entrants must ensure that photographs have been taken with the permission of the subject (where necessary) and do not infringe the copyright of any third party. It is the responsibility of the winner to make their way at their own expense to the pre-determined meeting point in Dartmoor and the actual date of the tuition is fixed and cannot be changed.
Your Comments