Visual Similarity Duplicate Image Finder PRO Winners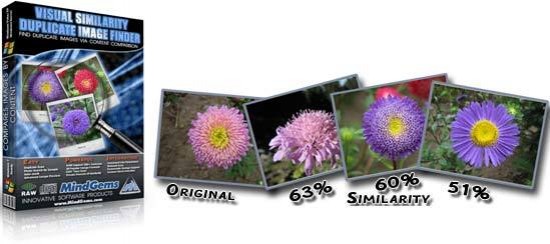 MindGems Inc. is giving away 10 licenses of Visual Similarity Duplicate Image Finder PRO (VSDIF) exclusively to our readers.
The lucky winners are Hong Ho, reza rezaie golghand, Ales Veluscek, Inga Andersen, mark trnavsky, Kenneth Baillie, Slavko Todorov, Philip Greenwood, Keith Wolstenholme and
Kieran Symons. Congratulations!
VSDIF is rated the best duplicate image finder on major photography and software magazines and technology web sites.
What is so special about Visual Similarity Duplicate Image Finder?
As the name already suggests this tool can find duplicate and similar images based on content analysis regardless of the image format, size, dimensions, colors and other image attributes. What this means is that even if you have copies of the same image with modifications applied like color correction, crop, retouching, change of file format or watermarks it will still be identified as a duplicate of its original image. This is a task that a standard duplicate file finders cano not handle. The tool supports more than 100 common image formats including Photoshop PSD, plus over 300 RAW camera formats.
The main three benefits from using this tool are:
- Organize your image collection
- Save valuable disk space by removing duplicate images
- Search for similar images inside your image collection by loading a sample image
Processing large image collections is extremely fast using the new cache system. The tool will analyze the image data and collect it in a cache that will be reused in consequential scans. The cache system checks the images for modifications. This means that if a photo is edited it will be re-processed automatically and the updated version will be used for the comparison. The "Image Search" functionality can find images similar to a sample photo. Combining the Image Search with the cache system VSDIF can scan 10 000 images in seconds. A FREE demo is available for download at the company's web site.
MindGems Inc. provides also a Duplicate MP3 Finder tool that works in a similar way for audio files and the popular FREE Duplicate File Finder and Folder Size tools that will help with the disk cleanup process.
Terms and conditions
1. This competition closes on 26th April 2013.
2. By entering this competition you will also be opting in to Photography Blog's monthly e-newsletter, but you have the option to unsubscribe at any time.
3. Only one entry per person only.
4. No entries accepted from employees of Photography Blog or MindGems Inc..
5. The winner will be announced on the Photography Blog website following the closing date and contacted via email only so a valid email address required.
6. The featured prizes are 10x copies of Visual Similarity Duplicate Image Finder PRO (VSDIF).
Your Comments