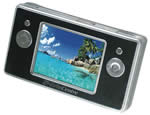 XS Drive Press Release
XS Drive Ltd who pionnered the portable storage concept in 2002 with the Xs-Drive1, presents at Photokina 2006 the XS Drive Centre which is the latest Multimedia backup solution for photographers. Needs for higher photo storage capacity is dramatic with performance increases of digital photography technologies. The XS-Drive Centre VP6250 is the right answer for those who needs to backup sleek of images on the go via their memory cards, thanks to his high capacity 2.5" hard disc drive range from 40 to 120 GB. Using the control buttons, you can copy images from your memory card and navigate through the names of files stored on your XS Drive Centre, view videos, play music files or simply check and organize your backed up files on the Hard Disk. You may also access the content of the insert memory card.
The XS Drive Centre VP6250 can be used with all types of memory cards: Compactflash, Hitachi Microdrive, Memory Stick, Memory Stick Pro, Secure Digital, MultiMediaCard, and xD picture cards (Smartmedia, miniSD, mini MMC require an adapter).
The easy to use copy feature will backup all files from the memory card to a new folder on the hard disk, and the Card Backup feature will confirm the number of files transferred as well as the total size in MegaByte.

You can view every image with precision clarity and color on the large 3.6" LCD colour display full in size or via thumbnail .
Designed with a Hi-Speed USB 2.0 interface, this portable device transfers photos, video and audio files in a snap. It supports JPEG, MPEG4 and Motion JPEG video files, plus MP3 and AAC audio files. RAW files compatibility driver are under development and will be downloadable later from our web site.
You can also listen to your favorite tunes via its high quality music MP3 player with selective control modes for the Volume, Fastforward/Rewind on the playing track, and Next/Previous track via the control button.
The XS-Drive Centre includes two built-in internal rechargeable batteries providing up to 8 hours of use in video playback mode
The RRP for the basic version of the XS-Drive Centre VP6250 40GB is €399 incl VAT ( £269 incl VAT), and for the high capacity VP6250 120 GB version €499 incl VAT ( £339 incl VAT)
About Xs-Drive Ltd
Xs-Drive has for the last four years acquired a recognised image in the industry of portable storage devices for digital imaging.
Starting in 2002 with the basic functions of the XS-Drive 1, we have pionnered the portable back up market with the Xs-Drive 2 series, and now with the PMP Xs-Drive Centre.
The production facility is located in Shenzen –China, and a new warehouse and logistics has been set up in Belgium early September 2006 to provide closer support and to our European distributors.