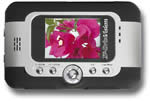 The Xs-Drive Vision 2500 is a new portable storage device with built-in video and audio functions. Equipped with a 2.5"TFT colour screen and 2.5" hard disk drive (60GB up to 160 GB), the Xs-Drive Vision 2500 measures 128×84×26mm and weighs 350 grams. The Xs-Drive Vision 2500 is available now for €199.
XS Drive Ltd Press Release
Date : 19th October 2007 - XS Drive Ltd who pioneered the portable storage concept for photography in 2002 with the Xs-Drive1, enhance the basic functions of Xs-Drive 2 Serie via the new Xs-Drive Vision 2500, which allows to back up memory cards on the internal hard disk, but also to view pictures or videos on his 2.5" TFT colour screen, or connected to a TV set.
The Xs-Drive Vision 2500 is proposed at the retail price of £139 excl.VAT (€199), for a 60GB version, which is quite a cost effective multimedia backup solution for photographers and enthusiasts.
The Xs-Drive Vision 2500 is a mid-range storage device which becomes an essential part of the digital photographer arsenal whatever the level of his photographic skills.
It can be used to upload and store images from holidays, creating an instant photo album. Photos and videos can be viewed at any time. In addition, the Xs-Drive Vision can be connected to a TV for photo and video viewing.
You can make a complete copy from your memory card by pressing only one button, then view and check the quality of your pictures on the 2.5" TFT colour screen, and browse through the names of files stored on your XS Drive Vision, view videos (.MOV only), play music files or simply check and organize your backed up files on the internal Hard Disk from 60 GB up to 160 GB.
You may also access the content of the inserted memory card, and exchange data with your computer via a high speed USB connection.
You can also create a list of your favorite tunes and listen via its high quality music MP3 player with selective control modes for the Volume, Fast Forward/Rewind on the playing track, and Next/Previous track via the control button.
The Xs-Drive Vision 2500 includes a built-in internal rechargeable battery providing up to 3 hours of use in video playback mode and 5 hours in audio playback
• Compatiblity : Works with all current memory cards used with digital cameras: Compactflash Card type I / type II (CF), Memory Stick (MS), MS Duo, MS MagicGate, MS Magic Gate Duo, MS-ROM, Memory Stick Pro (MS Pro), MS Pro Duo, Secure Digital (SD), miniSD, Micro SD, MultiMediaCard (MMC), xD Picture cards (XD).
• Display : Built-in 2.5" High-Resolution LCD. (320x240 )
• Storage & data backup : Built-in 2.5" hard disk drive (60GB up to 160 GB)
• Download Interface Speed : Fast USB 2.0 Interface port backward compatibility with USB 1.1
• Video Player & Recorder*: AV-Out TFT/ TV, PAL/NTSC, [email protected] MPEG4 playback, .MOV file (software converter supplied on the CD ROM)
• Audio : MP3 Music Player. Supports, Playlist, Artist, Album. Built-in Stereo Speaker
• Voice Recorder : ADPCM format
• Photo : JPEG Viewer & Photo Wallet. Modes: Thumbnail, slide show, full-screen, zoom in/out
• E-book : .txt files, bookmark.
• File browser : copy, paste, delete options
• Power Source : Internal Li-Ion rechargeable 3.7V/ 2200mAh. External power adapter 5 V (2.5A) 220/240 V.
• Accessories : stereo earphone, audio/video,USB cable set, AC power adapter, manual, CD ROM
• Dimensions : 128 mm×84 mm×26mm
• Weight : 350 grs including hard drive and battery
About Xs-Drive Ltd
Xs-Drive has for the last five years acquired a recognized image in the industry of portable storage devices for digital imaging. Starting in 2002 with the basic functions of the XS-Drive 1, we have pioneered since the portable back up concept with the Xs-Drive 2 serie. The production facility is located in Shenzhen–China, whilst the logistics is set up in Belgium to provide closer and better support to our European distributors.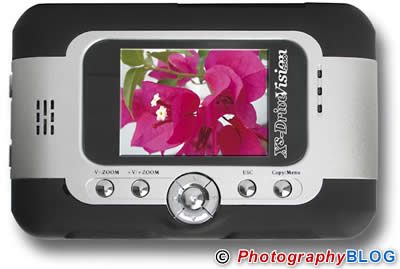 Your Comments