YI M1 Camera Kits Now Available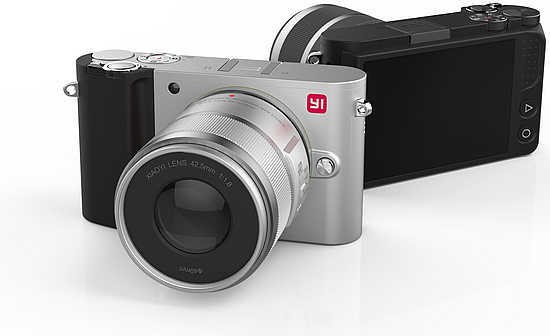 YI Technology has announced that its YI M1 compact system camera is now available to purchase. Featuring a 20.2-megapixel FourThirds sensor, a Micro FourThirds lens mount, a 3" touchscreen, an 81-point CDAF system, Wi-Fi and Bluetooth LE connectivity and 4K video recording capabilities, the YI M1 offers a mostly touchscreen-based user interface and comes in two single-lens kit (either with a 12-40mm f/3.5-5.6 standard zoom or a 42.5mm f/1.8 portrait lens) and a double-lens bundle. Pricing starts at $499.
Press Release
YI M1 Mirrorless Digital Camera Now Available Worldwide
YI Technology's Professional-Grade Camera Opens Doors to a New Generation of Photographers; Available on Amazon and YITechnology.com
SEATTLE--(BUSINESS WIRE)--YI Technology (YI), the leading, international provider of advanced, intelligent imaging technologies, today announced that its YI M1 Mirrorless Digital Camera, the world's most connected mirrorless camera, is now available to purchase on YITechnology.com and Amazon starting at $499.
The YI M1 offers the power and features of a professional camera with the ease and connectivity of a smartphone via the corresponding mobile app for iOS and Android. It is compatible with more than 50 interchangeable lenses, features Bluetooth® connectivity and a Master Guide of photography templates, composition guidelines and step-by-step instructions to enable users of all levels to shoot like professionals.
Best known for the YI 4K Action Camera, the YI Home Camera, the YI Erida drone and a 360-degree virtual reality camera in partnership with Google Jump, the launch of the YI M1 marks the imaging technology expert's entrance into the mirrorless, micro four thirds US camera market. It also makes YI Technology the first digital imaging company to offer a complete line of cameras to capture images from ground, air, home and on the go.
Key YI M1 Features:
Two lens options include a 12-40mm F3.5-5.6 and 42.5mm F1.8
MFT mount system, compatible with more than 50 interchangeable lenses
20 megapixel still image capture
Stunning 4K video at 30 frames per second
The latest SONY IMX269 Image Sensor
Supports ISO up to 25,600 and 2000-megapixel and Wide Dynamic Range video
3-inch LCD touch screen
Intuitive, lightweight and compact design
Built-in WiFi and Bluetooth for quick and easy sharing to social networks
A "Master Guide" feature
Pricing & Availability
YI M1 Mirrorless Camera is available on Amazon and YITechnology.com in Ice Silver and Storm Black.
YI M1 with 12-40mm F3.5-5.6 lens: $499
YI M1 with 42.5mm F1.8 lens: $599
YI M1 with both lenses: $699
In addition to lenses, the YI M1 includes a complete accessories line featuring a shoulder bag, UV lens, wrist strap, shoulder strap, camera battery and battery charger. For more information on accessories please visit the following link: http://yitechnology.com/yimirrorless/accessory/id/8.html
About YI Technology:
YI Technology is a leading, international provider of advanced, intelligent imaging technologies, products, services and platforms. Its development team consists of industry-leading experts from the US, China, Japan, Israel and Europe with several decades of combined experience in imaging technology, algorithms, data analysis, cloud computing and mobile applications. YI is committed to using innovative technology to make everyday life safer, richer and more fun. For more information visit www.yitechnology.com
Your Comments