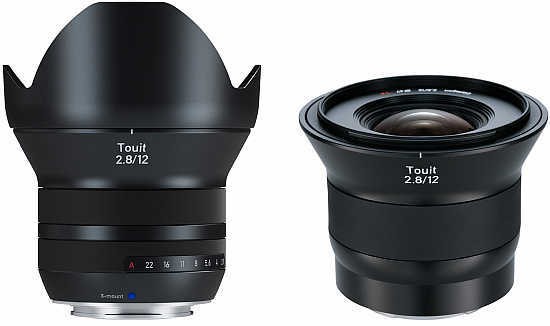 Carl Zeiss has announced availability and pricing details for its Touit 2.8/12 and Touit 1.8/32 compact system camera lenses. Available now, the Carl Zeiss Touit 2.8/12 ultra-wide angle lens (pictured) carries a recommended retail price of €920 / $1,250, whilst the Carl Zeiss Touit 1.8/32 "standard prime" can be yours for €670 / $900. Both lenses come in Fuji X and Sony E mount versions.
Zeiss Press Release
New ZEISS lenses for compact system cameras
New market segment for ZEISS camera lenses – first members of Touit family with dealers starting June
OBERKOCHEN/Germany, 03.06.2013.
Starting immediately, the first two members of the new ZEISS lens family Touit are available with dealers. With the extreme wide angle lens Touit 2.8/12 and the robust standard lens Touit 1.8/32, both for Fujifilm X and Sony NEX cameras, ZEISS is entering the new market for compact system cameras (CSC) with autofocus, interchangeable lenses. The new lens series is characterized by a powerful optical and mechanical design, which fully exploits the potential of the cameras thanks to the low distortion and stray-light absorption. Noteworthy is also the professional product design of the new lens family, which has already won several design prizes.
"With Touit photographers can use ZEISS lenses on two leading mirrorless system cameras," says Michael Schiehlen, Director of Sales at ZEISS Camera Lenses. "We are addressing this market because it offers interesting application possibilities for sophisticated photographers and because the segment promises very interesting growth."
By supporting Fujifilm X and Sony NEX, ZEISS has decided on cameras with an APS-C sensor in order to guarantee maximum image quality. The APS-C sensor is the largest possible sensor currently available on the market for this segment. The Touit lenses are characterized by their high production quality, guaranteeing longtime usage. Like all ZEISS lenses they also offer outstanding imaging performance. Typical for the new family is above all the combination of compactness, light weight and precise, durable mechanics. "High imaging quality and light weight are the most important advantages of Touit and are especially interesting for ambitious users of compact system cameras," says Schiehlen. "The angular view is identical to DSLR lenses for APS-C cameras, but the lens is significantly smaller and lighter." The metal body underscores the lenses' robustness and durability. Those parts that are not relevant to key functions were designed in high-quality plastic in order to reduce weight. Compatibility with all Sony NEX and Fujifilm X camera functions, a clearly accentuated 1/3-step aperture ring on the version for Fujifilm X, nine aperture blades for an almost circular bokeh, as well as excellent stray-light absorption through the ZEISS T* coating are the hallmarks of the design of this new lens family.
The Touit 2.8/12 offers the most extreme wide angle fixed focal length in the current APS-C range. "It is an extremely sophisticated lens which has been equipped with the great effort and care that an extreme focal length of 12 millimeters requires," explains Dr. Michael Pollmann, who is responsible for the development of the Touit lenses at ZEISS. The lens has eleven lens elements arranged in eight groups and was designed according to the Distagon optical concept. In addition, the lens has floating elements, two aspheric lenses and three lens elements made of high quality glass materials with anomalous partial dispersion. This lens is especially suited for nature and architectural photography. The product design of the Touit 2.8/12 has received an iF as well as a red dot product design award.
The Touit 1.8/32 offers the user an angular field that resembles natural eyesight. The goal during the development stage was to create an easy-to-use standard lens that the photographer can leave on the camera continuously and which can be used for a wide range of everyday situations. Touit 1.8/32 was developed according to a modernized Planar design approach that was adapted to today's requirements: instead of six lens elements, which is common for the Planar, the Touit 1.8/32 is equipped with eight lens elements and therefore offers an even higher imaging performance when used with digital sensors. The Touit 1.8/32 can be used in many types of situations: travel photography, family photos, photojournalism and portrait applications. The Touit 1.8/32 recently received an iF gold award and red dot product design award for its innovative product design.
As announced during photokina 2012, the Touit 2.8/50 Makro will come on the market at the end of 2013. Other focal lengths will follow.
The recommended retail price of the Touit 1.8/32 will be €670 / US$900 (excl. VAT)*. The recommended retail price for the Touit 2.8/12 will be €920 / US$1,250 (excl. VAT)*.
Your Comments