Zenit Announces HORIZON S3pro Panoramic Camera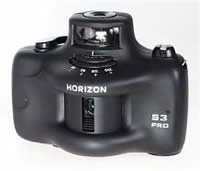 Zenit Press Release 26/10/04
JSC "Krasnogorsky zavod" has started a serial production of the new "HORIZON S3pro" panoramic camera. This camera will be on the market at the beginning of March, 2004.
"HORIZON S3pro" panoramic camera opens new horizons before you. There are landscapes, indoor scenes, sport events, architecture, reports of an absolutely another size. Using the 35mm standard film you are taking pictures of everything in your view without losses. It's the amazing opportunity for an experiment.
Availability of slow shutter speeds allows to take pictures at reduced illumination and at night.
The proper position of the camera during photographing is controlled by means of the level seen in the viewfinder. Would you like to improvise? Replace the level bubble up or down from the central position and you will get an unusual effect.
The camera body is light, strongly constructed and exceptionally human engineered. It's designed in such a way that makes the camera handy under all conditions of photography.
There are the principal distinctions from the previous "Horizon-202" model:
UPRATED RESOLUTION;
TWO ADDITIONAL SHUTTER SPEEDS - 1/30SEC AND 1SEC;
SHUTTER NOISELESS WORKING;
MODERN DESIGN.