Zigview S2 Digital Angle Finder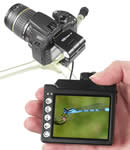 The Zigview S2 will be available from October priced £249.99.
Intro 2020 Press Release
Seculine revolutionise DSLR handling with the NEW Zigview S2 Digital Angle Finder, with remote detachable 2½ inch screen, TV output, motion sensor and interval timer. The NEW Zigview S2 attaches to your DSLR viewfinder and displays a live video feed from the viewfinder to its large 2.5 inch high resolution LCD, which can be moved to fully tilt and rotate for viewing at any angle. The new unit has excellent low light properties and a high frame rate which displays a bright live image making it fantastic for low and high angle situations as well as being capable of acting as a waist level finder to improve communication with clients during portrait photography.
Images from the Zigview S2 can also be relayed live to a remote monitor using the TV output, or alternatively with the Remote Video accessory cables/extensions, the screen can be detached from the main unit to view the subject and fire the shutter from a remote location up to 10 meters away. This makes it ideal for use in bird hides, high level photography of properties or any situation where it would be beneficial for the photographer to be placed distance from the camera.
The Zigview S2 also incorporates the same 9 area TTL motion sensor and interval timer facilities from the Zigview R model making it a hugely versatile accessory which can help you to achieve new and exciting images in a whole range of new situations.
Eyepiece adapters and shutter cables are available to fit most DSLR cameras.
The Zigview S2 will be available from all good photographic stockists from October at £249.99 inc Vat
For full details please visit www.intro2020.co.uk