Gerd Ludwig Interview
By Greer McNally
Leave a comment about this article
The murder of Alexander Litvinenko in London has splashed Russia across the papers and lead British detectives back to the ex-KGB agent's homeland for answers. It has also placed President Putin and his government under a rather large international spotlight. Amid all the intrigue and unanswered questions, what has become increasingly clear is that Russia is not a place to be outspoken. It is a country, still adapting to the rapid change of political systems and the people that have instigated the transformation.
But what really lies behind the headlines and now defunct iron curtain? It is a question that German photographer Gerd Ludwig has been searching to answer in his work for over thirty years. But it is not the politicians to whom he has turned to answer the riddle, but rather the Russian people.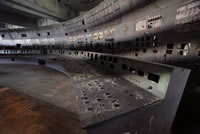 His love affair with the country stems from his father's tales of fighting there during World War II. It was a rose tinted view he clung to into adulthood. In the introduction to his book Broken Empire he recalls "In my 30s, during the height of the Cold War, I found myself on assignment for European magazines in the Soviet Union. I was still so stricken with guilt about Germany's role in the war that I willingly adhered to the unspoken Soviet mandate to photograph only positive aspects of life under communism. While my images were genuine attempts to mirror the Russian soul, they ignored economic realities."
This is no longer the case. One look at the Broken Empire project, which has been critically lauded at Perpignan this year, as well as earning him what is known as the Oscar in photography circles – Photographer of the Year at the Lucie Awards - testifies to that. It is a project that has been years in the making and which chronicles the euphoria and openness directly after the curtain's fall to the hyper secretive attitudes of the country's current bureaucrats.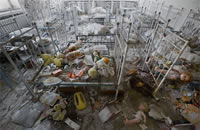 When his disillusionment came it was thick and fast. "It was not until I grew older that I began to grasp the darkness behind the stories - that the landscapes were stained with blood, the soldiers dying, and the people hiding Russians filled with fear. And that my father did not tell these just as bedtime stories but to shed himself of terrible memories."
Chernobyl did much to open his eyes. This April marked 20 years since the atrocity and the Russian people are still feeling the effects. He remembers exhibiting some of his images there, "I revisited Chernobyl in 2005 - after being there in 93 - and I saw people standing in front of the images and crying." One young woman came face to face with her child self in one photograph. Up until that moment Ludwig had not known whether she had lived or died. These days he says that the life expectancy of the Russian male is a shocking 58 years old. In Broken Empire he recalls the realisation that, "The bald children of Chernobyl and the limbless children of Moscow were part of a deeply disturbing truth: Birth defects and infant death - not just in the vicinity of the atomic catastrophe but even in the empire's once proud capital - strike the peoples of this land at twice the rate found in industrial nations of the West."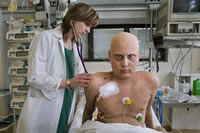 There are other instances of singular acts having long ranging effects. He recalls, "In 1992, at Hospital 21 in Volgograd, I witnessed the human impact of bad health care - and I experienced one of the most shocking and poignant moments of my career. Three years earlier, a sailor who had contracted AIDS in Africa returned to Russia and was treated in this hospital. The needles and syringes were re-used, and as a result 288 children, ranging in age from one month to 14 years old, had been infected. By the time I arrived, several children had already died. I attended a Christmas party organized by the Salvation Army for about 50 of the doomed children and their families. For some of the victims, this would be their last Christmas. The adults sat with tears in their eyes as the children played and laughed and opened their gifts, innocent of their fate."
He has not always met with this kind of ingenuousness. "When the curtain came down in Russia there was this moment of brief openness, when people were willing to show you what had happened for the last 150 years. But after that, there was the backlash; people ceased wanting to show you." But he did what he could no matter the political climate. Gorbachev's glasnost enabled him to begin the journey of separating "the political system from the people and capture a different, more complete vision from the one I had been focused on for so long." Then after the 1991 coup he was faced with a new challenge; to define the new Russia. "I had two avenues to explore: the transformation of a society from a state-controlled to a market economy at manic speed; and the social and economic conditions that had prevailed for generations, hidden from outside eyes."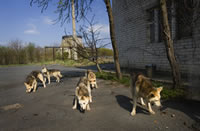 It is Gerd Ludwig's longstanding partnership with National Geographic that has enabled him to explore his fascination with the region. Published in 26 editions, his photography has appeared in most of them, making it universal even without the aid of the internet (this helps too, of course). And, as a regular contributor, he does 80 per cent of his assignments for the publication filling the rest of his time with editorially-styled advertising commissions. While working on Broken Empire he shot between 15,000 and 20,000 images. But there has been another revolution too - the digital. When he started the project he was working on film, but now he relies on memory cards and no one is perhaps more surprised by this development than himself.
"I turned my film fridge into a wine cooler," he says incredulously. "I thought to myself that I would be one of the last dinosaurs shooting film, but with the huge image files, I've just not regretted it. I used to work with 2 or 3 bodies, but now I use only one and easily switch by changing the ASA." He's also made the controversial conversion from Nikon to Canon; a 1DS Mark II to be precise. And every image ends up on a Kingston memory card.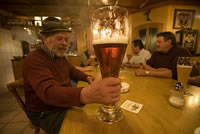 "I don't think there are any harsher situations for a card to be tested in than in the hands of a National Geographic photographer. I have shot in -55 degrees not counting the wind chill and lost my surface feeling in my shooting finger from frostbite." His words seem to charge you to doubt his sincerity. But perhaps that's because he is still amazed that he has actually sat down to put his name behind a product.
"There was a time," he admits "when I was asked to endorse other camera products and I didn't because they just didn't work. I think if you endorse something you don't believe in, then you are making a fool out of yourself."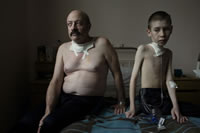 The importance of self - and as an extension of that his own sincerity – and national identity are themes that runs through his work, perhaps because as he grew up he realised that his parents' own sense of it had been so confused. Sudetenland, the homeland of both their families, had become a pawn as national borders fluctuated depending on the swing of power. Of course growing up he did what many teenagers do, rebelling against that which had gone before and rejecting his own national identity because of the post-war shame attached to it. He clung to the romantic vision of Russian that his father's stories had forged in his burgeoning imagination.
"I was painfully aware of the political crimes of my parents' generation and of the suffering Germany had inflicted on the world. Full of guilt, I compensated for my feelings by glorifying everything that Germany had wished to destroy. Particularly Russia. Unable to separate people from political systems, I dismissed all evidence of the Soviet Union's repressive government as Western propaganda."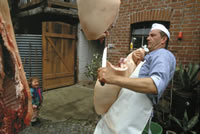 Studying political science at university did not give him the clarity for which he was searching and so he started to travel. "I wanted to bring back something that represented my impressions about what I saw." Hitchhiking in Denmark and dishwashing in Norway, he rejected the time-worn path of buying souvenirs as they failed to represent his own feelings and so picked up a camera instead "just to convey what I had seen," he explains.
By the time he had returned to Germany he knew what he wanted and enrolled in art school, where he met people who shared his own ideals. By 1974, he and his contemporaries Rudi Meisel and André Gelpke had founded the photography agency Visum – the first German co-operative of its kind. It would predate Robert Pledge and David Burnett's Contact Press Images by several months.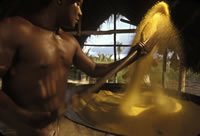 He admits, "Magnum was a strong influence on setting up. We were a co-operative and it worked to the extent that it didn't matter how much money was brought in, as we put all the money back into the agency." By the time he walked away the numbers had swelled from the initial three to around 150. "It just wasn't practical anymore," he admits.
But the exposure he got elevated him into the photographic stratosphere. They became the country's photographic shooting stars. And it did not go unnoticed on an international scale. Already working for German weekly papers and Sunday Times Magazine, he and Meisel were invited to participate in the very first Day in the Life project in Australia in 1981.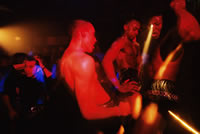 "Rudi and I went there and we had no idea how big it was. When we got there we met our heroes – Eddie Adams, Susan Meiselas, Griffiths, Salgado – the very people we had admired and learnt from as students."
The experience would shape both his professional and his personal life. Two years later he was asked back for the Day in the Life of Hawaii, where he would meet his future - now ex - wife Dana Fineman, also a photographer. The couple moved to New York and ended up in the same apartment block as Eddie Adams in Brooklyn. The two men had forged a friendship during their time in Australia and Gerd was invited to teach at the famous Adams workshops. He started working for Time, Newsweek and the New York Magazine. Then his future came knocking.
"Tom Kennedy at National Geographic came to me and said I like what I see. Why don't you show us your work? I chickened out and didn't go." Preferring to live in the illusion he did nothing, but Kennedy came back.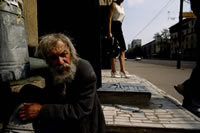 A year later the message was the same. "Come and show us your work". So this time he went. And then he waited. "The National Geographic policy," he explains "Is don't call us, we'll call you." Two months passed with no reaction. He figured he had blown it, reasoning they already had 23 staff with no room for new photographers. And then the phone rang. It was an assignment in Germany on the Danube and the effects of construction on the residents. He was ambivalent, but knew an American photographer would never scratch the surface. He could make it personal. So he went. It was a success. National Geographic had considered it a difficult subject, but knowing the area had enabled Ludwig to find the story's emotional core. And then history stepped in and the Berlin Wall came down. The magazine sent Steve McCurry to cover it.
Again the phone rang for Gerd. "He had come back and said he didn't see a way to do it on a personal level, so they asked me." The images would become The Year After. "It put me back on the world stage." Then the magazine sent him to Russia and so began the series of stories that would become Broken Empire; His own life experiences shaping his approach - a mix of documentary and editorial drive - to his assignments.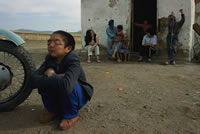 "As a documentary photographer I have the obligation to show what is out there, but I also show it from a very personal point of view. And that personal point of view is determined by my life experience." There is a picture on his website of an old man in a doorway. Ludwig has shot the portrait by going down on the same level as his subject. "The way I approached it reveals something about me and how I reacted to that person. My physical point of view as a photographer is determined by my international point of view. It also determines what I do in that story. It would have been a very different shot if I had just pointed my camera down at him."
The image is extraordinarily resonant of the schism between rich and poor in Russia at the time. The man huddles in the foreground, while a headless, white-stiletto wearing woman towers at the back, symbolic of the anonymous feel of the new 90s capitalistic Russia. But it a strong image not just compositionally, the man, an alcoholic, had been evicted from his apartment by his own son, to make way for a live-in girlfriend.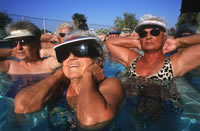 Every element captured in that frame is carefully considered; deliberately chosen for that particular exposure. But what if everything had been perfect except for a stray piece of rubbish or errant bird? Would Ludwig use image-editing software to remove it? In a year when photographers have been discredited because of image manipulation it is a sensitive subject.
His view in the subject is this: "I give one absolute - moving things out or placing things around an image is unacceptable. But where you go with changing the saturation of an image is up to the photographer." As he himself points out, some techniques such as dodging and burning are almost as old as the medium itself. "It gives the feeling that the world goes on outside the borders." He continues, "We are looking for so called lines, but the line has to be drawn by the photographer. It's all down to integrity." But he also believes that "the role of the photographer is changing. One hundred and fifty years ago painting was still the art of recording what things looked like, but the medium was released by photography. It opened up the way for painting to move more towards the abstract. Now the role of documenting what is out there is taken over by TV."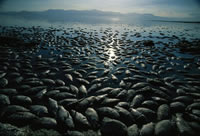 So why does he turn his lens back again and again to Russia? In Broken Empire he cites Dusha, the Russian soul, with its rich tapestry of compassion and the capacity to endure great suffering. In his own words it is "An unconscious drive, belief in the inexplicable and the mysterious. It is people reading books in forests. All-night conversations. Drunks pondering the meaning of life. It's not the Western search for well-being, it does not acknowledge harsh reality, it is the antithesis of everyday modern life. It is forgiveness, empathy, conscience, and the ability of humans to partake in the Divine." But when we speak he has another explanation: "I don't believe in a finished story. If you take on a story you know nothing about, then you only stay on the surface. If, for example, you don't know what the US confederate flag is and you walk by a garden with one in, you miss the image. The more you know about your subject, the wider your view. That's why you find a lot of decent photographers working mostly on one theme. To find one calling can make a great photographer."
Perhaps he would dislike to have his work in Russia to be called a vocation, but it definitely a passion. One which has seen him critically lauded. And he is definitely a great photographer. So while he is understandable tight-lipped about his next project for National Geographic, there is no doubt that before long Ludwig will find himself returning to the land of his father's fairytales in the hope of one day finding an empire broken no more.
Leave a comment about this article
Websites:
http://www.gerdludwig.com
http://www.kingston.com
http://www.canon.co.uk
http://www.nationalgeographic.com
http://www.kingston.com/flash/iop/default.asp
http://zonezero.com/exposiciones/fotografos/ludwig/index.html
http://www.photoworkshop.com/canon/explorers/gerd_ludwig/ludwig.html