Lee Miller Exhibition
Lee Miller: 'An artist of the first electric century'
Leave a comment about this article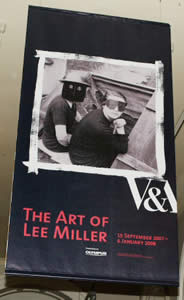 Last week (Wednesday 12th September 2007) saw the press launch of The Art of Lee Miller at the Victoria and Albert Museum in London. Curated by Mark Haworth-Booth and sponsored by Olympus, the retrospective marks the centenary of Lee Miller's birth by bringing together photographs, writings, and art from across her life.
Born in Poughkeepsie, New York at the beginning of the twentieth century, Lee Miller redefined what it was to be a woman. Photographed from a young age by her father, a keen amateur, Miller went on to model professionally, working with fashion and portrait photographers in Paris and London, as well as New York, where her assignments with Edward Steichen, chief photographer for Condé Nast, made the pages of Vogue and Vanity Fair.
Following a suggestion by Steichen that she take up photography herself, and armed with his letter of introduction, Miller went to Paris at the end of the twenties to meet Man Ray. Initially Miller approached Ray to be her teacher, but as their relationship developed she became his lover, muse and co-collaborator. She honed her emerging technical skills in the darkroom alongside Ray, assisting him in the development of the techniques of solarization and the rayograph, now both synonymous with Ray's work.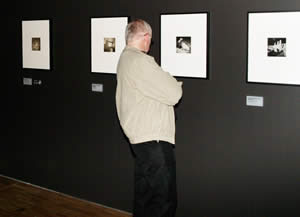 Miller also began to develop her own style which acknowledged Ray's influence as well as that of the Paris surrealist group, with whom Ray was also collaborating. The jarring juxtapositions that characterised Miller's photojournalism from the Second World War, as seen in her articles for British and American Vogue on display in this exhibition, are the result of these early Parisian influences.
In the thirties, and after her split from Ray, Miller returned to the States where she continued her career as a photographer alongside her modelling commitments, as well as establishing a studio and exhibiting her work. The thirties also saw Miller travel, documenting first Egypt then the Balkans. Her photographs from this period mark an important point in the exhibition, demonstrating her technical prowess at portraiture in conjunction with her ability to capture the essence of a landscape, in this case landscapes which would have been unfamiliar to a wide audience.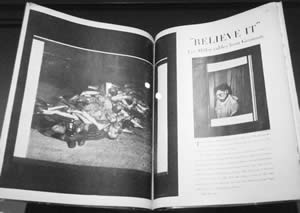 On the Balkans trip Miller was accompanied by Roland Penrose, the surrealist painter, later Miller's second husband, and author of The Road is Wider than Long. This 'photopoetic' ode to their journey together is a useful addition to the current exhibition for those wishing to further their interest in this period.
Miller and Penrose's life together in post-war Britain, first in London then at Farley Farm in East Sussex, now the location of the Lee Miller archives, was documented by Miller in her final photo-essay for British Vogue, 'Working Guests', published in July 1953. Featuring key figures of the modern art scene such as Alfred H. Barr Jr alongside surrealist artists like Pablo Picasso, Max Ernst and Dorothea Tanning, the photographs demonstrate Miller's sense of humour as she depicts her community at work and play.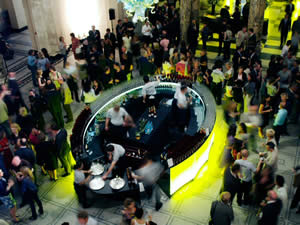 It is a touching finale to an exhibition whose undoubted highlights are Miller's Second World War assignments. Situated in the latter half of the exhibition, which is lit as if to resemble her personal darkroom, the illustrated articles 'Germans are like this' and 'Believe it' stand in stark contrast to images of the statuesque woman repeatedly photographed, and enlarged on the cinematic screen in Jean Cocteau's 1930 film Le sang d'un poète [The Blood of a Poet] that greets all entrants to the exhibition. Beautiful, aloof, engaged, incongruous and a witness to truth, Lee Miller's life is indeed brought to art.
The Art of Lee Miller runs at the V&A from 15th September 2007 to 6th January 2008. Mark Haworth-Booth's The Art of Lee Miller is published by V&A Publications, London. See http://www.vam.ac.uk/vastatic/microsites/1631_lee_miller/ for more details.
Leave a comment about this article
Photo Gallery