Articles: "Magnum Photographer Donovan Wylie Goes Digital"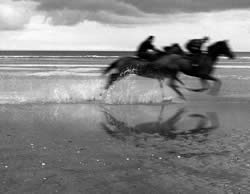 "Digital is better than the naked eye", proclaimed celebrated documentary and Magnum photographer Donovan Wylie at a recent demonstration of how he has embraced digital technology.
Organised by Hewlett Packard at their central London office, Wylie explained how a recent switch to both digital printing and digital cameras had made him more productive and more profitable than ever before in his 15 year career.
The Northern Ireland photographer, whose work includes a book and exhibition on the notorious Maze prison, switched to digital just over a year ago, prompted by the quality of prints from a HP Designjet 130 large format photo inkjet printer. "I was amazed - the prints from the HP 130 inkjet were better than those from a traditional Durst 400 lambda printer that I previously used". Wylie also finds that the large format HP printer allows him to create much larger prints more cheaply, and that as a result he experiments more with different ways of presenting his work.
Wylie started photography in his late teens, before becoming really interested and joining Magnum in his early twenties, just over 15 years ago. As one of Magnum's youngest ever members, Wylie found that membership of this exclusive club gave him time to find his own photographic voice. As a documentary photographer, projects can often last from 1-2 years, so it's important that Wylie remains free, both financially and in terms of time, to pursue his interests. Without the independence being a Magnum member affords, he stated that he would have reconsidered being a photographer.
Wylie is principally interested in recording reality and events - the idea of preservation is central to his photography. Consequently he pursues projects like capturing the Maze prison just after it closed and a current project photographing the various army border stations in Northern Ireland before they are removed forever from the landscape.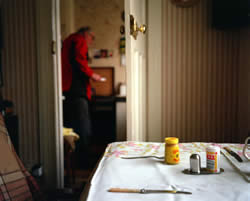 The switch to digital has been a gradual one for Wylie. He moved from the darkroom to using a film scanner about 5 years ago, but still employed someone to make prints for him. Scanning changed the editing process, but Wylie was still essentially using the lab system to produce prints.
A 6-week project in Estonia just over a year ago, commissioned by the Centre Pompidou in Paris, gave him the opportunity to experiment with a digital camera. Did this Magnum photographer choose a high-end DSLR or medium format camera with a digital back? No, instead Wylie used an 8 megapixel Olympus C-8080 compact digicam, a consumer model currently available for just £350. The resulting images were printed on a friend's HP 130 printer, with Wylie loving the "flat look" and increased depth-of-field that the small sensor camera delivered.
Wylie believes that the camera is a more crucial part of the digital equation than the printer, simply because today's printers are already so good. Since shooting with the Olympus C-8080, Wylie has used various digital backs and is now shooting exclusively with digital technology. He has quickly got up to speed with Adobe Photoshop and spends up to 3 days perfecting each image, although he stresses that he only applies colour corrections and doesn't add, move or remove anything.
Wylie believes that digital photography has its own distinctive look and that as photographers we should be embracing that look, rather than trying to recreate our favourite films and prints from the pre-digital era. Digital has liberated this particular Magnum photographer, and Wylie says that he would never go back to film again.
All images © Copyright Donovan Wylie