Adobe Photoshop CS4 Review
Review Date: September 23rd 2008
Author: Jon Canfield
Leave a comment about this Review
Introduction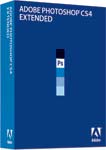 Photoshop CS4 is the 11th version of Adobe's venerable and industry-standard imaging application. It's hard to imagine that Adobe can continue to make large changes to Photoshop. It seems that just about everything but the kitchen sink is already in the application, but once again, Adobe has found ways to take a mature application and improve it. In this review, I'll give you a first look at the new features you'll find in Photoshop CS4.
Ease of Use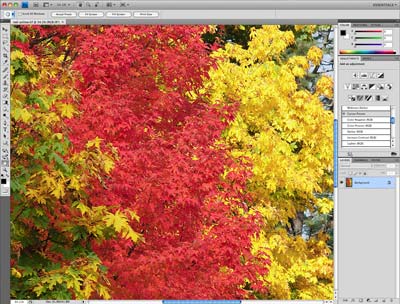 Figure 1
First up, and a Windows only feature, is support for very large files thanks to running in 64-bit (with a 64-bit version of Windows). Mac users will have to wait for a future release for 64-bit power.
Photoshop CS4 also supports 3D acceleration via OpenGL compatible graphics cards for faster performance with 3D operations.
User Interface Changes
Photoshop CS4 has changed the main work area and now supports tabbed documents (Figure 1). Here you can see the major changes to the UI. The main tool bar across the top of the window has changed with many of the most common tools, like selection, zoom, rotate, and views placed on the title bar for immediate access.
You can also choose to float one or more windows if you want to view images in the CS3 and earlier style, or compare images.
The panel area has also changed and includes new quick access for common actions. Panels can viewed in a docked manner or floating as before, but the small sidebar with History, Settings, Type, and Layer Comps is gone. You'll now access these via the Window menu, or if you use them frequently, you can add them to the dock.
Masks & Adjustments Panel
One of the big changes is the Masks and Adjustments panel. The Masks panel gives you quick access to common masking tools for both pixel and vector-based masks. You can adjust density and feathering and select non-contiguous objects (figure 3).
The Adjustments panel moves many of the items formally accessed through Image > Adjustments into an easy to use panel (figure 4). Along with tools like Curves, Levels, Hue & Saturation, you also have presets. Choosing any of the options here adds an adjustment layer to your image with the appropriate control selected in the panel. Adjustments can be applied to the current layer or all layers below it. You can add new presets which will appear in the panel for future use.
Rotating, Panning, Zooming
If you use a graphics tablet, you're going to love this next feature. You can now rotate your canvas to any desired angle, making the use of a pen much easier when doing edits to your images (figure 5). The rotate is non-destructive and very responsive, even with large files.
Panning and zooming has been enhanced with smoother control over panning – you can now "flick" your images – click with the hand tool and push the document (this requires OpenGL). It will scroll automatically based on how aggressive the gesture is. Zooming has added a Pixel Grid to enable accurate editing at any magnification (figure 6).
Compositing
Auto-Align has been enhanced, and the spherical alignment mode lets you create 360-degree panoramas. Auto-Blend smooth blends color and shading and depth of field correction with both vignette and lens distortion controls has been improved over the previous version.
Seam Carving
Hidden away under Edit > Content Aware Scale lies a new and very powerful tool. Content Aware Scaling lets you resize an image without changing critical visual components, like people and buildings. In the example shown in figure 7, I've protected the building and steeple, which lets me pull in the side with the columns. This is great for those times when you need to fit a specific size but can't afford to crop the image. You can specify not just the area to protect, but also where to center the scaling reference point.
Printing
The new print engine in Photoshop CS4 has much better integration with most popular printers from Epson, Canon, and HP and should make color management issues much less common than before. Photoshop CS4 also supports 16-bit printing on Mac OSX 10.5 and later, and now has better soft-proofing preview in the print dialog with the ability to preview out of gamut areas.
Camera Raw
If you've used Lightroom 2.0, you already know that the raw conversion have greatly improved and the new tools are very useful. Camera Raw 5.0, part of Photoshop CS4, brings the same tool set and quality to Photoshop and Bridge.
New tools for localized adjustments and gradients are now available. Figure 10 shows the graduated filter tool in use. You can control the size and angle of the effect as well as apply multiple grads to an image. One use I've seen for this is to apply a vignette effect to each side of the image.
For the adjustment brush, you can easily size the brush and control feathering and opacity to localized areas like the eyes as shown in figure 11.
ACR version 5 also supports the new DNG profile editor, letting you create or use profiles based on your camera's picture styles.
Bridge CS4
The file management tool included with CS4 has also seen a number of enhancements. First and foremost among these for many users will be the great improvements in speed. Even with large folders of high resolution images, Bridge keeps up, creating initial thumbnails quickly. Bridge CS4 also lets you quickly see where you are in your folder hierarchy by showing the path above the preview area. A set of icons for frequent commands, like sorting, opening an image in Camera Raw, and importing images is also available.
A new Output panel lets you print or create web galleries directly in Bridge rather than having to launch Photoshop to complete these tasks. There are several presets included with Bridge, and you can add your own. The web gallery templates are the same as those found in Lightroom 2 and include both HTML and Flash galleries.
You can also view and sort by metadata now (figure 14), making it easy to find information based on more than just dates and ratings.
Conclusion
Ratings (out of 5)

Features

4.5

Ease-of-Use

3.5

Value for Money

4
Photoshop CS4, along with Bridge CS4, is a solid upgrade to one of the most popular image editing programs. With a good mix of new features and improvements to old favorites, this is a worthwhile upgrade. If you skipped CS3, now is the time to move forward. In particular, the improved raw processing, and the new adjustment panel are a key part of my workflow when in Photoshop. Tighter integration with Lightroom 2.0 is a welcome addition, and the ability to perform better soft-proofing in the Print dialog is also helpful. It's still a big and complex program that probably does more than most of us will ever need.  Only you can decide if Photoshop CS4 is the right option for you, but it's certainly not a program you'll ever outgrow!