Adobe Photoshop Elements 6 Review
Review Date: February 21st 2008
Author: Jon Canfield
Leave a comment about this Review
Introduction
Adobe Photoshop is the standard image editing application for many digital photographers. Heck, it's even become a verb now, as in "That looks Photoshopped". But, at $500 / £475 or more depending on the package, Photoshop CS3 is overkill for many users. Recognizing that the majority of photographers don't want to be spending their time learning a complex program, Adobe has offered Photoshop Elements, a reduced but very capable editing program for a much more reasonable price (about $90 / £70). It's also clear that Adobe is catering to a wider audience with Elements 6. Recent versions have added features to entice the scrap booking crowd, and the latest release is no exception. Adobe Elements 6 now includes a variety of project types which I'll touch on in this review. However, because most of you are interested in the photo editing features, I'll focus on those areas primarily.
Compare Prices
Support PhotographyBLOG: Buy Adobe Photoshop Elements 6 from one of our affiliate retailers:
Figure 1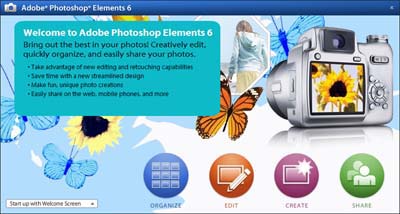 Organizing Your Images and More
Adobe Photoshop Elements has long had two main modes of operation. The first is the Organizer mode (Figure 2). A surprisingly full featured image management program, Organizer is where you'll import your photos, apply keywords and ratings, and find images when you're ready to do editing work. New to Adobe Photoshop Elements 6 are Smart Albums (Figure 3). These work by automatically grouping photos for you with no manual tagging needed. So, for example, it's easy to select all the images taken with a particular camera, or with specific ratings.
Figure 2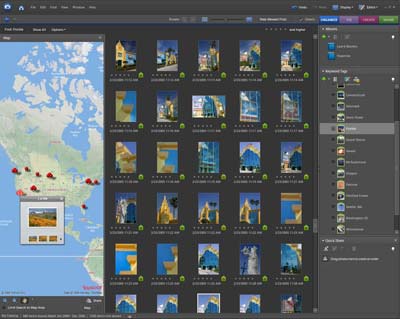 Figure 3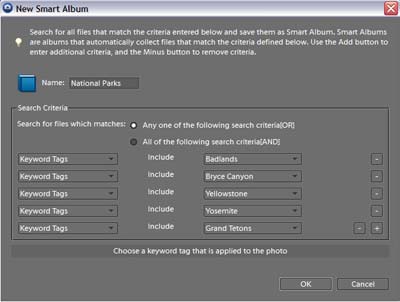 Organizer is now more tied into the editing features with tabs on the right side of the window – Organize, Edit, Create, Share (Figure 4). Create shows the different projects that come with Adobe Photoshop Elements 6, including photobooks, calendars, web galleries, and slideshows.
Figure 4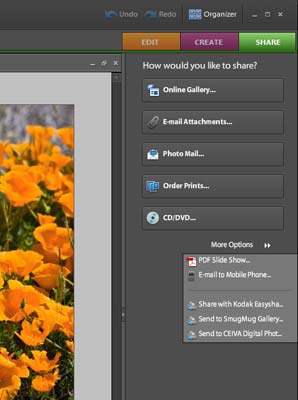 The Sharing tab has plenty of options for posting your images to an online gallery, including some of the popular sites like Kodak EasyShare and SmugMug, and Flickr, as well as sending directly to a CEIVA digital photo frame. The Photo Mail option will automatically resize your image(s) to be suitable as an email attachment and let you compose your email message without having to save the image separately and launching your mail application. You can use an existing address book (such as Outlook), or create a new one. The built-in Stationary & Layouts Wizard lets you format your mail and photos prior to sending, including adding frames, changing the photo size, and font (Figure 5).
Figure 5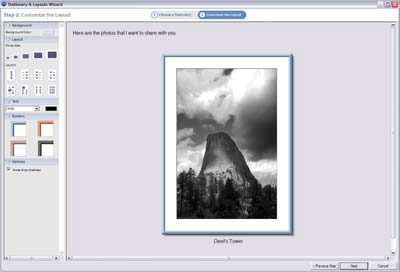 You'll also find the Fix tab (Figure 6) with many common auto adjustments available directly from the Organizer which can speed things up if you're working on a number of similar images and don't want to go into the Editor.  One nice feature that's easy to overlook is the ability to apply changes to multiple images in a single operation. Just select all the images you want to work with and then perform the desired edit, like Auto Adjust Contrast, and your changes will be applied to all selected images.
What's New in the Editor
Figure 7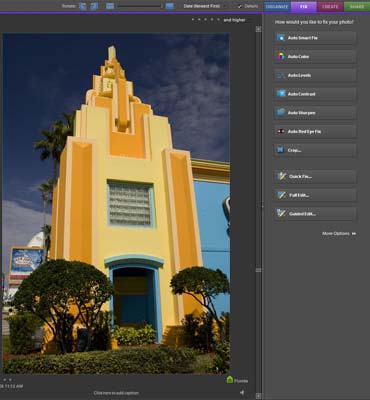 The Editor is where most people will be spending their time in Adobe Photoshop Elements 6, so let's take a close look at what's new here. New to this version is the Guided Edit mode which walks you through some of the most common editing needs such as cropping, color correction, and lighting adjustments (Figure 7).
Figure 7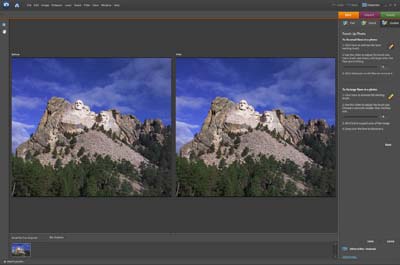 Also new here is the Photomerge feature. The Group Shot option is perhaps the most unique, letting you copy and paste elements from one image into another with excellent results. You select a base image, and then select areas from other images that you want to paste in. The merge feature then builds the new selection into your image. This would be perfect for those group shots where someone was left out – just merge them in!
Photomerge Faces lets you select areas of one photo to be used in a different, but similar image –great for those times when you have a portrait with good expression but the eyes are closed. Now you can use the open eyes in another image to correct for this, with much better blending results than you would normally get from copy and paste. You can creative with this one too and come up with some interesting compositions.
The final Photomerge feature is straight from Photoshop. You'll have to go to File > New > Photomerge Panorama to get there. Why it wasn't included with the other Photomerge options is beyond me – but the good news is that it's in there, and it works very well, blending and merging multiple images into a seamless panoramic (Figure 8).
Figure 8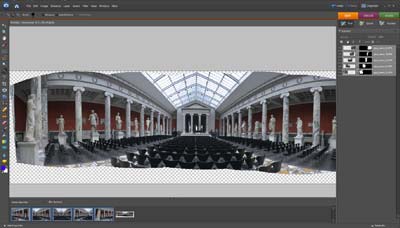 Quick Fix (Figure 9) puts the common correction tools in as ingle location. Although there are Auto buttons for all adjustments, the tools are easy to use and give you a significant amount of control over things like hue/saturation, sharpening, and lighting adjustments.
Figure 9


Quick Select, also a feature brought over from the latest version of Photoshop, makes it much easier to make selections. With the tool active, click on the areas of your image you want to select (Figure 10). You can have multiple areas selected, or click and drag to select a larger area.The Quick Select tool identifies edges and automatically selects them. By using the Refine Edge option you can smooth, feather, or change the area selected. A handy masking preview lets you see exactly what is selected.
Figure 10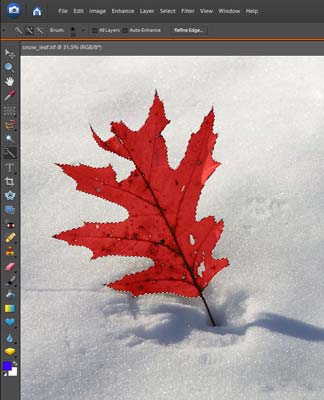 Improved from the previous version, the black and white conversion tool (Enhance > Convert to Black and White) now lets you control individual color channels. The presets are still there and serve as a good starting point, but now you can fine-tune your adjustments for just the right look, simulating filters used in traditional black and white photography and adjusting the contrast (Figure 11).
Figure 11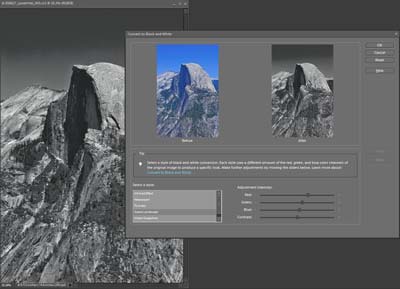 It's taken years to get here, but Photoshop Elements finally has a Curves control. Savvy digital photographers have long known that curves adjustments give you much finer control over the highlights, midtones, and shadows than the simple Levels control offers. Like the black and white conversion control, Adobe Photoshop Elements 6 presents Curves in a simple to use way with presets that can be modified, and a handy before and after view of your image. For serious photographers on a budget, this feature alone is worth the upgrade (Figure 12)
Figure 12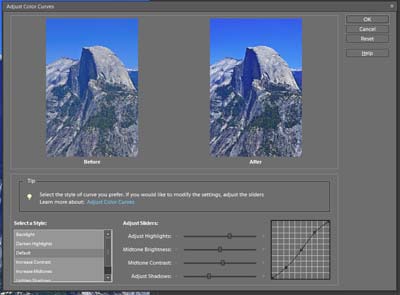 The Filter Gallery is still present in Elements 6, giving you easy access to many of the creative filters in Photoshop (Figure 13). One of the advantages to working with the Filter Gallery is that you can preview your choices in a large window and easily combine multiple filters to get just the effect you're going for.
Figure 13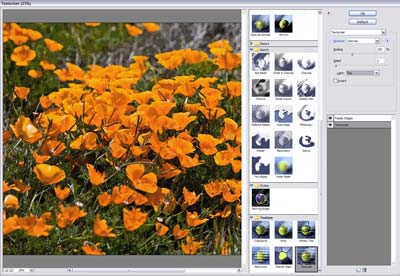 Creating Projects
As I mentioned at the start of this review, Photoshop Elements 6 is expanding its reach to pull in scrap booking, custom card,calendar, and other project aficionados with a greatly expanded Create mode (Figure 14). There are a number of templates and designs ready for your use, with guided help on how to use and modify the presets to get the look you're after.
Figure 14

Figure 15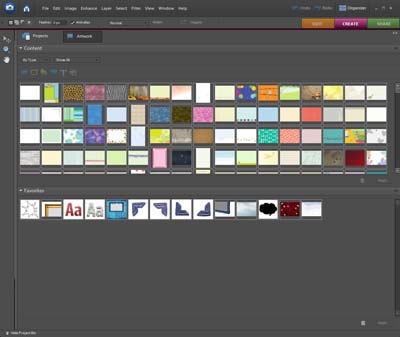 The Photo Books projects have a number of useful options for laying out a custom book that you can then send out for printing and binding, similar to the book creation features in Apple's iPhoto application. If you're looking to get your images online, the Online Gallery templates have everything from standard web galleries, animated and interactive pages, to layouts suitable for blogging sites.
Figure 16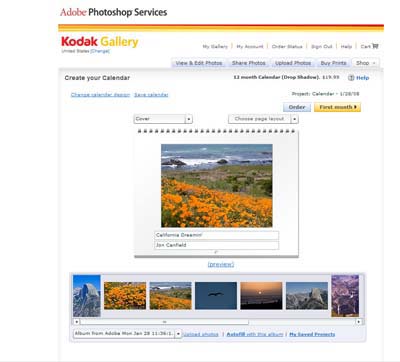 Conclusion
Ratings (out of 5)

Design

4

Features

4.5

Ease-of-Use

4

Value for Money

4.5
It's clear that Adobe is reaching beyond the digital photographer market with this release of Photoshop Elements. With a number of features that will appeal to the casual user, or craft type, Adobe Photoshop Elements 6 still has plenty of power for the photographer with needs or finances below that of Photoshop CS3. Overall, Elements 6 is a worthy upgrade with some powerful editing features like curves, quick selection, and photomerge that will appeal to just about everyone. And good news for Mac users, Adobe is releasing version 6 for the Mac platform as well. It should be feature equivalent to the Windows version with the exception of the Organizer – on the Mac, Adobe provides Bridge, which is also found in the CS3 suite of programs.
Leave a comment about this Review
Compare Prices
Support PhotographyBLOG: Buy Adobe Photoshop Elements 6 from one of our affiliate retailers: