Autodesk Stitcher Unlimited 2009 Review
Review Date: February 11th 2009
Author: Jon Canfield
Leave a comment about this Review
Introduction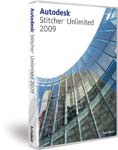 With the number of panorama utilities that are available, everything from programs like Canon's PhotoStitch, to the panorama functions in Photoshop, you might wonder if there's room for yet another program, especially one with a price of $350 / £300. The simple answer is that if your needs are simple, there's no need to spend this kind of money. However, if you need to go beyond simple stitching of images to include fish-eye lens support, spherical panoramas, HDR processing, QuickTime MOV files, and the best image blending I've seen, then Autodesk Stitcher Unlimited 2009 is well worth a look.
Ease of Use
Autodesk Stitcher Unlimited 2009 has a five step workflow that makes the basics of the program easy to learn:
- Import Images
- Stitch Images
- Align Images
- Touch-up
- Render Panorama
Images formats include TIFF, JPG, PNG, PSD, BMP, with support for 16-bit files included.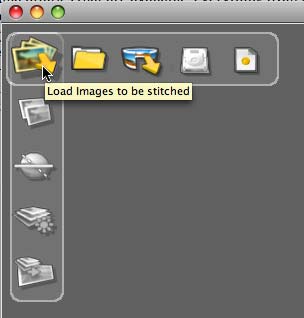 Figure 1
The toolbar is the easiest method of working with Autodesk Stitcher Unlimited 2009. Buttons for each of the five steps are available, and the options with each button are only active when that step is ready to be done.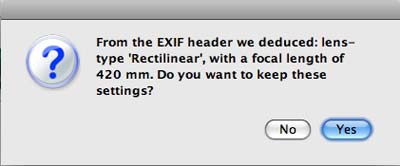 Figure 2
After selecting the images to be loaded, Autodesk Stitcher Unlimited 2009 examines the EXIF data if present to determine camera and lens information to help optimize the images.
With the images loaded, the ImageStrip contains thumbnails of all images, and by default places them in the queue for stitching. You can modify the selection by right clicking on any image, deleting it, or changing the camera settings. Autodesk Stitcher Unlimited 2009 has quite a bit of information available about the image.
With the images loaded, selecting Stitch will automatically combine the images with the alignment of each image handled automatically. Successfully stitched images will be indicated with a green box, images not used in the panorama will show a red box.
Each image in the panorama is selectable and can be unstitched from the panorama, or adjusted manually if you find that Autodesk Stitcher Unlimited 2009 didn't align it quite the way you envisioned.
Selecting Equalize All Images will do a reasonably good job of adjusting the lighting for each image to create a smoother blend. It's still important to capture with good exposures though, since this is not a perfect solution.  You can see the differences here. While Autodesk Stitcher Unlimited 2009 corrected some of the light differences, you can still see quite a bit of variation in the image.
After stitching images, the Render process builds a complete file in the format you select. Optionally, you can specify a render area to only process a portion of the image by choosing a crop. Everything outside of the crop will be ignored when rendering the final file.
Autodesk Stitcher Unlimited 2009 really shines in the number of output formats available to you.  Files can be saved as any of the standard file types, but if you're working with Photoshop you can save the panorama with each image on it's own layer and masking, perfect for the type of image I have here where the lighting levels still need some adjustment work.
What about those advance formats though? Using a sample project included with Autodesk Stitcher Unlimited 2009, this 20 shot panorama of the Venitian in Las Vegas is a great example for how well the program can combine and align images.
The finished image is shown in two output formats – spherical, and a flat panorama:
To get a better idea of the image, it is also output as a MOV file (QuickTime is required to view movie).
Autodesk Stitcher Unlimited 2009 is also able to generate HTML output for your files, including the information needed for Google Maps locating.
There are a number of templates included with Autodesk Stitcher Unlimited 2009, and when Publish is selected, all files and HTML will be generated, ready to post to the web.
I was able to generate very large panoramas with Autodesk Stitcher Unlimited 2009. A 24"x160" image, which came out to a bit over 1GB in file size was produced with exceptional quality. Compared to the panorama tools in Photoshop there was a visible improvement in both the equalization between frames, and in the alignment of images. With Autodesk Stitcher Unlimited 2009 I could detect absolutely no seams between images.
HDR image processing is very good. I started with a stack of five images, each separated by one stop. Choosing the HDR > Stack exposure by command, you can select to have all images used, or just the selected images.
Processing was fairly quick with a good final image. I did have problems with the HDR feature not always working though – at times the Render option was unavailable and no preview was displayed. When all is said and done, I'll stick with Photomatix for my HDR work.
Other features that many will find helpful are a Grid that can be used to help align horizontal and vertical areas, a Stencil tool that isolates areas of an image while adjustments are made to other images. One use for this is to use the polygon tool to remove an object in one image that has moved in another to give a more natural look to the finished panorama.
If your images are coming in from Photoshop, Autodesk Stitcher Unlimited 2009 will recognize any masks that have been applied.
Conclusion
Ratings (out of 5)

Features

5

Ease-of-Use

4

Value for Money

4
While Autodesk Stitcher Unlimited 2009 seems expensive at $350 / £300, if you need professional quality results, and you often find yourself wanting to do more than your current solution offers, it offers excellent value. Even for basic flat panoramics, the stitching quality is far and away better than any other tool I've used and the ability to work with large files (over 1GB in my case) make Autodesk Stitcher Unlimited 2009 a real bargain.
Website
Autodesk Stitcher Unlimited – http://usa.autodesk.com/
Requirements
Windows XP and Vista: P4 1GHz or better, 1GB RAM for Vista, 512MB for XP
Macintosh: OSX 10.4.10 or higher, Intel processor, 1GB RAM