Canon G10 V Nikon P6000 Review
Review Date: October 31st 2008
Author: Mark Goldstein
Leave a comment about this review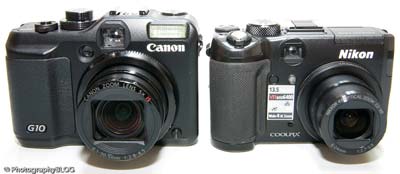 Introduction
The Canon Powershot G10 and Nikon Coolpix P6000 are two new additions to the small but growing prosumer compact camera market - think serious cameras that complement or could even replace your digital SLR. Both offer a wealth of pro features, including RAW file support, full creative control with PASM modes, wide-angle lenses with built-in stabilization, optical viewfinders - the list goes on. And both models can be carried in a coat pocket, so you need never miss a photographic opportunity again. We recently got the opportunity to test both cameras at the same time, so thought we'd pit them against each other in our very first head-to-head battle. Carry on reading to find out which one is the eventual winner...
Features
The table below outlines the key features of each camera:
Canon PowerShot G10
Nikon Coolpix P6000
Megapixels
14.7
13.5
Lens
5x, 28-140mm
f/2.8-f/4.5
4x, 28-112mm
f/2.7-f/5.9
LCD Screen
3 inch, 461k dots
2.7 inch, 230k dots
ISO Range
80-1600
64-2000
Continuous Shooting
1.3fps
0.9fps
Shutter Speeds
15 - 1/4000 sec
8 - 1/2000 sec
Macro
1cm
2cm
Optical Viewfinder
Yes
Yes
RAW Files
Yes
Yes
Image Stabilisation
Yes
Yes
Built-in Flash
Yes
Yes
Flash Hotshoe
Yes
Yes
PASM Modes
Yes
Yes
Built-in GPS
No
Yes
Ethernet
No
Yes
Video
640 x 480, 30fps
640 x 480, 30fps
Battery Life
400 shots
260 shots
Dimensions
109.1 x 77.7 x 45.9 mm
107 x 65.5 x 42 mm
Weight
350g
240g
Design
Click on the images below to open a larger version in a new window.
Ease of Use
The Canon Powershot G10 carries on where the previous G9 model left off, further establishing the G-series as a realistic alternative to an entry-level DSLR camera, or backup compact for a pro user. Since dropping RAW mode completely on the G7, Canon have been scrambling to regain their core enthusiast audience, and the changes to the G10 will certainly help them achieve that. Perhaps the most important change is the new 28-140mm lens. Although it shortens the maximum telephoto setting by 60mm, most photographers will happily trade that for the wider-angle 28mm focal length, which is much more versatile than the 35mm offered by the G9. The G10's lens is commendably fast at either end of the zoom (f2.8-4.5) and doesn't suffer from too much barrel or pin-cushion distortion. Most of the other handling improvements individually fall into the nice-to-have category, but collectively add up to make the G10 the most intuitive G-series camera yet. The new Exposure Compensation dial is particularly noteworthy, and in combination with the shooting and ISO dials and the rear thumbwheel, provides ultra-quick access to the camera's fundamental settings. The extra resolution of the LCD screen is very welcome, and the viewfinder is slightly bigger and brighter than the G9s (although still best used as a backup for the LCD). Even the external buttons and handgrip have been significantly improved - the G10 really is a great camera to use for beginners and more experienced users alike.
The Coolpix P6000 is Nikon's best attempt yet at a compact camera that's good enough for a pro photographer, but ultimately it has a few serious flaws that means it falls short. In terms of design, the P6000 is a delight to use, with most of the control offered by a consumer DSLR in a more manageable, portable form. Small enough to stow away in a coat pocket, the controls feel evenly spaced and of sufficient size for accessibility and ease of operation, and overall the Nikon P6000's ergonomics feel 'just right'. Sadly, the same can't be said about it's key headline features. GPS functionality is well-implemented, but only works sporadically in urban environments and not all all indoors, and it has a significant drain on battery life unless you keep turning it on and off. LAN connectivity is limited to merely uploading pictures to Nikon's My PictureTown online gallery, and RAW support is plagued by slow processing times and no continuous shooting mode at all. Consequently the most attractive new feature is the most un-heralded, namely the wide-angle, 28-112mm lens, which offers the biggest user benefit.
Image Quality
Noise
| | | |
| --- | --- | --- |
| | Canon PowerShot G10 | Nikon Coolpix P6000 |
| ISO 64 | - | |
| ISO 80 | | - |
| ISO 100 | | |
| ISO 200 | | |
| ISO 400 | | |
| ISO 800 | | |
| ISO 1600 | | |
| ISO 2000 | - | |
Sharpening
| | |
| --- | --- |
| Canon PowerShot G10 | Nikon Coolpix P6000 |
| | |
Chromatic Aberrations
| | |
| --- | --- |
| Canon PowerShot G10 | Nikon Coolpix P6000 |
| | |
Macro
| | |
| --- | --- |
| Canon PowerShot G10 | Nikon Coolpix P6000 |
| | |
| | |
Flash
| | | |
| --- | --- | --- |
| | Canon PowerShot G10 | Nikon Coolpix P6000 |
| Wideangle | | |
| Telephoto | | |
| Red-eye Reduction | | |
| Red-eye Reduction - 100% Crop | | |
Night
| | |
| --- | --- |
| Canon PowerShot G10 | Nikon Coolpix P6000 |
| | |
| | |
Anti-Shake
| | |
| --- | --- |
| Canon PowerShot G10 | Nikon Coolpix P6000 |
| | |
| | |
Sample Images
JPEG Images - Canon PowerShot G10
JPEG Images - Nikon Coolpix P6000
RAW Images - Canon PowerShot G10
RAW Images - Nikon Coolpix P6000
Sample Movie - Nikon Coolpix P6000
This is a sample movie at the quality setting of 640x480 at 30 frames per second. Please note that this 22 second movie is 22Mb in size.
Sample Movie - Canon PowerShot G10
This is a sample movie at the quality setting of 640x480 at 30 frames per second. Please note that this 20 second movie is 26.4Mb in size.
Conclusion
The Nikon Coolpix P6000 is a good camera, but the Canon PowerShot G10 is better - it's as simple as that. In terms of both features and handling, the G10 has the edge, and it was invariably the camera that I reached for first. The contest would be a lot closer if the P6000's unique features - GPS and LAN connectivity - had actually lived up to expectations, but they are both rather weak in their current implementation. In most of the comparative areas, the G10 has the edge, with a bigger zoom range, faster lens, bigger and higher-resolution LCD screen, larger shutter speed range, more megapixels and better battery life. It also offers a rather unique and intuitive user interface, with the retro exposure compensation and ISO dials being particularly appealing, and doesn't suffer from the ultra-slow RAW processing speed that plagues the P6000. Only the noticeably smaller size and weight of the P6000 swings things back in its favour. Both cameras produce very good images, but both suffer from too much noise at too slow an ISO speed. Obvious noise at ISO 400 and faster is the logical consequence of squeezing too many pixels onto a relatively tiny image sensor. If you take a lot of pictures in low-light, then a DSLR camera is a much better fit for you. Otherwise there's little to choose between the two in terms of image quality. With both cameras available for the same price (around £400 / $500), it's easy to declare the Canon PowerShot G10 as the winner of our first head to head review.
These aren't the only two options though. You should also seriously consider the Panasonic Lumix DMC-LX3 and the Ricoh GX200, both of which are cheaper, smaller and equally as well-specced as the Canon G10.
Compare Prices - Canon Powershot G10
Compare Prices - Nikon Coolpix P6000