Reviews: Digital Picture Printing Frames
http://www.digital-picture-printing-frames.com/
Introduction
"We are the only website which allows you to upload any digital picture file, customize its size, and preview it in the mat(s) and frames of your choice. The digital picture goes, literally, from your hard-drive to your wall." That is the bold claim of Digital Picture Printing Frames, an online print and framing service based in the USA. Digital Picture Printing Frames is a museum quality custom printing and framing company committed to using only the best-quality, longest-lasting materials available on the market today. The service that Digital Picture Printing Frames provides is aimed at photographers who are looking for a high quality way of displaying their work. As well as prints and framing, they also specialize in selling fine art prints. I have just moved into a new flat in Paris which needs brightening up with some of my photography, so I decided to place an order with Digital Picture Printing Frames. Did they live up to their promise of taking my photo from hard-drive to wall? Read this short review to find out.
Price
I ordered a custom-sized 18 x 12 inch print with an Antique White matt, 25.5 x 19.5 inch PineBrown frame and a deluxe linen-texture finish, giving a total price of $200.18.
Ease of Use / Features
Digital Picture Printing Frames accepts uploaded images in the following formats: JPEG (.jpg), GIF (.gif), BITMAP (.bmp), PHOTOSHOP (.psd), and TIFF (.tif). I uploaded a 30Mb TIFF file without any problems. I chose one of my all-time-favourite photos, "Bangkok Alley" (pictured), which as well as looking good would also help to test Digital Picture Printing Frames' printing quality, as it is a high contrast image, with deep shadows, bright highlights and many shades in between. The online uploading process was straightforward and secure, with my photo taking about 10 minutes to upload on a fast 2Mbps broadband connection.
The next stage in the ordering process is to select the print size and choose a suitable frame and matt for it via the "virtual frame shop". This was actually a much more pleasant experience than it sounds. As you choose a frame or matt, the webpage is automatically updated with a new thumbnail version of your photo, shown in the screenshot above. The price is also updated so that you can keep track of what you are spending. I imagine that this process may be quite slow on a 56Kb dial-up connection, but for all the broadband users out there (me included), it works flawlessly, taking very little time to update with your changes. After about 30 minutes of careful consideration, I had selected my final print and frame size, matt type and finish. Payment was quick and easy with an email receipt landing in my inbox virtually as soon as I had completed my order.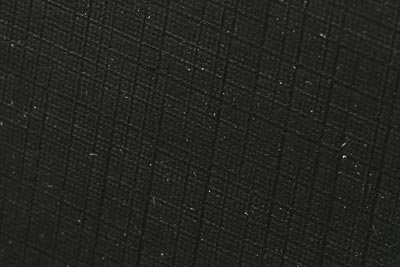 Delivery was also quick and easy - it took Digital Picture Printing Frames 5 days to prepare my photo and another 5 days for it to be delivered from the USA to France. It arrived securely wrapped in bubble-wrap and wasn't damaged in any way by the courier process.
So far so good. Upon opening the package, the finished framed print struck me as being very light and of a high quality. The lightness is due to the type of finish that I selected. Instead of choosing glass or acrylic to protect the print, I opted for a new kind of finish called linen-texture. Digital Picture Printing Frames are the only company, as of yet, to offer this unique service, where a protective linen-type finish is applied to both the mat(s) and the print. The print looks like it has a matt finish from a normal viewing distance, but very close-up and from the right angle you can see what I can only describe as a grid-like pattern on the surface of the print and matt (see the image on the left). This isn't apparent when viewed normally, whilst being very light and still offering similar protection as more traditional finishes. The only downside is that the print does tend to collect dust - after about a month of hanging, quite a lot of dust has accumulated on the surface. The finish is UV protected and can be cleaned with general glass and surface solvents like Windex(R) or 409(R). The life-expectancy of the linen-textured laminate is dependant upon the foam core backing. With the picture that I ordered, the archival safe/acid-free foam core can last 70 years or more, whereas standard foam core backings will last as long as 30 years or more.
The print itself is very impressive, with colours that are true and accurate to the original photograph. The antique white matt complements the image very well, and the back of the picture is finished well with picture hanging accessories already fitted. The only aspect of the picture that disappointed me was the frame, which as you can see from the images in this review doesn't match the frame that was previewed on the Digital Picture Printing Frames when I placed my order. The supplied frame is quite a lot darker and more cherry coloured than the PineBrown frame that I selected. I would blame my monitor if it wasn't already calibrated using a hardware calibration device. I'm not sure how this can be avoided, given that what you see on one computer monitor is usually different from the next - it's just something to bear in mind if you do place an order online that involves some kind of colour-matching.
Conclusion

(out of 5 stars)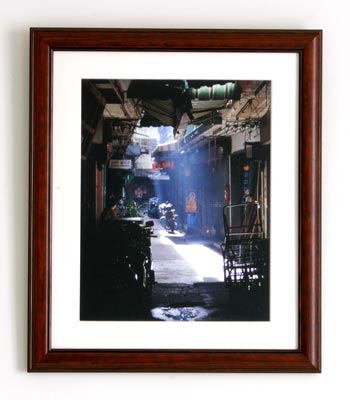 From start to finish the whole experience was an enjoyable one, with an extremely easy to use online ordering service, quick and efficient processing of the order and delivery, email feedback and a quality product at the end of it all. The only thing that marred an otherwise positive experience and product was the mis-match between the frame colour that was previewed on the Digital Picture Printing Frames website and the frame that I actually received, with the latter being darker than the former. This is more of a criticism of the pitfalls of ordering online, rather than of Digital Picture Printing Frames itself. Overall just as the blurb promised; The digital picture goes, literally, from your hard-drive to your wall.