Epson P-7000 Multimedia Storage Viewer Review
Review Date: September 11th 2008
Author: Jon Canfield
Leave a comment about this Review
Introduction
Epson has offered a range of "Multimedia Storage Viewer" portable storage devices for several years now. The screens have always been a highlight, with excellent color rendition that exceeded anything else on the market. The latest generation of these devices takes an already good product and adds some nice enhancements. Epson have introduced two new models, the 80GB P-6000 ($599.99 / £449.99), and the product I reviewed, the 160GB P-7000 ($799.99 / £549.99). While the basic units are the same with the exception of storage capacity, the P-7000 also includes a Travel Pack, which, after using, I'd consider an essential item to have.
The P-7000 has a 4-inch LCD screen with what Epson calls their Photo Fine Premia technology. The new screen is capable of displaying 94% of the Adobe RGB color space, which is pretty remarkable when you consider that a desktop display that can do this is going to cost $1500 - $3000. In order to cover this wider gamut, Epson employs a four color filter system. Rather than the standard Red, Green, Blue, you have Red, Blue, Emerald Green, and Yellow Green. The pixel density is 212 ppi making for a very capable display while still being easy to read for menu items.
The transfer speed has also been improved with a claim of up to 35% faster than the previous models. A new jog dial makes it easier and faster to scroll through images, and the new battery lasts up to 3 hours. Both the P-7000 and P-6000 viewers support Compact Flash (including UDMA) and SD/SDHC/MMC cards directly out of the box, and adapters can be used to support other formats like xD and Memory Stick.
Along with JPG file support, the Epson P-7000 has enhanced support for several RAW file formats, including Canon, Epson, Nikon, Olympus, Pentax, and Sony. You can also view DNG files if there is an embedded JPG preview. Although the list on Epson's website doesn't include any of the Canon 1D series cameras, files from my 1Ds Mark III display properly. I have no reason to believe other cameras like the Nikon D700 would not work as well.
In addition to photos, the Epson P-7000 supports MPEG4 and Motion JPEG video files and MP3 and MPEG4/AAC audio formats. Video playback is smooth, and audio quality is adequate from the internal speakers, but for best results you'll want to use headphones. It's not likely that anyone will be buying one of these strictly for video or audio use though, as an iPod or similar media player would do as well for much less. But, the P-7000 lets you combine the music with your images for slideshows in the field, on the P-7000 screen or through the AV out connectors onto a television.

Figure 1

Figure 2

Figure 3
Ease of Use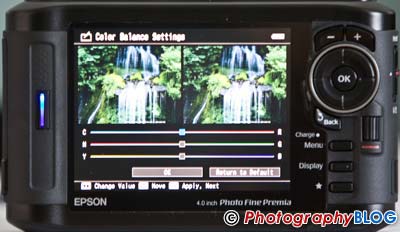 Figure 4
The Epson P-7000 couldn't be much easier to use. Once you've charged the battery, power the device on and for the initial setup enter your date and time. To copy images from a memory card, insert it in the appropriate slot on top of the P-7000. You'll be automatically prompted to backup the files on the card or to browse the card. The later option gives you the option of selecting which images to copy, but I find it easier to copy all files and review later. Although the P-7000 is much faster than the previous version, file copy is still a fairly slow process. Copying 9.3 GB of files (Using a SanDisk Extreme III 12GB card) took just over 18 minutes – this was a total of 408 images. The same transfer with a USB 2.0 card reader to my Mac Pro took about 12 minutes. Using a UDMA card speeds things up quite a bit, but my normal shooting doesn't utilize this type of card.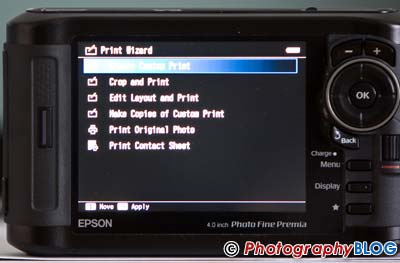 Figure 5
Photo viewing though is nearly instantaneous, even with the 22MP files generated by the 1Ds Mk III. You can view to fit screen with auto rotation, or you can zoom in up to 400%. While zoomed, you have the ability to pan across the image to see details in the image. Pressing Display again will toggle between different amounts of information – the options are no info, filename, and EXIF data with a histogram. I found it easy to navigate through images with the new jog dial. The screen is bright and easy to view even in direct sunlight. The included slideshow feature gives you control over how long an image is displayed, what transition effect is used, and whether to play music with the show.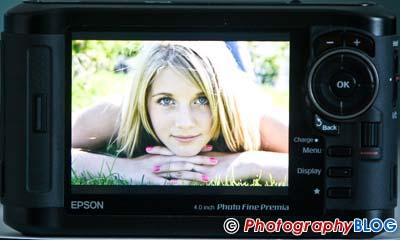 Figure 6
The Print Wizard offers a number of features, but they're designed to work with JPEG images rather than RAW files. If this is your style of shooting though, you can do custom prints including cropping, image adjustment, multiple print sizes, and contact sheets. The layout controls are very intuitive to use and the Epson P-7000 offers scrolling help while making adjustments. I was able to do basic printing, including contact sheets with RAW files, but color balance and other corrections were not allowed, giving me an error message about containing RAW data not supported by this device.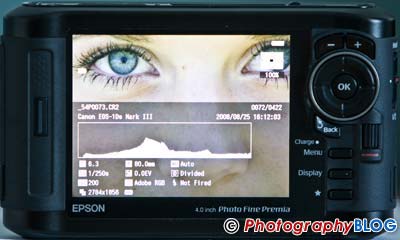 Figure 7
Included with the Epson P-7000 is a Travel Pack that consists of a storage case, viewing stand, dual battery charger, 12 volt car adapter, cleaning cloth, and LCD protective film. The case is a very nice quality nylon with a pocket for the stand and a spare battery, along with a belt loop and shoulder strap. Ideally you'd have an extra battery as well. For field use I strongly recommend picking up a second battery, which lists for $59.99, and with the extra charger, both can be charged at once and give you extended power for a long shooting day.


Figure 8
Conclusion
Ratings (out of 5)

Design

4

Features

4.5

Ease-of-Use

4.5

Value for Money

4
The Epson P-7000 is a clear winner when it comes to portable storage devices. Battery life is good and would be more than enough to last the typical user a full day. For heavy shooters, or if you do much image reviewing, I recommend picking up a second battery. At $799 / £549.99 for the P-7000, this certainly isn't a cheap device, but the quality is first rate, and it beats the heck out of lugging a laptop for image storage. The display quality is stellar and far exceeds any other similar device I've used. The included features will handle most chores that you'd want to do away from the computer. The ability to print directly from the device with basic color correction, cropping, and sizing is a nice feature as well. If you shoot away from home, you'll find the Epson P-7000 to be a welcome addition to your camera bag.