Epson Stylus Photo R1900 Review
Review Date: March 31st 2008
Author: Jon Canfield
Leave a comment about this Review
Introduction
The Epson Stylus Photo R1800 has been a popular choice for digital photographers requiring the13x19 format, but not willing or able to spend the additional money for the R2400. Add to that exceptional gloss printing thanks to a special gloss optimizer, and you have an excellent option for high quality printing at an attractive price. But, as usual, the market doesn't sit still. It seems that no matter how good a product might be, there's always a need to come out with a new and improved version. The Stylus Photo R1900 is Epson's answer to this need, and they've done an admirable job with the update. The biggest change, especially for anyone coming from the R1800, is the new mix of ink colors. Dubbed Ultrachrome Hi-Gloss 2, the inks have reformulated the gloss optimizer to be more transparent, and improved the red ink. Gone is the original blue, being replaced with orange. Epson claims this results in better skin tones, which we'll take a look at in just a bit.
Compare Prices
Support PhotographyBLOG: Buy the Epson Stylus Photo R1900 from one of our affiliate retailers:
Setup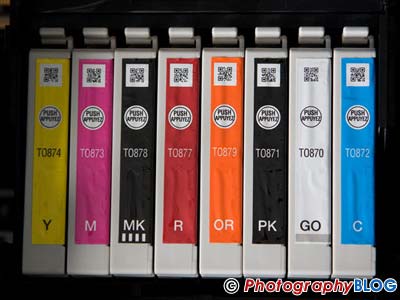 Figure 1
Setting up the Epson Stylus Photo R1900 couldn't be much easier, although I'd love to have stock in the company that makes the tape every printer seems to be wrapped in these days. After removing all the packing materials, plug the printer in, power up, and then install the inks. The R1900 has eight individual ink tanks – Cyan, Magenta, Yellow, Red, Orange, Photo Black, Matte Black, and Gloss Optimizer. Included with the printer is a spare gloss optimizer cartridge, and you're going to need it sooner than you'd expect. Because the optimizer covers the entire page when used, the small cartridge size quickly empties. I was able to get about 14 11x17 prints before replacing the cartridge.
After installing and charging the printer, you'll install the software for your system. Epson includes drivers, Print CD, profiles, and an online help system. Mac OS X 10.5 users should be sure to check online at www.epson.com for updated drivers that are designed for Leopard. These new drivers include support for 16 bit printing, and an enhanced print dialog layout (Figure 2).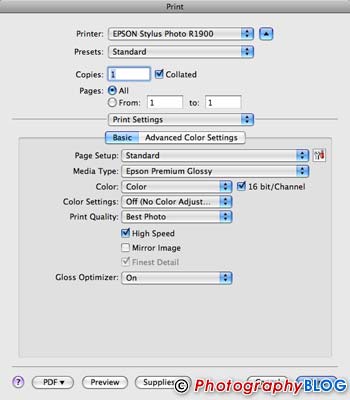 Figure 2
The Epson Stylus Photo R1900 includes a PictBridge connection for printing directly from a camera or portable device, and also has two USB 2.0 ports allowing you to connect multiple printers at one time. Also included with the R1900 are roll feed adapters, supporting panorama printing up to 13x44, a tray for printing directly onto inkjet compatible CD and DVD media, and a rear feed adapter for printing with thicker media.
Ease of Use
Epson printers are among the easiest photo printers to use when it comes to user interaction. The driver is straight forward, letting you select paper type and quality, along with color management. If you're printing from Photoshop, I recommend using Photoshop to manage color and turning off color management in the printer driver to get the most accurate results. You'll also want to use this mode if you're working with custom profiles.
Depending on the type of media you're using, there are several quality modes available. For normal use, I find that Photo mode is a good compromise between print quality and ink use. It's also much faster. For final prints, I seldom go beyond Best Photo mode. In this mode, an 8x10 print takes about 1 minute 45 seconds.
New to the Epson Stylus Photo R1900 is Epson's Radiance Technology. Essentially, this is an algorithm that increases color gamut through intelligent blending of ink colors. It also reduces grain patterns and gives smoother transitions in areas like sky and skin (Figure 3). Finally, it seems to reduce metamerism problems that are seen when moving a print from one type of light source to another. Combined with the small drop size of 1.5 picoliters, it's difficult to see any dot pattern without magnification.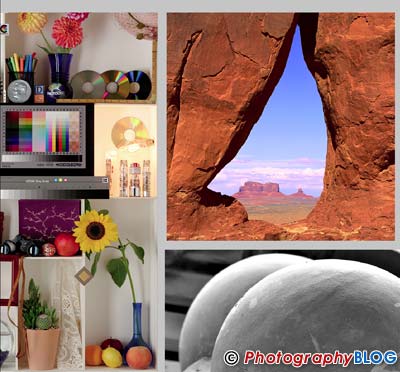 Figure 3
Unlike the R2400, both Matte and Photo black are installed at the same time, and the Epson Stylus Photo R1900 switches between the two based on your paper type with no ink waste. For dedicated black and white fans though, this comes at a cost. There is no gray or light gray included with the printer. In practice, I was pleasantly surprised at the quality of black and white prints though, on both gloss and matte surfaces. The R2400 certainly does a better job here, but it's closer than I would have expected (Figure 4).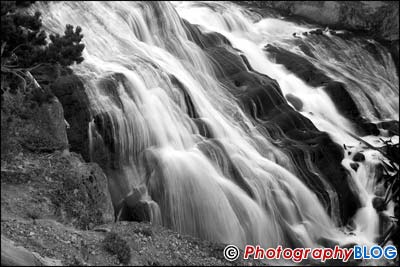 Figure 4
Although I don't have an R1800 to do a direct comparison of skin tones, the new orange and red inks in the Epson Stylus Photo R1900 certainly live up to Epson's claim. The image of Karlee in Figure 5 was my test print for this, selected because it has good skin tones and gave me the opportunity to see how the printer did with actual reds and strong fall colors.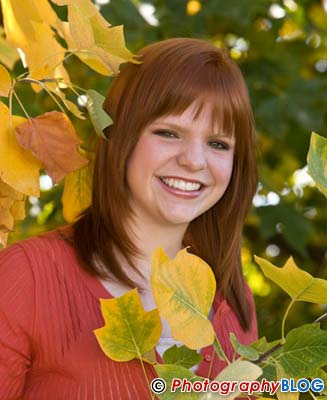 Figure 5
I was very impressed with this print. In fact it's one of the best I've seen from an inkjet printer.  Skin and hair colors were spot on and the smoothness of the skin tones was excellent with no visible banding or loss of detail.
In order to test how well the Epson Stylus Photo R1900 did with saturated colors, I used the image shown in Figure 6. This shot has given me problems in the past with some printers unable to handle the saturated purples. Once again, I was very pleased with the output from the R1900, which showed less gamut problems than the Canon Pro 9500 or the HP B9180.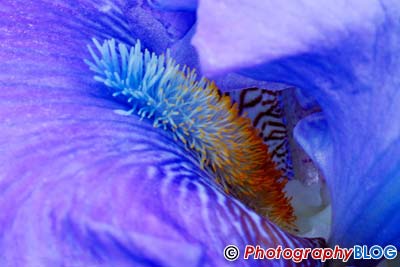 Figure 6
Test prints done on matte and canvas papers were good, on par with the Canon and HP. Epson gives better black output with their matte black than the other printers, giving me better shadow detail and contrast on photo rag papers. Still, it's clear this printer is aimed at the gloss and luster enthusiast and that's where the R1900 pulls away from the competition.
Conclusion
Ratings (out of 5)

Design

4.5

Features

4.5

Ease-of-Use

5

Image Quality

4.5

Value for Money

5
Overall the Epson Stylus Photo R1900 is a solid upgrade to what was already a very good printer. The new ink mix, along with the improved gloss optimizer have visibly improved the output. For black and white work, I'd stick with the Epson R2400 or the Canon or HP printers. The additional gray inks on these models will give you better results. For the money, the R1900 is nearly impossible to beat. At $549 it competes directly with the HP B8850 and the Canon Pro 9500 (Epson compares the R1900 to the Canon 9000. While closer in price, the 9000 is a dye ink printer). Neither of those printers give you roll feed, and at least in the USA, the Epson Stylus Photo R1900 is the only printer that gives you the ability to print directly onto CD/DVD.  The gloss optimizer goes quickly though, so I'd suggest stocking up if you plan to print many glossy images.
Leave a comment about this Review
Compare Prices
Support PhotographyBLOG: Buy the Epson Stylus Photo R1900 from one of our affiliate retailers: