HP Photosmart B8550 Review
Review Date: January 12th 2009
Author: Jon Canfield
Leave a comment about this Review
Introduction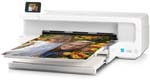 The new sweet spot for printer sizes appears to be 13x19, or A3+/Super B. Large enough to print 11x14 photos, while still fitting on the average desktop, these printers offer much more versatility than a letter size model does. It also opens up the possibilities for different papers that can be used, as many fine art and premium papers are not available in A4 or letter sizes. The drawback for many users though has been price. Just a year ago, printers in this size typically started at $599 and went up from there. Until today, the entry point has been the $349 Epson R1400. With the Photosmart B8550, HP is looking to take over the low-end price point at $299 (we've also seen it at various online retailers for as little as $199). For such a low price, you'd expect quite a few compromises to be made, and while there are a few that I'll cover here, I was surprised at the level of printing power a couple of hundred dollars will get you these days.
Compare Prices
Support PhotographyBLOG: Buy the HP Photosmart B8550 from one of our affiliate retailers:
Setup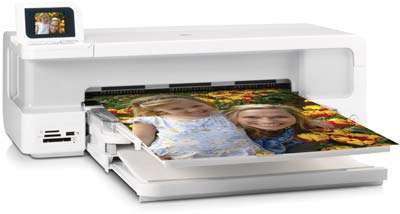 Figure 1
The HP Photosmart B8550 is compact for a 13x19 printer, measuring about 23" wide and 15" deep, so it should fit on most desks. On-board you'll find a card reader with a full compliment of slots – Compact Flash, SD/SDHC, xD, Memory Stick/Memory Stick Duo, and MMC. The card reader can be used to print photos directly from the printer with no computer, or attached it can also be used as a standard card reader. You'll also find a standard PictBridge port to connect your camera directly to the printer.
Connection to your computer is via USB 2.0. Up top are a control panel and a small color LCD (Figure 2). The LCD keeps you informed of current tasks and works as a navigation system when viewing and printing images directly from a memory card. The control panel has buttons to browse through images and make menu selections, zoom in or out, and access to an extensive help system. Other built-in features include a handy School Papers option that will print out standard rule paper, graph paper, and several other types.

Figure 2
A Create option has presets for printing albums, wallets, passport, and panoramas. On board editing includes basic image adjustment as well as monochrome conversion, cropping, red-eye removal, and framing.
Ease of Use
Printing is handled by HP Vivera inks (Figure 3). The HP Photosmart B8550 uses four dye inks – Photo Black, Cyan, Magenta, and Yellow for photo printing, and has a larger pigment Black for text documents. It's obvious that HP is aiming for the general market here with only four colors, but I was impressed with image quality on the test prints I did.
The ink cartridges are small and you'll burn through them all too soon. I got my first low ink warning with the yellow cartridge after only three 13x19 prints. Ignoring this warning, I was able to get another five prints before actually changing out the cartridge. After printing a total of 11 13x19 prints, I had replaced all four of the color cartridges with only the original pigment black remaining installed. Inks are less expensive than the competitors at $9.99 each, but that's small consolation when you'll be replacing them often. HP does offer an XL version of the inks with 2.5 times the capacity for $14.99. This would be the much better option if you intend to do more than occasional printing.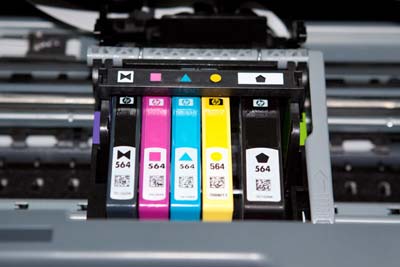 Figure 3
The pigment black is quite a bit larger and since it's only used for text it should last quite a while. HP sells supplies for the Photosmart B8550 in "Photo Value Packs" with a set of four inks and paper. For about $35, you can get the inks with 150 sheets of 4x6 paper, or a bit more for larger size papers with fewer sheets. These packes are a good estimate of what HP thinks you'll be able to print from a set of ink cartridges.
There are two feed paths for paper on the HP Photosmart B8550. An upper tray holds up to 20 4x6 or 5x7 paper and the standard tray holds up to 125 sheets of everything else. So, you can have multiple types of media loaded at one time and choose which tray to print from in the driver. The printer uses HP auto-sense to detect paper types that use HP's bar coding system on the back.
Both platforms include software extras. Windows get HP Photosmart Essentials, a cataloging and creating program in addition to the printer driver (Figure 4). You can print photo books, create DVD slideshows, or use the included ArcSoft Print Creations to print cards, calendars, and scrapbook pages. On the Mac side, a bundle of applications with Create, Print, Share, Stitch, and Studio are provided in addition to the print driver (Figure 5).
What I found most interesting though was the lack of printer profiles. On the Mac, profiles are installed for HP Advanced Photo Paper and HP Premium Photo Paper. Windows users get no profiles at all. If you're going to print from a color managed application like Photoshop or Elements, this means you'll need to select Printer Managed, and it also removes the ability to do soft proofing. Obviously, HP isn't targeting this printer at pro level photographers, but I thought the omission of profiles on one platform was an odd decision on their part.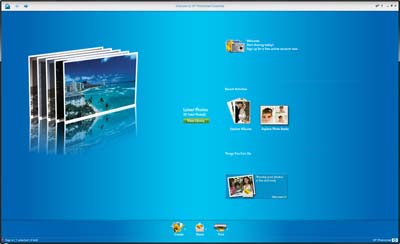 Figure 4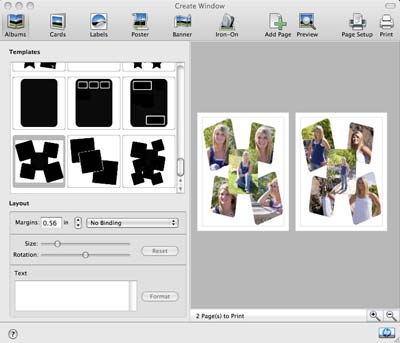 Figure 5
The print dialogs are standard issue for this type of printer. On Windows, there are a number of presets for different types of printing (Figure 6) that will configure the printer in a single step. Mac users (figure 7) have a different setup without the presets. If you're printing from one of the bundled applications though, none of this will matter as the applications will set the correct options automatically for you.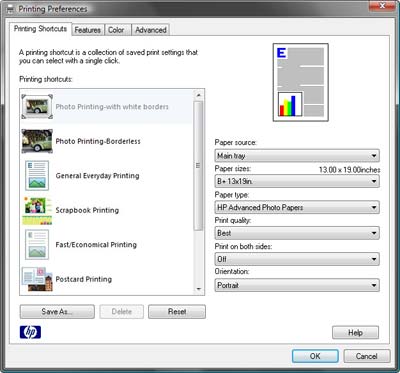 Figure 6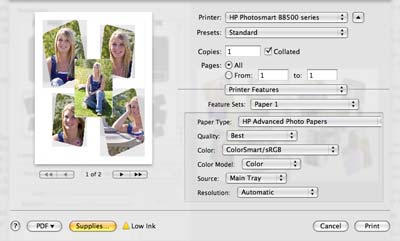 Figure 7
Image Quality
As I mentioned at the start of this review, print quality from the HP Photosmart B8550 was surprisingly good for a four-color printer. Using Printer Managed Color, the output tends a little towards the saturated side, especially with greens. Images are also about 1 stop darker than what I have on screen and what I see when printing using Application Managed Color. Print speed is very good with a 13x19 borderless print taking less than six minutes.
I created custom profiles for a couple of other papers I commonly use, including a fine art rag paper. Here the printer showed some banding in areas of smooth tonal gradation like sky. But, given only four colors and no matte black, I was pleased with the results, which would be suitable for general printing.
Using the card reader, I printed a set of 30 4x6 prints. I used HP's Real Life Technologies that is built into the HP Photosmart B8550. This applies some automatic adjustments to images. It did a good job of adjusting for dark exposures, but once again the greens were over-saturated for my tastes (think Velvia greens with a saturation boost).
I compared prints from the HP Photosmart B8550 to an Epson R2880. While they're obviously targeted to a different audience, I was surprised at how well the HP held up next to the R2880 with its eight-color inkset. When printing black & white, the Epson has a clear advantage though, as the HP doesn't have the range of tones in the prints I did.
If you're printing text documents, you'll be pleased with both the quality and speed – about 30 pages per minute.
Conclusion
Ratings (out of 5)

Design

3.5

Features

3

Ease-of-Use

4

Image Quality

3.5

Value for Money

3
HP has an interesting offering with the Photosmart B8550. Ideally suited to mixed use with text and photos, it is a good solution for someone looking for a single printer for all uses. The 13x19 size will appeal to many, especially scrapbook aficionados that need to print on 12x12 papers. Based on my results, a 4x6 print costs about $0.23. The number of prints per cartridge is disappointing though. The XL version of ink would be a better option for this printer if you'll be doing more than occasional printing. If you're looking for a pure photo printer, you'd be happier with something along the lines of the Epson Stylus Photo R1400, Canon Pixma Pro 9000, or HP Photosmart Pro B8850, all of which are optimized for photo printing and can be purchased for about $50 more.
Leave a comment about this Review
Compare Prices
Support PhotographyBLOG: Buy the HP Photosmart B8550 from one of our affiliate retailers: