HP Z3100 Review
Review Date: January 9th 2007
Author: Jon Canfield
Leave a comment about this Review
Introduction
The recent introduction of pigment printers from both HP and Canon have finally added much needed competition to the market, which has been owned by Epson for some years now. Not being content to merely catch up to Epson though, HP has taken a large step forward with the new Z3100 and Z2100 photo printers. Both printers, available in 24" and 44" sizes, use the new Vivera pigment inks first seen in the B size HP PhotoSmart Pro B9180 printer. In fact, the Z2100 uses the same 8 ink set as the smaller B9180 which I have reviewed elsewhere in depth. For this report, I'll focus on the HP Z3100 printer, which is a 12 ink – 11 colours and a gloss enhancer – version.
The enhancements don't stop with the additional inks though. The HP Z series is also the first printer that includes a built-in spectrophotometer for creating custom profiles. If you've ever dealt with profiling a printer, you'll immediately see the benefit of this. But, any printer can sound impressive when you read the feature list – after all, people go to college to learn how to make a product sound good. In this case though, the hyperbole is deserved. The output from the HP Z3100 is nothing less than outstanding, and in twenty years of digital printing, I have never been as happy in as short a time as I am with this printer.
Pigment inks have two major advantages over dye based inks. First, archival life is much greater, with most offering 70 or more years of display life before visible fading occurs. The Vivera inks in the new HP Z series printers are rated by Wilhelm Research at 200 years for both colour and black and white prints. The other primary advantage is the variety of media available. While dye ink printers are optimized to work with luster and gloss finish papers, pigments can print on almost any surface. HP has over 20 media options with many of the fine art papers being supplied by Hahnemuehle.
Compare Prices
Support PhotographyBLOG: Buy the HP Z3100 from one of our affiliate retailers:
Setup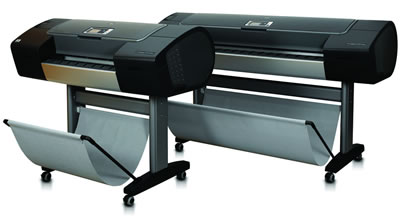 If you haven't used a large format printer before, you might be a bit overwhelmed when you see the box. The 44" printer I received was on a 6 foot palette and tipped the scales at nearly 300 lbs. Needless to say, my wife was not amused when the truck dropped it off.
After opening up the box, you're greeted with a large and clear quick setup guide to show you how to unpack and assemble the printer. HP has done a fantastic job with the documentation for the Z series. In addition to the Quickstart guide, there is a full colour and extensive manual for the printer that clearly shows how to perform most tasks. Installation of the software also places an electronic version of the documentation on your computer where it's available at any time from the printer driver. Since this printer is likely to be used in a networked environment, that can be a big help when the printer isn't located near the user. A minor nit to pick though – the manual is too big to fit into the pocket on the back of the printer where you would expect to store it.
Within 30 minutes of starting I had the printer up and ready to charge the ink lines. The HP Z3100 uses six user replaceable print heads, and 12 130ml ink cartridges. To the normal mix of colours, HP has added a light gray, gray, red, green, and blue. Interestingly, the normal cyan has been dropped to make room for the gloss enhancer. HP feels, and my print testing confirms, that the addition of a blue more than compensates for the cyan. Through the HP Print Monitor you can check the status and supply of all inks.
Ease of Use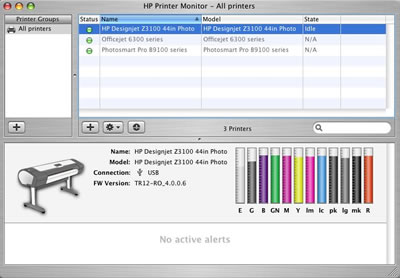 Unlike the Epson printers, there is no need to swap photo black and matte black inks when switching between paper types, saving time and significant amounts of ink. When printing on gloss or satin papers, matte black is not used, but the gloss enhancer is available. If you've done much printing on gloss or satin finish paper, you've probably seen (and sworn at) gloss differential – the change in reflectance between different areas of the print. By using the Gloss Enhancer, a clear coating is applied over the page to eliminate this problem.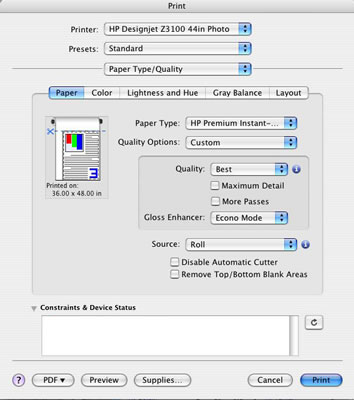 There are two options for using Gloss Enhancer, Econo mode, which only places the GE on areas of the print that contain ink, leaving highlight areas where no ink is placed on the page blank, and Full mode which covers the entire printable area of the page regardless of ink coverage. On matte finish and fine art papers the GE isn't used at all.
The HP Z3100 makes it easy to use your own favorite paper types too, thanks in large part to a built-in Gretag eyeOne spectrophotometer. To use this feature, you simply start the HP Printer Utility and select the appropriate option.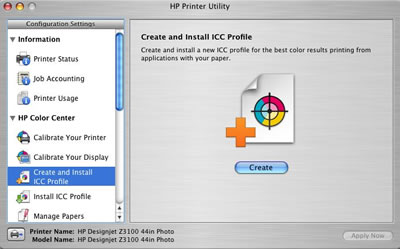 Because the HP Z3100 has an onboard 40GB hard drive and embedded web server, any profile you create will be stored on the printer and available to any other user in a network setting. After clicking Create, you'll be prompted to name your paper type, which will then be available in the Custom section of the print driver. The printer will then print a colour chart which is measured by the spectrophotometer, and a standard ICC profile is created and installed. These profiles are also stored on the printer's hard drive and will be automatically installed on any computer using that printer, ensuring that all users have the same output profiles available to them.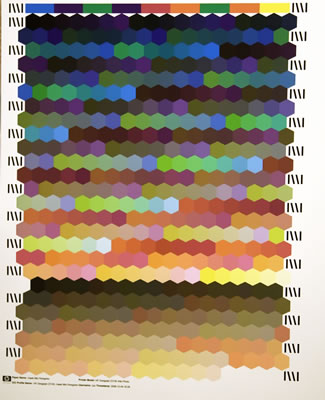 Printing with the HP Z3100 is much like any other printer. For best results you'll want to use the Photoshop Print with Preview feature and select the proper paper profile along with choosing "Let Photoshop Manage Color". The default in the HP driver is Application managed colour, so you really only need to select the proper paper type and size before printing. If you like to tweak your settings though, you have full control over both Color Balance and Lightness.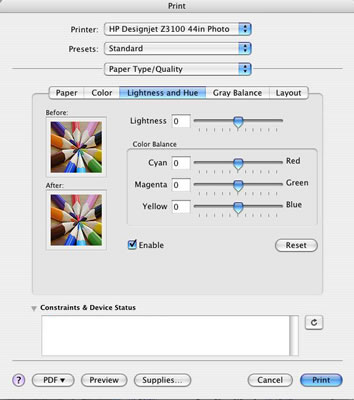 Or, if you plan to print in grayscale, the Gray Balance tab gives you total control over tonal range, something I haven't seen at this level in any other printer driver, and exceeding the Advanced Black & White mode available in the newer Epson Ultrachrome K3 printers.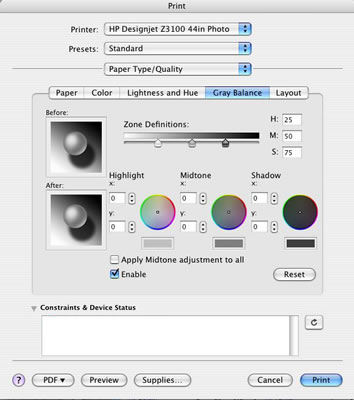 NOTE: HP is currently working on a plug-in for Photoshop that will make printing a one-stop operation, similar to what is currently available for the B9180 printer. This plug-in wasn't available when I wrote this review.
I found the speed of the HP Z3100 a pleasant surprise, especially when viewing the quality of prints. I found speeds to be about 15% faster than the Epson 7800, even though I was printing at a higher quality setting with the HP. Compared to the Canon ImageProGRAF iPF5000, the Z3100 is about 10% slower. I haven't had direct experience with the larger Canon printers, but I would expect this speed difference to be similar there.
To track use and expenses, the built-in web server gives you plenty of information, including print jobs, ink use, paper type used, and more. For any anyone producing prints for sale, this level of reporting makes it possible to accurately price work and track supplies.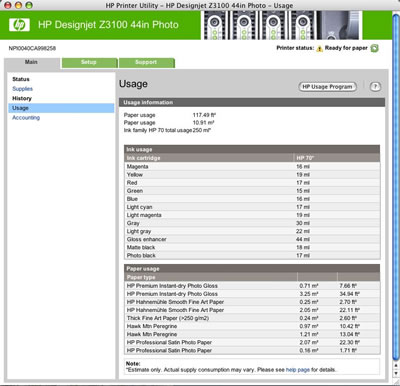 Based on my initial use of the printer, ink costs are very reasonable. On average, the printer uses 2.12 ml of ink per square meter of paper. At the retail price of $75 per cartridge, this works out to about $1.20 per square foot for ink. Buying ink in the available two pack reduces this cost to about $0.93 per square foot.
The web server also includes information on print head status, full access to online support and documentation as well as a way to re-order supplies when needed.
If you've used a pigment printer in the past, you've likely experienced the problem of clogged heads. HP recommends leaving the Z3100 turned on at all times which will allow it to perform nozzle checks and cleaning as needed. This significantly reduces the amount of ink used (and wasted).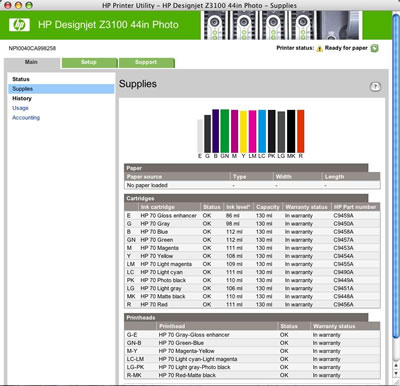 Print Quality
Print quality is the main objective for most of us. It doesn't matter if the printer has 4 colours or 12 – if the print looks good, we're happy. The Z3100 doesn't disappoint here. Color prints have a slightly larger gamut than the Epson I'm used to, especially in the greens and blues, thanks to the inclusion of primary inks in these colours. Black and white prints are more neutral than anything I've ever done without using an additional RIP like ImagePrint.
And, along with excellent neutrality, there is no – that's right no – metamerism, or shift in colour tone, when going from one light source to another. Dynamic range is better too, with more detail in deep shadow areas than I've seen in an inkjet print, exceeding the Canon by a small margin.
When printing on photo papers (gloss, luster), the HP Z3100 uses three blacks, while on fine art papers all four blacks are used, essentially giving you a quadtone printer.
Along with the Z series printers, HP has brought out a full lineup of media, some of it made in conjunction with Hahnemuehle. The Smooth Fine Art feels very much like the Hahnemuehle Photo Rag, but is a brighter white that I find excellent for black and white and colour work.
Conclusion
Ratings (out of 5)

Design

4.5

Features

5

Ease-of-Use

5

Image Quality

5

Value for Money

4.5
If you're serious about printing, the HP Z series is impossible to beat. Canon and Epson have a strong competitor now, which is great news for all of us. The gloss enhancer included with the HP Z3100 makes it possible to print outstanding gloss and satin prints with no bronzing or gloss differential to detract from the print. And, with an archival life of 200 years, our work will be around long after we're gone. I do wish the inks came in larger sizes than 130ml, especially for a 44" printer, but the ink use is very light compared to other large format printers I've used, helping to mitigate the smaller size of the cartridges. The initial price tag may put some people off, but given the inclusion of a spectrophotometer, the price is actually very reasonable. My final impression? The HP Z3100 is THE printer for me. I'm one happy camper.
Leave a comment about this Review
Compare Prices
Support PhotographyBLOG: Buy the HP Z3100 from one of our affiliate retailers: