Lexmark P350 Review
Review Date: December 7th 2006
Leave a comment about this Review
Introduction
The Lexmark P350 is a thermal inkjet compact photo printer which can deliver a 10x15cm / 6x4inch print in a claimed time of 75 seconds. The P350 uses a 3-colour single cartridge containing pigment ink. Print resolution is 4800 x 1200 dpi, and the new evercolor2 ink and PerfectFinish paper promise print longevity of up to 200 years. The P350 supports 11 different memory card formats and the Pictbridge standard for direct printing without a computer. It also supports Bluetooth via an optional adapter. The Lexmark P350 has a 2.4 inch colour LCD screen for previewing and selecting your photos. Measuring just 127 x 235 x 147mm and weighing 1.84kg, the P350 also has a carry handle for easier portability, although there is no battery pack option.
Compare Prices
Support PhotographyBLOG: Buy the Lexmark P350 from one of our affiliate retailers:
Setup
The Lexmark P350 is extremely easy to setup, taking less than 5 minutes from removing it from the box to being ready to print. The Quick Install poster is easy to follow, and the printer also displays animated graphics to guide you through the process - very neat. Less impressive is the 2 part power cord, which makes the overall system bulkier that it could be, and the lack of a proper ink cartridge. Lexmark only supply what they call a "Starter" cartridge with the P350, which presumably contains less ink than a normal cartridge. There's also only 20 sheets of paper, so you'll have to purchase a Lexmark P350 Photo Kit before too long (see Media Options below). Once the P350 has automatically printed an alignment sheet (just 19 sheets of paper left now), you're ready to go.
Media Options
The recommended paper type for the P350 is the new Lexmark PerfectFinish Photo Paper, and there is one type of ink cartridge, the Lexmark 43 color print cartridge. PerfectFinish paper has a claimed lifespan of 100 years in normal display conditions (under glass) and up to 200 years when stored in a photo album. The ink is a pigment based, evercolor2 ink that is water-resistant. You can buy paper and ink together in the Lexmark P350 Photo Kit, which contains enough ink and paper to deliver 100 photos. You can also purchase the ink cartridge separately.
Ease of Use
The Lexmark P350 has a bright, clear and large LCD screen that can be rotated through 90 degrees, making it easy to view either standing up or sitting down. The printer's menu system is intuitive to use, as are the various external controls. You don't need to read the User Guide to understand the P350, which is a good thing as it's only supplied as a PDF on the CD.
There are dedicated buttons for the 1-touch color fix and red eye reduction functions. The color fix button opens up a sub-menu with various correction options, including Brightness, Crop, Auto Enhance, Red Eye Reduction (again), Colorized Effect, Rotate, Frames (4 of the 5 frames are truly horrible). A handy thumbnail image shows a preview of the effects that you apply.
You can view a slideshow and transfer your images to a computer or USB flash drive. Choosing which photos to print is done by either scrolling through a thumbnail of each image, or selecting to print all photos, photos by date or a range of photos.
The Lexmark P350 also offers Bluetooth connectivity, but it's unfortunately via an optional adapter not included in the standard kit, so we were unable to test this.
The PC software supplied with the P350 is basic, but very easy to use, perfect for its target audience. The "Lexmark Solution Center" provides some handy how-to's and troubleshooting tips.
Print Speed from Memory Cards
The Lexmark P350 took 22 seconds to find and display the 4 JPEG test images on our 1Gb Sandisk Ultra II memory card, which isn't particularly speedy. Scrolling from one image to the next was also something of a painstaking process, taking around 15 seconds between images (depending upon the file size). You'll be watching the hourglass icon and flashing blue LED a lot when using this printer. A red outline shows which parts of the image will actually be printed. We printed 4 images of various sizes as borderless, best quality photos, and timed them from pressing the Print button to the final print landing in the output tray.
| | | |
| --- | --- | --- |
| Image | Size | Time |
| Test Image | 1.4Mb | 1 min 58 secs |
| Two Children | 3.8Mb | 2 mins 6 secs |
| Woman with Fruit | 4.8Mb | 2 mins 12 secs |
| London Bridge | 7.8Mb | 3 mins 14 secs |
You can clearly see that as the image size got bigger, the printer got slower, taking a whopping 3 mins 14 secs to print the 7.8Mb photo of London Bridge. Not good for a 10x15cm print! Even the quickest print time of 1 min 58 secs for the smallest photo isn't very quick. It took nearly 10 minutes to print our 4 test images - imagine printing all your holiday snaps...
Print Speed from a Computer
Our test PC didn't like the USB cable supplied with the printer, Windows reporting that the device had "malfunctioned". Everything was much happier when we swapped the cable. Interestingly you can choose to print a test image as part of the install process which isn't available directly from the printer itself. Also, Lexmark have annoyingly chosen to make the P350 talk to you, saying "Printing Started" and "Printing Complete" when, well, printing started and completed - talk about stating the obvious...
We installed the supplied software and connected the P350 to our test PC, then printed the same 4 images as before in exactly the same way. Printing times are a little quicker than directly from a memory card, although certainly not the 75 second print time that Lexmark claims.
| | | |
| --- | --- | --- |
| Image | Size | Time |
| Test Image | 1.4Mb | 1 min 42 secs |
| Two Children | 3.8Mb | 1 mins 44 secs |
| Woman with Fruit | 4.8Mb | 1 mins 44 secs |
| London Bridge | 7.8Mb | 2 mins 22 secs |
Print Quality
Prints from the Lexmark P350 are touch-dry straight out of the printer, which means that you can handle them without fear of smudging or smearing them. We also tested the waterproofness of the P350's prints, as Lexmark boldly claims that they will withstand being held underwater. So we did just that, submerging a print in a big bowl of water. We could only make the colours run by holding it underwater AND smudging it with our fingers. The P350's prints will definitely withstand attack from water alone.
Colours were on the whole accurate, although reds were over-saturated. Black and white shades had an obvious cyan caste, so the P350 wouldn't be a great choice if you required neutral black and white photos. The prints feel like "real" photos, although they aren't as glossy as some of the other brands that we tested (which you may or may nor prefer).
The main print quality issue that we encountered was quite obvious horizontal banding. This appeared in our very first print, and it persisted throughout the review, despite cleaning and realigning the ink cartridge. This could be just an issue with our particular printer (although it was brand new), or the supplied cartridge (we only had one to test with).
When printing borderless directly directly from a memory card, there was always a thin white border along the right and bottom of the print, which isn't exactly a borderless image. Images printed from a PC did not suffer from this problem. This is a major minus point, as a lot of the P350's users will want to print borderless prints directly from their memory cards.
Conclusion
Ratings (out of 5)

Design

3.5

Features

4

Ease-of-Use

3

Image Quality

3

Value for Money

3.5
The Lexmark P350 is a small, quite stylish compact photo printer which unfortunately suffers from slow operation and poor print quality. Having to wait around 2 minutes for a print that has obvious banding will not satisfy too many users. The inability to print true borderless prints directly from a memory card will also limit this printer's appeal. On the plus side, the P350 has a recommended price of £99, whilst the Photo Kit includes 100 sheets of paper and ink cartridge for £19.99, making it quite good value, especially if the prints do last for the claimed 100 years under glass. If you can find a P350 that doesn't suffer from banding, and you don't mind waiting for your prints, then this would be an easy-to-use, well-connected way to print your snapshots at home. As it stands, though, we simply can't recommend the Lexmark P350.
Design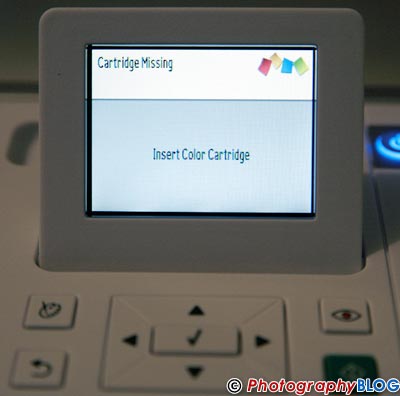 This is the message that greets you when you first turn on the Lexmark P350.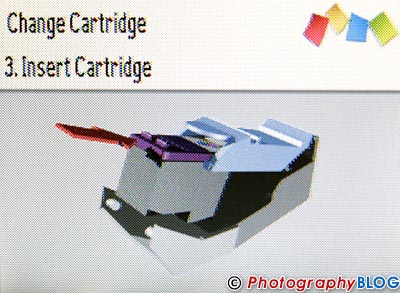 A series of animations painlessly guide you through the installation process.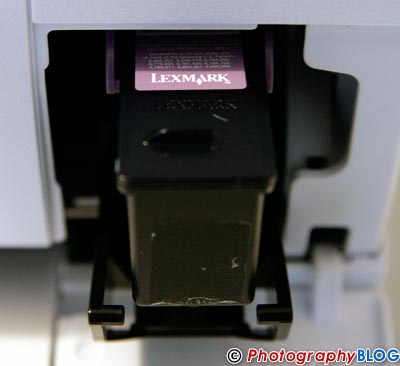 The single 3-colour ink cartridge is straight forward to fit.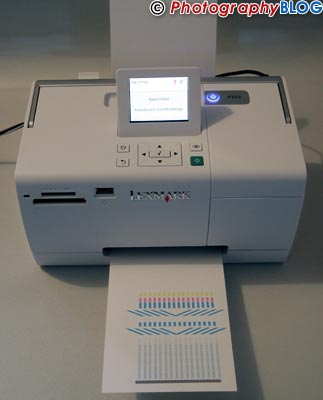 Ta-dah! The printing of the alignment sheet is the last stage of the printer setup.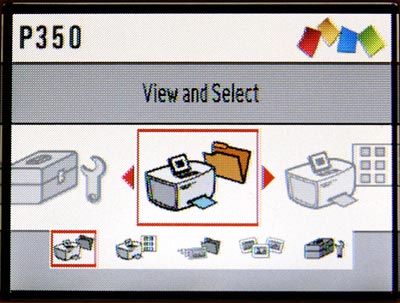 The P350's main menu screen.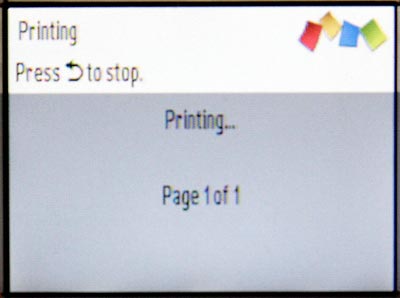 You will spend a lot of time looking at this screen...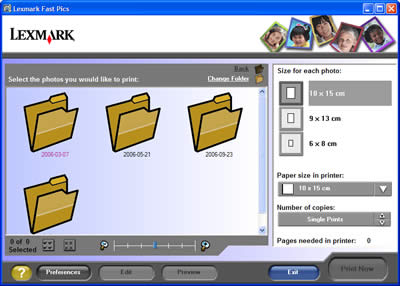 Lexmark Fast Pics, the main interface when printing from a PC.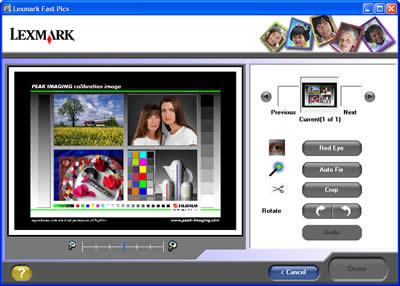 Curiously, there are less Editing options available from the P350's Fast Pics software than there are on the printer itself.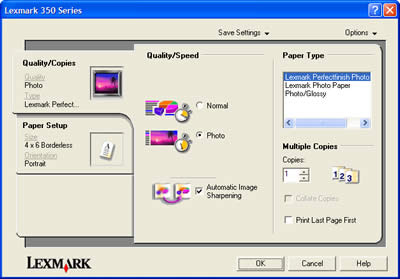 The Lexmark P350's Printing Preferences screen.
Specifications
Print Technology
Thermal Inkjet
Colour Technology
3 Colour Inkjet - Cyan, Magenta, Yellow
Print Resolution, Colour
Up to 4800 x 1200 dpi
Media Sizes Supported
A6 Card
Hagaki Card
4 x 6"
L
10 x 15 cm
10 x 20 cm
4 x 8"
Media Types Supported
Photo Paper
Borderless Printing Media Sizes
4" x 6"
A6
Hagaki Card
L
89 x 127 mm
10 x 15 cm
10 x 20 cm
4" x 8"
Operating Systems Supported
Microsoft Windows 2000
Microsoft Windows XP
Apple Mac OS X (10.3.0-10.3.x)
Apple Mac OS X (10.4.0-10.4.x)
Microsoft Windows XP Professional x64
Standard Ports
USB 2.0 Specification Hi-Speed Certified
PictBridge Certified Port
PictBridge Certified USB Port
Yes
Digital Media Memory Card Compatibility
CompactFlash I & II
Sony Memory Stick, Memory Stick Pro
Secure Digital (SD) Card
MultiMediaCard (MMC)
xD Card
Sony Memory Stick Duo (with adapter)
Mini Secure Digital (Mini SD) Card with an adapter
Sony Memory Stick Duo Pro (with adapter)
SanDisk TransFlash Memory Module (with adapter)
RS-MMC (with adapter)
Packaged Size (" - H x W x D)
7.75 x 13 x 7.7"
Packaged Size (mm - H x W x D)
197 x 331 x 195mm
Size (" - H x W x D)
5 x 9.2 x 5.8"
Size (mm - H x W x D)
127 x 235 x 147mm
Weight (kg)
1.84kg
Weight (lbs)
4.1lbs.
Product Guarantee
One Year Exchange
Product Certifications
Energy Star, FCC Class B, UL 60950 3rd Edition, CE Class B, CB IEC 60950 IEC 60825-1, C-tick mark Class B, CCC Class B, CSA, ICES Class B, GS (TÜV), SEMKO
Duty Cycle, Maximum
125 pages per month
Leave a comment about this Review
Compare Prices
Support PhotographyBLOG: Buy the Lexmark P350 from one of our affiliate retailers: