Nik Software Viveza Review
Review Date: June 20th 2008
Author: Jon Canfield
Leave a comment about this Review
Introduction
One of the most challenging aspects of digital imaging is making corrections to specific parts of the photo. It could be a color saturation issue, or maybe the tone is off on a particular area of the shot. In Photoshop, this means making a mask and doing your correction work. Depending on the complexity of the image and what you're trying to accomplish, this can be an easy task, or one that you spend hours on. Enter Viveza, a new plug-in from Nik Software. Viveza does one thing, and aims to do it very well – make it easy to work on specific areas of an image without worrying about selecting and masking chores. Viveza works with Photoshop, Photoshop Elements, and Apple Aperture, and uses the U-Point technology, first seen in Nikon Capture NX, to work its magic. Nik Software Viveza costs €249.95 / $249.95.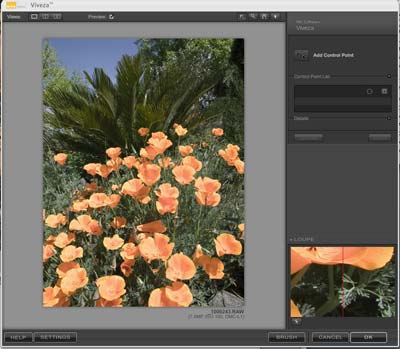 Figure 1
Ease of Use
U-Point is a novel way to make selective adjustments by placing a point where you want to make changes. From here, you adjust the size of the area to be adjusted by increasing or decreasing the size of the circle.  By default, you have three adjustments available – Brightness, Contrast, and Saturation. By dragging the sliders for each of these controls, you make changes to that tonal range. In the first example, the sky is a washed out blue. To correct this, I place a U-Point in the sky and adjust the radius to cover the area I want to work with.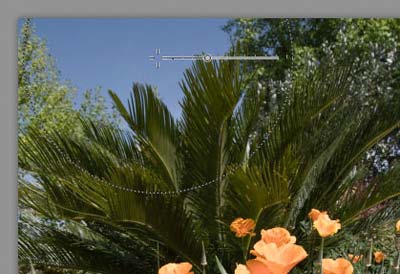 Figure 2
From here, I reduce the brightness a little, and increase saturation. The sky is considerably improved without impacting the greens surrounding it. Making a mask for this area in Photoshop would be a very time consuming task with all the fine details in the leaves.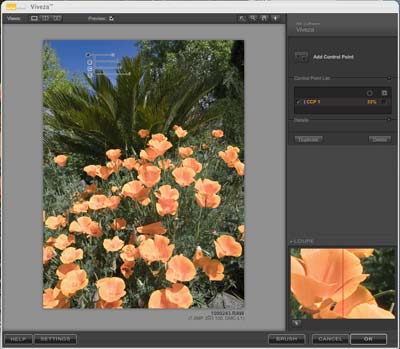 Figure 3
While you're making adjustments, the Loupe area shows a constant preview of the before and after at 100%. Of course, you can also zoom in on the main preview area to see more detail.
By clicking on the mask view button, it's easy to see what areas are affected by my edits. Toggling between normal and mask views is an excellent way to make sure that you're only modifying the areas of your image that you intended to.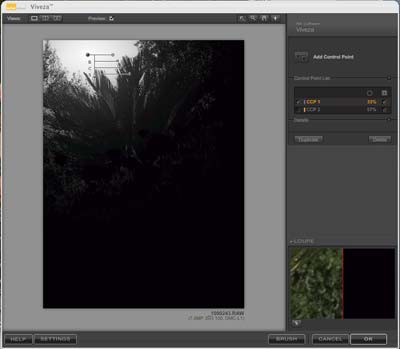 Figure 3b
To correct the rest of the image, I repeat these steps for each area I want to correct. The poppies are off in color, so I place a U-Point here, adjusting the size to get all the poppies included, and make my adjustments.

Figure 4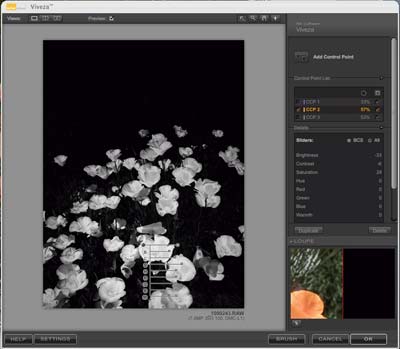 Figure 4b
On this adjustment, you can see that I've enabled the extra control options available in Viveza by clicking the small triangle below the Saturation slider. This gives me access to Hue, Red, Green, Blue, and Warmth adjustment controls.
Finally, I want to open up the greens in the palm tree to see more detail. So, adding another U-Point here, I adjust the brightness.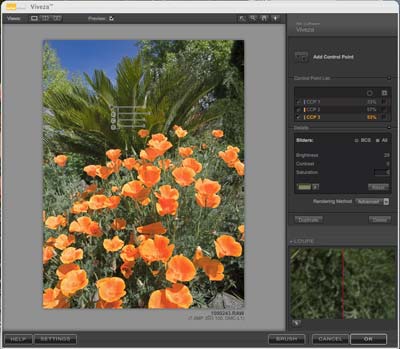 Figure 5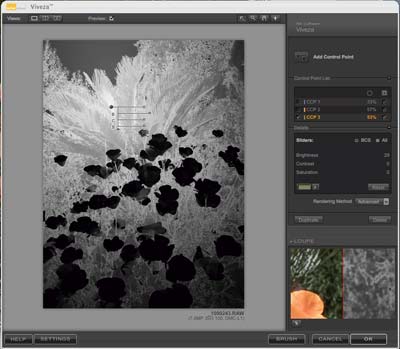 Figure 5b
The Preview window can be toggled to view just the adjustments, or two different before and after views. The Viveza window is resizable as well if you want a larger view.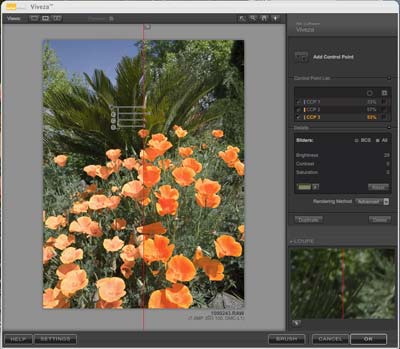 Figure 6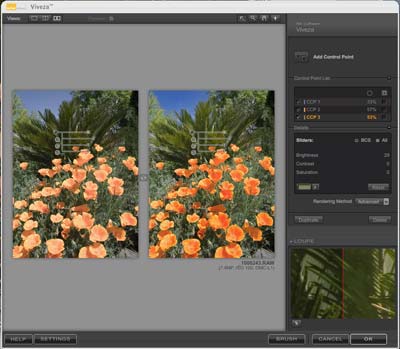 Figure 7
When you've finished making your adjustments, there are two options – clicking OK applies the changes and creates a new layer in Photoshop with your adjustments applied. Clicking Brush displays your image in Photoshop with a full mask applied, letting you paint the corrections on. This is useful for images where you want the effect to follow a straight path.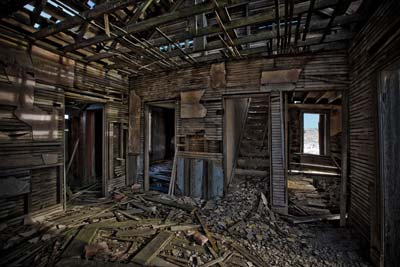 Figure 8
Conclusion
Ratings (out of 5)

Features

4

Ease-of-Use

4.5

Value for Money

4.5
Viveza only does one thing, but it does it better than any tool I've ever used. If you spend a lot of time in Photoshop or Aperture editing your images, you'll find Viveza will quickly become an integral part of your workflow, and it will repay the cost of purchase in no time at all.