Nikon Capture NX 2 Review
Review Date: July 10th 2008
Author: Jon Canfield
Leave a comment about this Review
Introduction
Nikon's Capture NX program has always been a solid choice for those using the NEF RAW file format used by Nikon cameras. This was the first application that made use of the U-Point technology for selections that is now found in Nik Software products like Viveza, Dfine, and Color Efex Pro plug-ins for Photoshop and Aperture. Capture NX combines powerful RAW processing features with good file management. The latest release of Capture NX, version 2, has added some powerful new features to the mix that will appeal to both Nikon and photographers with other brands. Of course, the RAW editing features are NEF specific, but there are a number of other editing controls for JPG and TIFF files (sorry, no DNG import).
Ease of Use
At first glance, Capture NX 2 looks similar to the previous version, but there are useful changes waiting to be explored. You now have the flexibility to configure and save custom workspaces to suit your workflow, and dual monitor support makes for a huge improvement in the workflow with the additional space for your image on one display and the various palettes on the other. NX 2 has also improved the integrated Browser to find images as well as apply ratings and labels.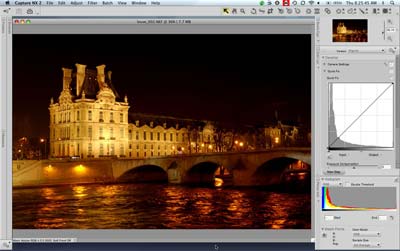 Figure 1
Capture NX 2 adds a Favorites panel to the folders tab to help with accessing the files you work with most frequently. The Metadata tab is available to assign more info if you wish, including keywords, copyright notice, and contact information.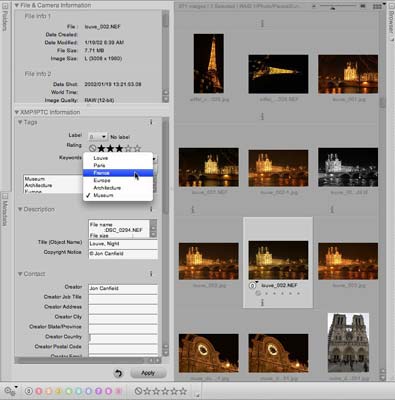 Figure 2
Although it's not intuitive at first, you can also add keywords and other metadata tags by selecting the Save XMP/IPTC Preset option and entering your info there. I created a simple copyright preset that can be applied to every image.
Speed improvements are also obvious with the program keeping up with most editing tasks. Batch processing is a bit on the slow side, but I tend to use this only for tasks like file renaming or conversion from RAW to another format where I don't need to sit and stare at a screen while the batch is being run.
The real heart of Capture NX 2 though is the processing tools. Here, version 2 shines. In addition to the Color Control Point method of selection in the previous version, there are Select Control Points that are similar to the method used by Viveza. This is hands down the most powerful selection tool I've ever used, and if anything, the version in Capture NX 2 works even better than Viveza does. To use a Selection Control Point, select the tool from the toolbar and click on the area you want to select. Like a regular control point, you can drag out a slider to set the radius that will be affected by the selection. You can also set the opacity of the selection, and whether to view a combination of the selection and the original image, or just a mask view that is very useful to verify what you've selected.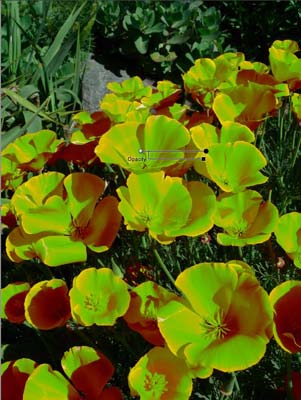 Figure 3

Figure 4
For more localized control, the Selection Brush lets you paint your selection, after which you have all of the same adjustment options. Here, I've selected a single poppy and changed the color to yellow.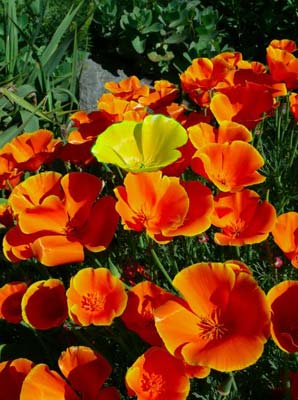 Figure 5
Also new to Capture NX 2 is the Auto Retouch Brush, identified with the bandaid icon in the toolbar. This tool is similar to the Healing tool in Photoshop, but I find that it works much better at blending changes with the surrounding areas. The tool works particularly well with skin to clean up blemishes and wrinkles.
If you're working on NEF files, you have full access to all of Capture NX 2's tools including the Picture Control settings and utility to create your own control settings, and all of the non-destructive editing capabilities that help make RAW the preferred shooting mode.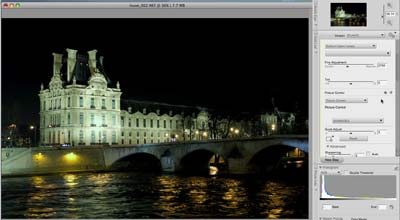 Figure 6
Highlight and Shadow Protection are new to this version. Similar to the Fill Light and Recovery adjustments in Lightroom and Adobe Camera Raw, these two controls help to recover details in either the shadow or highlight range. When used with a Nikon camera that supports recording of additional highlight detail in the NEF file, the Highlight Protection control can recover even more information than possible with a TIFF or JPG file.
All adjustments are listed in the Edit List and can be revisited to make changes or disable as well as delete. This made it easy to make several adjustments and go back to fine tune them as I went along.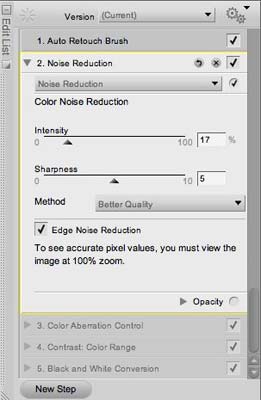 Figure 7
While Capture NX 2 includes a number of useful filters, including a very capable black & white converter, you can also install Nik's Color Efex Pro 3 filters (separate purchase). The filters include the full set of effects found in the Photoshop version with tight integration into Capture NX 2. Selecting a filter from the Filter menu adds a step to the Edit List where all parameters can be adjusted.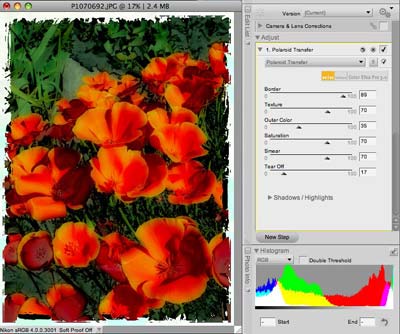 Figure 8
For output, Capture NX 2 has some powerful options available. There is full support for color management and you can work in a soft proofing mode if you wish that allows you to see exactly how your image will look on paper. This is something that can't be done in some other programs like Adobe's Photoshop Elements or Lightroom.
Conclusion
Ratings (out of 5)

Features

4

Ease-of-Use

3.5

Value for Money

4.5
Although Capture NX 2 will have the most appeal to Nikon shooters working with the NEF format, there are tools here that will be welcome in any workflow. The U-Point technology used in the Color Correction and Selection tools makes it remarkably easy to perform complex selections and adjustments, and the Auto Retouch Brush works extremely well with a variety of clean-up tasks. At $179 (upgrades are $109), Capture NX 2 is a bargain. Adding support for DNG would make the program even more enticing for non-Nikon shooters.