NTI Shadow 3 Review
Review Date: May 30th 2008
Author: Jon Canfield
Leave a comment about this Review
Introduction
Backup software isn't something most of us get excited about. To be honest, the passion only really comes out when you find that the backup you need to restore is corrupt for some reason. In times like that, I've said words I didn't even realize I knew. Your computer came with backup software, whether it was the simple Backup program with Windows, or if you're a Mac Leopard user, the elegant Time Machine program. But, there are a number of third party options available too, and NTI Shadow version 3 is one of those. NTI Shadow is a little different from many of the other programs available. For one thing, it's incredibly easy to learn and use.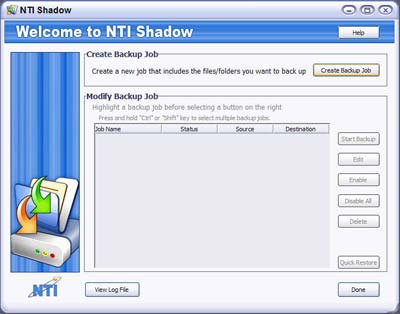 Figure 1
Ease of Use
The main screen of NTI Shadow 3 gets you focused immediately on task. To get started, you need to create a backup job, which will open a Job Wizard dialog to select the files, folders, or drives you want to back up.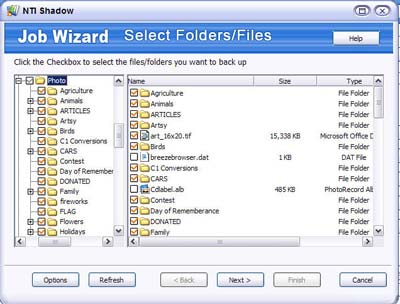 Figure 2
By checking the box next to the item you want to backup, you automatically add it to the job. If there are items in a folder you want to exclude, you can check them, as seen in the previous screen shot to exclude them. NTI Shadow 3 has a faster way of doing this if you want to eliminate a group of files, or only include files of a particular type. By clicking on Options, you'll see a Select File Types. There are several presets, and the Custom field lets you add additional file types (separate multiple entries with a semi-colon).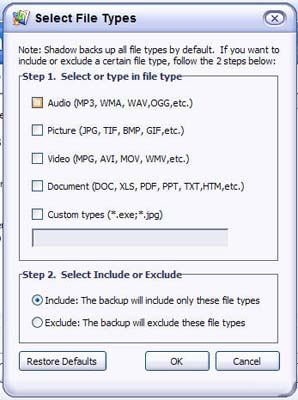 Figure 3
After you've made your selections, the Job Wizard asks when and where to back your files up. Here is one area that I find very useful with NTI Shadow 3. You can have realtime backup – every change that is made to a file can be immediately backed up, giving you a form of version control. You can also elect to backup on a scheduled basis, either daily, or some other schedule ranging from weekly to minutes.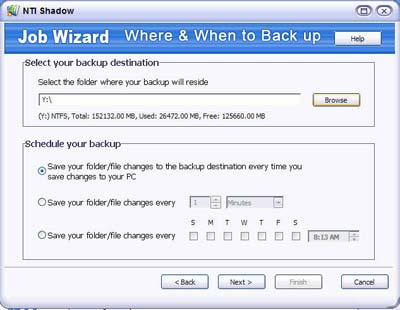 Figure 4
The Final setup step asks how many versions to save of any one file. You can elect to save all, none, or a set number of copies.  The later two options are especially useful if you're tight on disk space.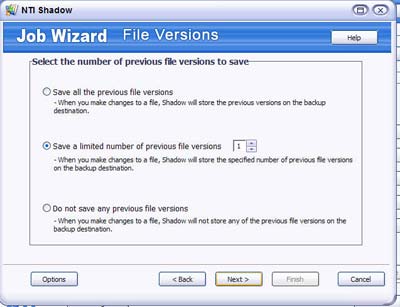 Figure 5
After making all your choices, you'll see the newly created job listed in the main screen. You can enable a scheduled job, start it immediately, edit the options, or delete the job by selecting it. One very nice feature of NTI Shadow 3 is the ability to have multiple jobs. So, if you're a paranoid type like me, running a job on my photos every time there's a change is one job, while my data files run on a daily basis, and my applications would run only when I feel the need.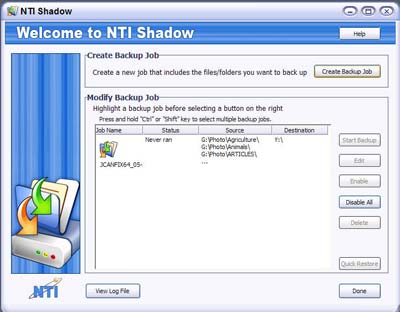 Figure 6
Restoring a backup doesn't get much easier than with NTI Shadow 3. Click Quick Restore in the main window to be taken to the directory used to store your backup files for that job. From here, you can right click on a file or folder and restore it to either the original location, or, and this is helpful if you've added a new drive to your system and want to move files around, to a new location.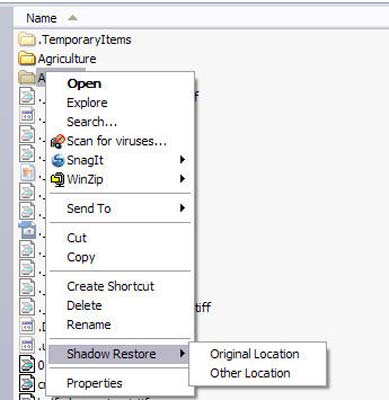 Figure 7
Conclusion
Ratings (out of 5)

Features

4

Ease-of-Use

5

Value for Money

5
NTI Shadow 3 is a simple to use but powerful backup solution. It's available for Windows 2000/XP/Vista and Mac OS X 10.3.9 or later, and is very affordable at $29.99. If you're an Apple Leopard user and already using Time Machine, you have a very capable program. For everyone else, NTI Shadow 3 is well worth a look. A demo version is available, and since it's not writing your backup to a compressed format, you don't lose your backup if you decide not to purchase.