Portraiture 2 Review
Review Date: February 2nd 2009
Author: Jon Canfield
Leave a comment about this Review
Introduction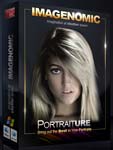 If you spend any time post-processing portrait photos, you know how time-consuming touchup work can be. Cleaning blemishes, smoothing skin tones, removing imperfections and other various enhancements can lead to literally hours of work. There are a few software tools available to help speed up the process, and I've been a fan of Imagenomic's Portraiture since it was first released a couple of years ago. With the recent introduction of Portraiture 2 (Figure 1), I'm even more of a fan and find myself using it more frequently than ever.
Ease of Use
Portraiture 2 has a number of features that are optimized for cleaning up images. The most commonly used settings are the Detail Smoothing and the Enhancements. Portraiture 2 works by creating a mask for skin tones. Although it does a very good job of automatically creating a mask, you can fine-tune the settings to adapt the mask to your specific subject with adjustments to feathering, opacity, fuzziness, hue, saturation, luminance, and latitude to select exactly the tonal ranges you want to work with. Feathering and Fuzziness are new to Portraiture 2 and help fine-tune the masking with greater precision than before.
The Detail Smoothing options give you control over three levels of details and what the threshold is between these levels. As you're making adjustments, Portraiture 2 stores your changes to give you an unlimited number of history states, which makes experimenting with different parameters much easier than in the past. You can also resize thumbnails in the history list, or view them as text entries.
There are a number of presets for different situations, including high-key and low-key lighting, and a glamour preset among others. As you're developing your own adjustments, you can create your own presets as well to reproduce a signature look in your portraits. Use the provided presets as starting points, or start from scratch and then save your own, including adding descriptions on what the preset does. Portraiture 2 includes the ability to organize presets into categories, and to import and export presets. You should be able to find presets for download from the Imagenomic website (www.imagenomic.com) in the very near future.
The Enhancements tools have been updated and now include a Tint control, and an option to use the mask to refine the adjustments to only those areas.
The bracketing feature lets you try out multiple versions of a setting without having to lose your current settings.
After selecting the parameters and number of brackets, Portraiture 2 will create previews for each setting. Previews use a tabbed interface to change from one to the next. Each change forces Portraiture to reprocess the image, so it's a little less useful than having either multiple preview windows or caching the changes to have a quicker response. On my Mac Pro with dual 3.0GHz processors, the Accurate preview mode takes about 4 seconds, so it's not a huge time hit, but it does slow you down.
There is also the option to set preferences for the program, including the user interface, the default latitude for skin tone masking, and the performance where you can choose multiple processors.
You can view a preview of the mask that Portraiture 2 is creating for your image as you make adjustments. This is very helpful to fine tune the details and limit your masking to just the areas you want to affect.
You can also work with a split preview if you like to see a before and after as you work. I personally prefer to have as large of a preview as I can and typically leave the before state turned off unless I want a quick comparison. It's nice to have the option though, and you may find the split mode more useful.
Once you've completed your adjustments, you'll be sending the document back to Photoshop. Portraiture 2 gives you several options here, including whether to use a new layer, or create an entirely new document with your adjustments. If you're outputting to a new layer, you can also have Portraiture 2 generate a transparency layer on output for further adjustment in Photoshop.
Conclusion
Ratings (out of 5)

Features

4.5

Ease-of-Use

4

Value for Money

4
Portraiture 2 is available for $199.95, a $30 increase over the price of version 1. However, if you're a version 1 owner, it's a free upgrade. Either way, Portraiture 2 is a very worthwhile addition to your toolkit if you frequently do this type of work. The time saved in a single portrait session can easily pay for the program. I consider myself proficient with Photoshop, but there are adjustments that take more time than I'd like to spend, and skin enhancement is way up on that list. For me, Portraiture 2 is a sanity saver I would not want to be without.
A free demo version is available for download from the Imagenomic site (www.imagenomic.com).