Pro Gear Duo Memory Card Reader
Review Date: August 27th 2004
Introduction
When I first bought a digital camera a couple of years ago (the Minolta DiMAGE 5), I also purchased a Hama compact flash card reader for the grand total of £7.95. This reader is still going strong today, but with the advent of USB 2.0 and Firewire, the USB 1.0 Hama reader is slow in comparison and it is also obviously limited in terms of the number of memory card formats that it supports. Enter the Pro Gear range of memory card readers from the US-based Atech Flash Technology, which offer transfer rates of up to 480 Mb/sec via a USB 2.0 connection and support 10 different memory card formats. The Pro Gear Duo consists of two devices; a docking bay that fits into the 3.5" drive bay of your computer, and the cartridge-like PRO Gear USB 2.0 flash media reader, which you can either insert into the docking bay or attach to your computer using a USB cable. Unfortunately my PC doesn't have a spare drive bay, so this is really a review of the flash media reader (which is also available to purchase separately as the Pro Gear Solo). So is the Pro Gear worth upgrading to? Find out in my short review.
Price
The Pro Gear Duo has a recommended retail price of around $40.
Design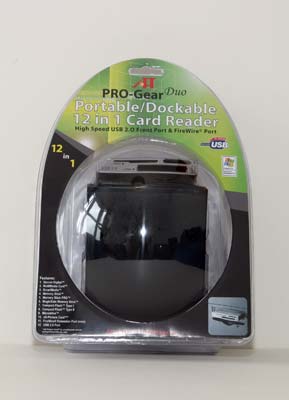 Front of the Retail Packaging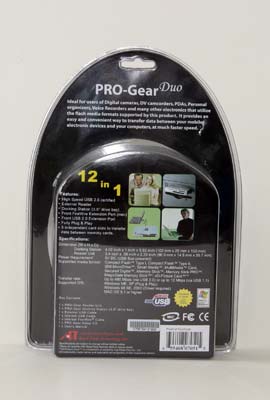 Rear of the Retail Packaging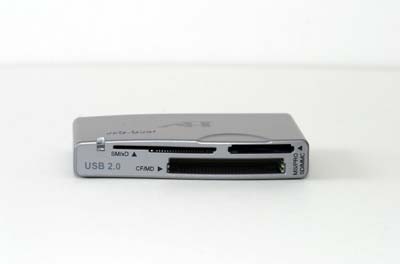 Front of the Pro-Gear Reader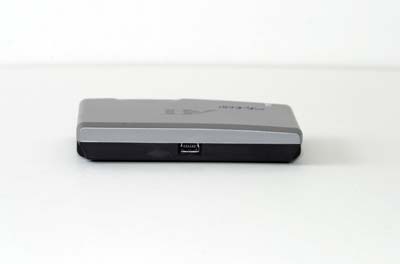 Rear of the Pro-Gear Reader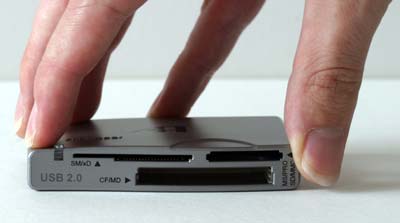 Front of the Pro-Gear Reader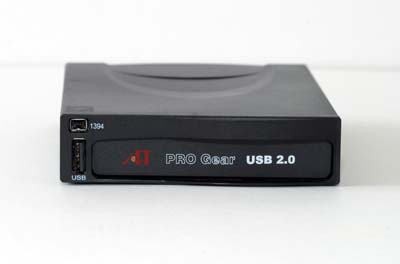 Front of the Pro-Gear Dock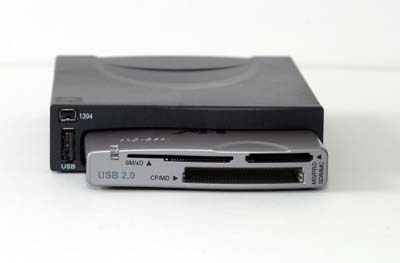 Pro-Gear Reader and the Pro Gear Dock
Features and Ease-of-Use
The Pro Gear Duo retail package includes:
1 x Card Reader
1 x Docking Station
1 x External USB A to mini Cable
1 x Internal USB Cable
1 x Internal IEEE 1394 Cable
1 x Setup Disk
1 x User's Manual
The card reader has a transfer rate of up to 12 Mb/sec via USB 1.1 and up to 480 Mb/sec via USB 2.O. The operating systems that it supports are Windows 98 & 98 SE / 2000, Windows ME / XP (no driver required) and Mac OS 9.1 or later.
Installation of the card reader on my computer running Windows XP was very straightforward. You just have to attach it to the PC using the supplied USB 2.0 cable and Windows XP automatically recognises the device and assigns a drive in Windows Explorer to each of the 3 memory card slots. On older operating systems you have to insert the setup disk and install some software drivers - this is clearly explained in the manual.
As my PC doesn't have a spare drive bay, I was unable to install and test out the docking station part of the Pro Gear Duo.
The main reasons that people will buy a reader like the Pro Gear Duo/Solo are the fast transfer speed and the large number of supported memory cards. I tested the speed of the device by transferring 32Mb of digital image files from 3 different memory cards onto my PC, and compared it to my old Hama USB 1.0 compact flash card reader, as shown in the table below:
Download Transfer Time
(from card to computer, of 32Mb)
Upload Transfer Time
(from computer to card, of 32Mb)
Memory Card Format
Pro-Gear Duo
Hama
Pro-Gear Duo
Hama
Compact Flash
(PQI Hi-Speed 512Mb)
6 seconds
15 seconds
20 seconds
45 seconds
XD-Picture Card
(Olympus 32Mb)
6 seconds
-
45 seconds
-
SD Card
(Fujifilm 128Mb)
5 seconds
-
26 seconds
-
I didn't experience any problems with using a variety of different memory cards in the card reader during the duration of the review. One small benefit that I found useful was the ability to directly transfer files between memory cards in the 3 different cardslots.
The card reader itself is designed to be pocketable and is therefore very light, but not flimsy or poorly-constructed in any way. The only slight problem that I found was the USB connection at the back of the device was quite sensitive in terms of plugging-in the USB cable. The connection to the computer was lost by very slightly pulling out the cable, which could be done accidentally. Other than this issue, I didn't find any other problems with the operation of the Pro Gear card reader.
Conclusion

(out of 5 stars)
The Pro Gear Duo is a fit and forget kind of product that will definitely save you a lot of time when it comes to transferring files from your digital memory cards to your computer. The fact that it supports and works well with 10 kinds of memory formats will be great news for anyone who has a number of digital devices that all use different storage cards - photography website editors included! The Pro Gear Duo is light, portable and well-made; only the slight niggle with the USB connection spoils an otherwise impeccable performance. A highly recommended upgrade for anyone who is currently using a USB 1.0 card reader or who owns more than one type of memory card format.
Related Links