Serif PhotoPlus X2 Review
Review Date: December 26th 2008
Author: Jon Canfield
Leave a comment about this Review
Introduction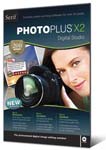 There is no shortage of entry-level image editing programs available, especially on the Windows platform. With the features that are becoming common in many of these applications, I define entry level more by price and ease of use than by feature set. Some make it easy to classify – Adobe Photoshop Elements is obviously the lightweight cousin of Photoshop CS, but others are more difficult to classify. Serif PhotoPlus X2 is just such an application. At first glance, the £59.99 / $79.99 price tag would place it in the entry level group, and some of the guided How To features would lead one to think this is just a basic offering. Once you start to delve into the program though, the advanced features available in PhotoPlus X2 are a pleasant surprise.
Ease of Use
As you can see in Figure 1, PhotoPlus X2 looks similar to Photoshop Elements when you first launch. You're asked which of several common tasks you'd like to perform. Selecting either of the Create options opens a dialog box to set the image size and type. The different Categories available offer presets that are appropriate for that type of image – for example, selecting Web gives you a number of standard screen sizes and sets the resolution to 96 ppi, while selecting Photo defaults to 10x8 at 300 ppi. While the presets are nice, you will usually begin by selecting an existing image. Choosing the Open Saved Work option gives you a list of recent images along with a thumbnail view of the selected file (Figure 2). Clicking Browse opens a fairly standard File Open dialog that has been optimized for graphics with Name, Date, Tags, Size, and Ratings sort options (Figure 3).
Included with PhotoPlus X2, although not reviewed here is Albums Plus, a program that organizes all your media files, including images, video, and sound. Similar to Adobe Organizer, you can sort, rate, tag, and browse files that can then be edited in PhotoPlus X2.
Although the program will open RAW files from some cameras, editing RAW data prior to conversion is not supported. The file is converted with the setting used at capture time, making this less useful. If you shoot RAW, you'll want to either use your camera's conversion software prior to opening in PhotoPlus X2, or consider another program like Elements with a full featured RAW converter.
Under the View section, you'll find a link for a number of very well done tutorials (Figure 4). I was pleasantly surprised by how many tutorials there were, and the fact that they are done in PDF format makes it easy to print them for future reference. It would be nice to see this feature in other editing programs as well.
For those just starting out, or for someone moving up to a more full featured program like PhotoPlus X2, the How To panel (Figure 5) is a welcome resource. There are a number of links here that show how to perform common editing tasks, and you can display them in either a step-by-step format, or an interactive "Do this for me" mode. This method of learning will get anyone up to speed quickly, and because it's task specific, it makes finding the tools you need easier than with some other editing programs.
PhotoPlus X2 includes all the tools you'd find in other programs like Photoshop Elements, as well as some more advanced options including full support for color management (Figure 6).  Unique in programs at this level is the ability to soft-proof your work in an interactive mode. On the Adobe side of the world, you'd need to use the full version of Photoshop for this feature. Of course, Adobe adds more advanced controls, including gamut warnings and support for CMYK proofing, but these are areas that few people will be interested in.
PhotoPlus X2 has full layer support including grouping, masking, adjustment layers, layer effects, and all blending modes. In the example shown in Figure 7, I have a number of layers used with this sample image that is included with the program. Also included is the ability to record and use macros (actions for Photoshop users). The program comes with a number of macros (Figure 8),  and you can record your own to automate most repetitive tasks.
In a program at this price point, I don't typically expect to see higher end features like a channel mixer for creating black & white or toned images, but PhotoPlus X2 includes a high quality tool for this task (Figure 9). I actually found the conversions done in PhotoPlus X2 to be equal to, or slightly superior to those done in Photoshop CS3, which is quite remarkable.
Another nice feature is the QuickFix Studio, a single dialog with common adjustment commands. You can view the image full size, or in one of several before and after views (Figure 10). Adjustment controls are available here for lens distortion, chromatic aberration, vignette correction, straightening, cropping, red eye and blemish removal, brightness/contrast, color correction, grayscale conversion, and sharpening. The window is resizable, and multiple adjustments can be applied. Some tools, like Sharpen, are more basic than the standalone command, but for many people, this is likely the only stop they'll need to make with their image corrections.
The Instant Artist has a number of interesting effects, and a great deal of customization options. The program comes with a dozen presets, and you can create your own based on any of the provided presets. In Figure 11, I've used the Oil preset which has done a good job of transforming the image. When printed on canvas, the effect is very realistic. You don't have the number of options available in a plug-in like SnapArt, but the effects in PhotoPlus are higher quality than what comes with Photoshop.
When all your work is done, you'll need to save. Here, PhotoPlus X2 has an Export Optimizer (Figure 12) that can assist you with deciding what settings to use, particularly for JPG where you'll have image degradation with lower quality settings. Similar to the Save for Web feature in Photoshop, you can see a preview of your image when selecting different quality settings. If you resize your image for output, PhotoPlus X2 also includes Lanczos3 Window as a resizing algorithm. This method gives excellent results, and consistently beat bicubic in my testing of different types of images.
Printing is an interesting point in PhotoPlus X2. I was surprised that there was no support for having the application mange color output, especially since I can soft-proof. This makes printing to third party papers difficult unless your printer driver allows you to add custom paper types as output options. Given that I consider this a very important feature, it was odd to find that I had full support for printing color seperations and prepress information (Figure 13). Certainly a nice feature, but I'd trade it immediately for application managed color.
There is a very capable print layout tool though. Print Multiple gives you a number of preset templates that can be filled with a single image or multiple images, making it a very flexible printing tool for portrait work (Figure 14).
Conclusion
Ratings (out of 5)

Features

4

Ease-of-Use

4

Value for Money

4.5
Serif's PhotoPlus X2 Digital Studio is an excellent bargain at only £59.99 / $79.95. With features you would not expect to find in a program at this level, PhotoPlus X2 is a valid competitor to the Adobe products and the offerings from Corel. Some innovative features like the How To panel with Makeover Studio, a strong tutorial selection, and easy to use and master tools like QuickFix and Instant Artist will get any user up to speed in no time, and improve your output. Performance was a mixed bag on my system – a 3.0GHz Core 2 Duo processor with 4GB RAM running Vista 64. File handling was quick and flawless, but many filters were slower to run than similar tools in Elements 7.0. Still, if you need more than what Elements has to offer, but aren't ready to dig deep into your pockets for Photoshop CS4, PhotoPlus X2 Digital Studio is a worthwhile option for you to consider.