Stellar Phoenix Photo Recovery Review
Review Date: September 4th 2008
Author: Mark Goldstein
Leave a comment about this Review
Introduction
It's the phone call that every photographer dreads getting from a friend or family member. "I've lost all my photos! They were on the stupid camera yesterday, but now they've completely disappeared into thin air. Pictures from the christening, holiday, my best ones - they've all been deleted! Can you get them back?".
Enter stage left, Stellar Phoenix Photo Recovery, an inexpensive software program that promises to find and recover images from a camera, hard drive, memory stick, flash card, removable media and digital media. I had the opportunity to test it out in a real-life case, as my Dad had just made the phone call described above. Carry on reading to find out if Stellar Phoenix Photo Recovery could save the day...
Ease of Use
A quick look at the 2Gb Sony MemoryStick Pro Duo card in Windows Explorer revealed that something had gone seriously wrong, as shown in Figures 1-3 below. There were only 23 JPEG images left intact, and literally hundreds of files and folders with gobbledygook names, even in the camera's system folder. Not good.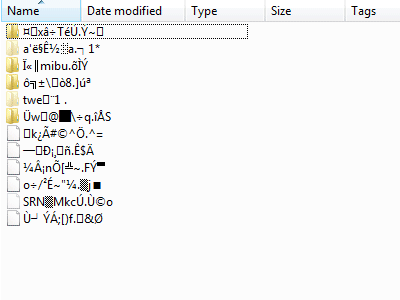 Figure 1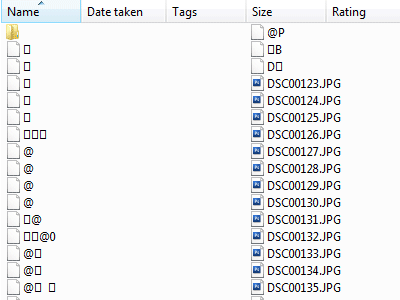 Figure 2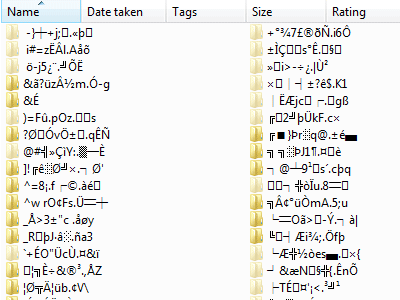 Figure 3
So time to turn to Stellar Phoenix Photo Recovery. Installation was quick and painless (less than 2 minutes) on Windows Vista. Figure 4 shows the program when it's first opened - it automatically detects all of the drives available, shown in the tree view on the left. The interface has a polished, big-button look and feel, but would benefit from a little refining. For example, you actually need to double-click the drive that you want to recover files from in the tree view, rather than press any of the prominent buttons to get things started (this is pointed out in the small text on the right-hand side).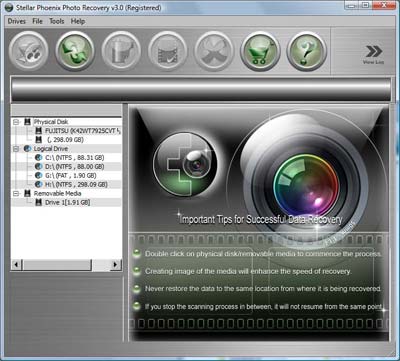 Figure 4
Once you've double-clicked on your chosen drive, the following pop-up window opens. The Stellar Phoenix Photo Recovery website suggests choosing the Photo recovery option, so that's what I tried first.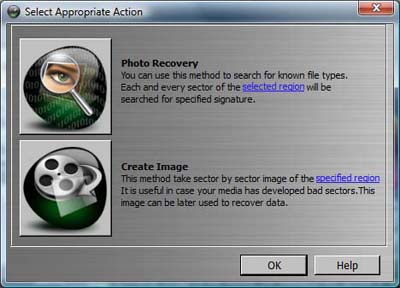 Figure 5
You're then prompted to select which of the 33 available file types you'd like Stellar Phoenix Photo Recovery to try and recover. All of them are selected by default, and I can't see any reason why you'd change this, unless you're searching a very large drive that you know contains lots of different file types.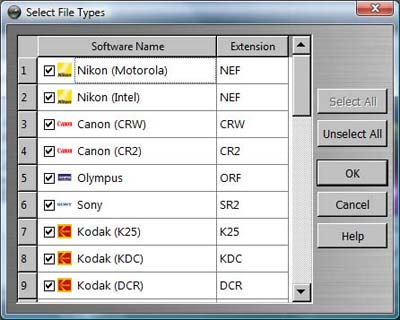 Figure 6
The recovery process then begins, with the list of image formats shown on the left, and the images discovered shown in the bottom right-hand pane of the application.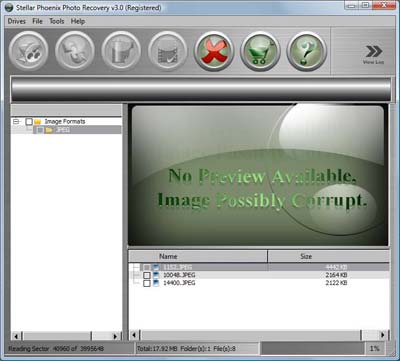 Figure 7
It took around 10 minutes to scan the 2Gb Sony MemoryStick Pro Duo card, which was inserted in a SanDisk Extreme USB2 Reader, and a further 2 mins to save the 250Mb of recovered files onto my laptop.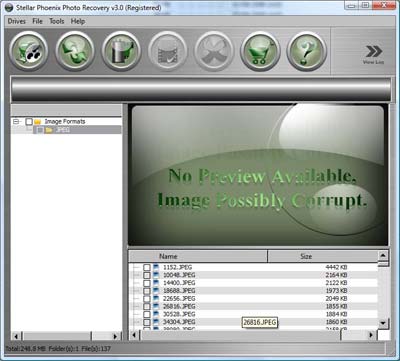 Figure 8
Voila! Stellar Phoenix Photo Recovery successfully found 137 JPEG files, of which 4 were corrupted beyond repair, and 4 were a puzzling 160 pixels wide in size. Not bad considering only 23 JPEGs could be accessed via Windows Explorer!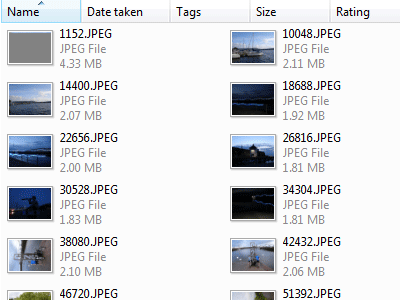 Figure 9
If you select Create Image instead of Photo Recovery (shown in Figure 5 above), you can save the contents of the card to another hard-drive as an image, which Stellar Phoenix Photo Recovery will analyse for bad sectors, and then attempt to recover your images.


Figure 10
The progress of the sector analysis is shown in a very similar way to Windows defragmenting a hard-drive (Figure 11).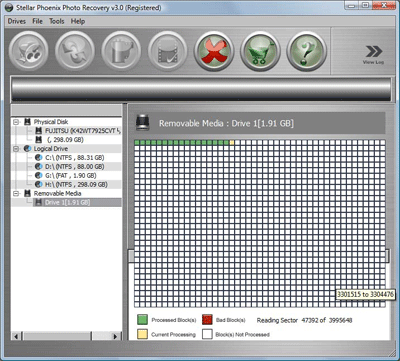 Figure 11
Once the image has been created (this took 13 minutes), you can double-click on it to recover files in the usual way. The scan was much quicker at 1.5 minutes, and it took less than 1 minute to save the 250Mb of recovered files. Both recovery methods achieved exactly the same results.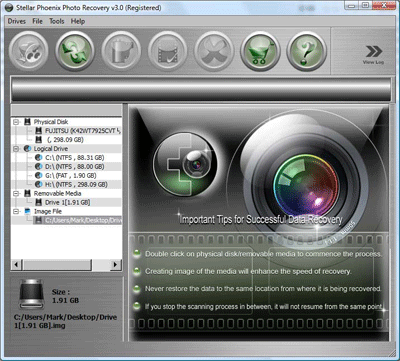 Figure 12
Conclusion
Ratings (out of 5)

Features

4

Ease-of-Use

3.5

Value for Money

4.5
Stellar Phoenix Photo Recovery is a relatively inexpensive ($39 / €31 + VAT) and effective way to recover precious photos and files that have seemingly been lost forever. It supports a wide range of file formats, including RAW files from most of the camera manufacturers, plus some movie and sound formats too. Although the user interface would benefit from some streamlining, Stellar Phoenix Photo Recovery does what it promises to do, and pretty quickly too. It found all the photos that my Dad thought had been lost forever, with only a handful of them beyond repair, from a memory card that initially looked beyond all hope.
Download Stellar Phoenix Photo Recovery