Vosonic X'S Drive
Review Date: 15th October 2003
Introduction
Storage is one of the main problems that digital photographers face. Memory cards quickly fill up, especially if you are using the highest resolution that your camera offers, and they are relatively expensive to buy. Portable storage devices aim to solve this problem by providing enough space for 1000's of your photos, whilst generally being a lot cheaper than buying the equivalent memory cards.
They fall into two main camps; hard-drive based and CD-based. The latter are basically portable CD burners which allow you to transfer the contents of your memory card onto CD-Rs. The hard-drive based devices are portable hard-drives that let you transfer your files onto the internal hard-drive. The hard-drive units vary greatly in terms of both features and price, with some having an LCD screen that allows you to see and even edit what you have downloaded. They also vary in terms of hard-drive capacity.
I personally chose to purchase the Vosonic X'S-Drive, which is a hard-drive based storage device that sits at the cheap and simple end of the market. Read on to find out why I bought a Vosonic X'S-Drive and what I think about this portable storage solution.
Price
The Vosonic X'S Drive has a recommended retail price of around £200 for the 20Gb version, but if you shop around there are some excellent deals to be found. This is largely because the slightly more advanced Vosonic X'S Drive II has been released, causing the price of the first version to fall.
The X'S Drive is available in various kits; there's a version with no hard drive installed and 20Gb, 30Gb and 40Gb versions.
I decided to buy the X'S Drive with no supplied hard-drive, as it worked out cheaper to do this and then buy a hard-drive separately. You just need to make sure that the hard-drive is a 9.5mm 2.5" laptop drive. I bought the X'S Drive from Scan.co.uk for about £75 (sadly no longer in stock) and a second-hand 20Gb laptop hard-drive from Ebay for £45, giving me enough storage space for around 3,000 RAW files from my Canon EOS 10D. All for the princely sum of £120, which is slightly more than the cost of a single 512Mb compact flash card!
Features
The X'S Drive is possibly one of the simplest portable storage devices available and so the feature list isn't very long.
It accepts 6 different kinds of memory card; Compact Flash (CF), Smart Media (SM), Memory Stick (MS), Secure Digital (SD), MultiMedia Card (MMC) and IBM MicroDrive, which fit into one of the three card slots on the front of the unit.
There is no limit on the hard-drive capacity, so you can keep upgrading this aspect of the X'S Drive for the foreseeable future. That means that if you upgrade your digital camera to a model that has much bigger file sizes, you can also upgrade the capacity of your portable storage device.
The achilles heel of the X'S Drive is its USB 1.1 interface which the drive uses to connect to your PC. This is the most significant upgrade in the X'S Drive II, which uses the USB 2.0 interface instead. If you require quick file transfers to your PC then the 2nd version of the X'S Drive is worth purchasing rather than the first. When it is plugged into your PC the X'S Drive also doubles up as a card reader/writer, so you can save yourself some money by not having to buy a card reader as well.
The X'S Drive is powered by a rechargeable Li-ion battery which has a lifespan of approximately 2.5 hours, allowing 42 transfers of a 128Mb memory card (test figures supplied by Vosonic). Alternatively you can use the supplied AC/DC adapter to plug the X'S Drive into the mains power; this is also the way in which the battery is recharged (you don't have to remove the battery from the unit).
The top row of LEDs on the front of the X'S Drive indicate if the power is on, if there is an error, if the battery is being recharged, and whether the battery power is low. The bottom row of LEDs indicate which memory card type has been inserted and they also flash when files are being copied onto the device. The Power button turns the X'S Drive on and off and the Copy button starts and stops the copying of files.
Finally, the X'S Drive has three connections on its side, which allow you to connect the device to your PC using the supplied USB cable, connect the supplied AC/DC adapter and reset the device (I've never had to do this).
Design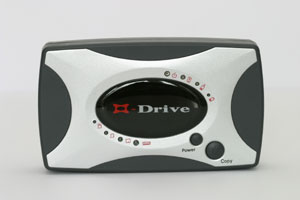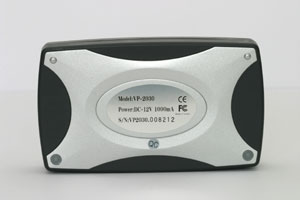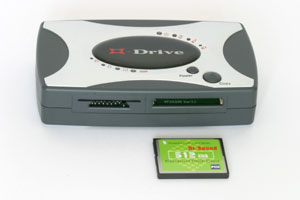 X'S Drive and Compact Flash card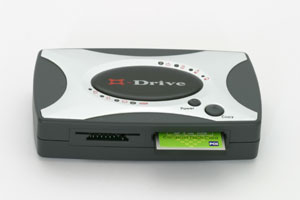 X'S Drive with Compact Flash card fitted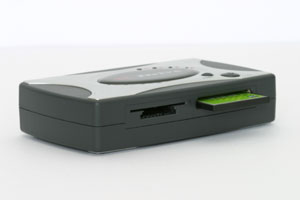 Isometric view with Compact Flash card fitted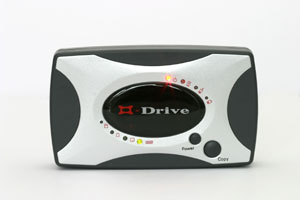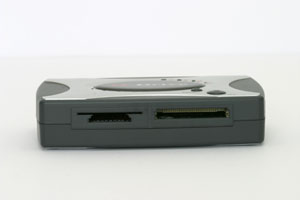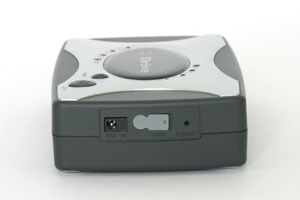 DC In connector / USB connector / Reset button
Ease of Use
The X'S Drive has a relatively small list of features, which means that it should be straight-forward to use as there isn't that much that can go wrong. And on the whole it is very easy to operate, although it does have a few small quirks that I'll come to later.
I've been using the X'S Drive since May 2003, both on daily photography trips and longer periods abroad, so this review can be considered to be a long-term test. In that period of time I've taken an estimated 4,000 photos, and I've used the X'S Drive to store about 3,000 before transferring them to my PC. In all that time I've only had one small mishap when about 30 files were lost due to the X'S Drive's battery running out mid-transfer. This doesn't corrupt the files in any way, it just interrupts the transfer, and I didn't realise that this had happened. I could have re-copied the files once the X'S Drive's battery was recharged, but unfortunately I formatted the card so that I could take some more photos.
It's very easy to copy your photos onto the X'S Drive. Simply insert the memory card and press the large Copy button on the front of the device. The bottom row of LEDs then flash in a cycle to indicate that the files are being copied. It takes about 6 minutes to copy the contents of a full 512Mb compact flash card. I usually give the X'S Drive to someone else to hold or store it in my bag so that I can carry on shooting with a different memory card.
The transfer of the files from the X'S Drive onto your PC is equally as straight-forward. Plug one end of the USB cable into a USB port and the other into the X'S Drive, which automatically turns itself on and creates 4 new drives in Windows Explorer, as shown below. You can insert your memory card and use the X'S Drive as a card reader, or you can browse through the USB HDD folder and copy and paste the contents onto your PC. If you know how to use Windows Explorer, then you know how to access what is stored on the X'S Drive.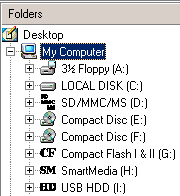 One of the obvious drawbacks of the X'S Drive is the inability to see and check your files once they have been copied onto the device. Other portable storage devices often have a built in LCD screen which allows you to view your images and sometimes even edit them. As you would expect they are a lot more expensive than the no-frills X'S Drive. At first I was a little worried about this, and was always reluctant to wipe my memory cards clean, just in case the photos hadn't transferred across to the X'S Drive properly. After all, every photographer's worst nightmare is losing those valuable, often un-repeatable images. But after using the X'S Drive without mishap for the past 6 months, I don't miss that expensive LCD screen at all.
So what are those quirks that I referred to earlier? The X'S Drive, being basically a hard-drive stored in a plastic shell, is quite noisy. I've not sure how it compares to other similar storage devices, but you can certainly tell when the X'S Drive is switched on. There is a slight design flaw in that the Power and Copy buttons are slightly raised above the level of the rest of the device; this could mean that the unit is inadvertently turned on, although this has never happened to me and the device also turns itself off automatically after 25 seconds of inactivity. I believe that Vosonic have addressed this issue in the 2nd version of the X'S Drive by recessing the buttons.
The most annoying aspect of the X'S Drive is the slow transfer time from the device to your PC. A folder containing 100 RAW files (your photos are automatically stored folders of 100) takes about 10 minutes to download. If you've had a particularly prolific day, or worse still if you have just returned from a long trip away, then it could potentially take an hour or longer to download all of your photos. Transfer speed is the one area that I would really like to see improved. Again, Vosonic have addressed this in the X'S Drive II by using the faster USB 2 interface.
Conclusion

(out of 5 stars)
Despite the slow transfer time of files to a PC, I really like the X'S Drive, and I've even come to depend upon it. I've been able to use the Canon EOS 10D, which generates RAW files of around 6-8Mb, with just 2 x 512Mb compact flash cards. Once one card is full, I copy the contents onto the X'S Drive, whilst carrying on taking pictures using the other card. When the first card has finished copying, I format it in the camera and it's ready to use again. As the X'S Drive with a 20Gb hard-drive can store up to 3,000 RAW files, this is more than enough storage space for up to a week's worth of picture-taking. During the last 6 months the X'S Drive has proved itself to be easy-to-use and most importantly of all dependable. And all this for the measly sum of £120. If you think that the equivalent memory cards would cost £4,000 (assuming a price of £100 for a 512Mb card - you do the math), then how can you not consider the X'S Drive?!
Related Links