Wacom Intuos3 A4 Pen Tablet
Review Date: 13th June 2005
Introduction
The Wacom Intuos3 is a pen tablet that replaces the traditional keyboard and mouse combination for a wide variety of computer-based tasks, including photography related programs like Adobe Photoshop, and it supports over 100 software applications. Consisting of a cordless pen, cordless mouse, and tablet, the Wacom Intuos3 is designed to provide the serious photographer, designer, and artist with the ability to quickly and professionally edit photos and create digital artwork. New features for the Intuos3 range include ExpressKeys and Touch Strips on the tablet itself, which replace many common keyboard shortcuts and also allow you to zoom and scroll. Wacom have also made the Intuos3 customisable in almost every way imaginable on an application by application basis. Available in three different sizes, the Wacom Intuos 3 pen tablet promises to make what are often frustrating aspects of digital photography much more intuitive, saving you valuable time and money. So is the Wacom Intuos3 a worthwhile addition to your digital darkroom? Keep reading to find out.
Compare Prices
Support PhotographyBLOG: Buy the Wacom Intuos3 A4 Pen Tablet from one of our affiliate retailers:
Features
The Wacom Intuos3 A4 provides a 1:1 mapping ratio for most monitors. It is best suited to applications that require full arm motion.
An A4 sized tablet is supplied. There are ExpressKeys and Touch Strips on both sides of the tablet to accommodate left and right-handed users. The ExpressKeys are a set of buttons located, to which you can assign your favourite keys or macros. The Touch Strip allows you to use your finger or the pen directly on the tablet for scrolling and zooming in and out of an image – similar to the touchpad on a laptop. The active area of the tablet represents your entire monitor screen. The tablet is corded and connects to your computer via a USB port - it also supplies the input device (pen or mouse) with power. The cable that connects the tablet to your computer is 8 feet long.
The Intuos3 Grip Pen is cordless and provides pressure-sensitivity with 1,024 levels to create natural-looking pen, brush, and eraser strokes. The Intuos3 pen has a rubberised grip area that reduces gripping power by up to 40%. There is a pressure-sensitive eraser on the top to get rid of any errors in your work, and Wacom supply 3 different types of nib (standard, stroke and felt nibs). A programmable double-side switch on the pen can be used to simulate soft buttons, shortcuts, pop-up menus etc in a specific application. The pen recognises tilt angles of up to 60°.
The Intuos3 mouse is cordless, batteryless and ballfree. It has a resolution of 5,080 lines per inch, greater and more precise than most regular mice. It offers five programmable buttons that are suitable for use by both left and right-handed users. There is a rotating finger wheel which is similar to the Microsoft IntelliMouse product range.
The final part of the Wacom Intuos3 product is the Tablet Properties application, which allows each Intuos3 input device and the tablet itself to be individually programmed and configured for each application. These functions are automatically activated as soon as the application is started.
The following items are supplied with the Wacom Intuos3 A4: Intuos3 A4 pen tablet, Intuos3 Grip Pen,, Intuos3 5-button Mouse, Stroke Pen nib, Felt Pen nib, Pen stand, Driver CD-ROM (driver, PDF manual in English, German, French, Italian, Spanish, Dutch), Corel Painter Essential2 CD-ROM (in English, German, French) and a Quick Install Guide.
Specifications
Physical size (WxDxH): 440 x 340 x 14 mm
Active area (WxD): 305 x 231 mm
Pressure sensitivity: 1,024 levels
Resolution: 5,080 lpi
Accuracy Pen: +/- 0.25mm
Accuracy Mouse: +/- 0.5mm
Tilt: +/- 60 degrees
Maximum reading height with Pen: 6 mm
Maximum report rate: 200 points per second
Connection: USB
Cable length: 2.5 m
Weight: 1,800 grams
Colour of status LED: Blue/Green
System requirements
Windows 98SE/ME/2000 and XP
MacOS X 10.2.6 or later
CD-ROM drive
Active USB port
Design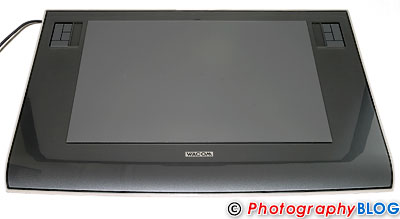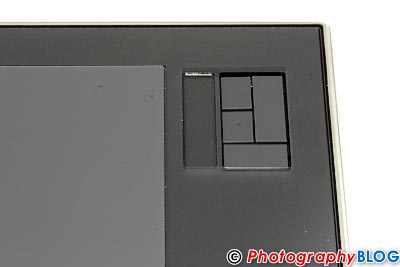 Intuos3 Tablet - Touchpad and ExpressKeys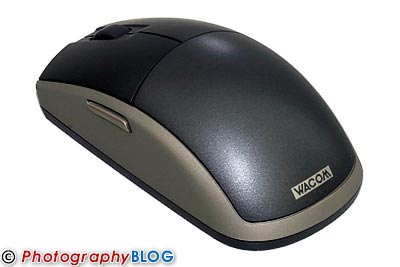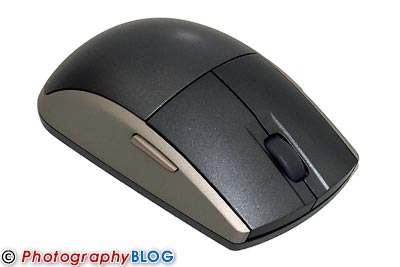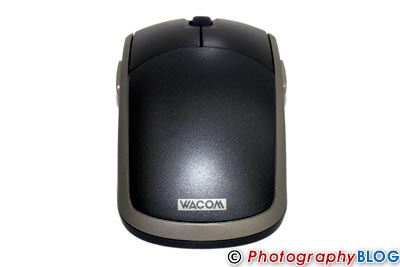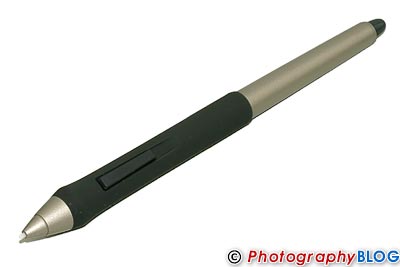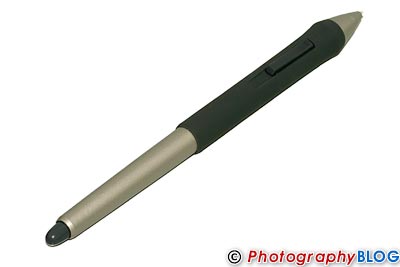 Intuos3 Pen in Pen Holder
Ease of Use
The Wacom Intuos3 A4 is extremely easy to install, as shown in the screenshots below. Windows XP recognised the new device without any problems, and the product was successfully installed within 5 minutes. There are brief but helpful tutorial and tips and tricks options on the CD Menu Screen, but unfortunately the User Guide is only available as a soft-copy PDF on the installation CD.
Wacom have made almost every aspect of the Intuos3 A4 completely customisable, so that you can set it up to exactly suit your particular way of working via the Tablet Properties program. Everything from the pen to the Touch Strips and Express Keys on the tablet can be re-configured. The ExpressKeys and Touch Strip are a new feature for the Intuos range, and they make it possible to use the tablet and pen without having to resort to the keyboard. By default three of the ExpressKeys are designated as modifier keys and the fourth one is set as the spacebar, making it extremely easy to navigate in Adobe Photoshop. If you don't like the default settings, just use the intuitive Tablet Properties application to change them, which is also possible on a per application basis. The various screens are shown below.
As well as adding the innovative new ExpressKeys and Touch Strip, Wacom have also improved the tablet by doubling its resolution to 5080dpi and making it slimmer and more ergonomic. Despite being large in terms of dimensions, it doesn't weigh too much and was comfortable to use whilst sitting down. The only negative aspect that I discovered had more to do with poor choice than anything else. I found the A4 size to be slightly too big, both because of a limited working area and in relation to my 17 inch LCD screen - the A5 model would have been more suitable.
The pen is comfortable to grip thanks to the dark grey rubberised section, and it resembles a thick ballpoint pen in construction. Wacom supply three different types of nib with the Intuos3, There is a standard plastic nib, one mounted on a small spring which simulates a paint brush, and a third which simulates a felt-tip pen - I found this the most enjoyable to use. A grey "eraser" on the opposite end of the pen can also be re-configured to a different function, as can the double-side switch on the top of the pen (or replaced with a blank rubber sheath if you don't like it).
The supplied mouse is cordless and battery-less, just like the pen. You may be wondering why a mouse is supplied with a pen and tablet, as surely the pen is designed to replace a mouse? I would agree - although the Wacom mouse is perfectly functional, I found that I didn't use any mouse in conjunction with the Intuos3. Consequently the mouse spent most of the review period in the box.
Installation
Click on the screenshots to open a larger version in a new window.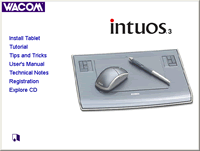 Step 1
The CD Menu screen, with links to a Tutorial, Tips and Tricks and the User Guide (PDF format only).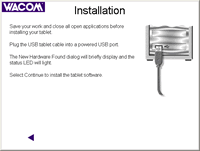 Step 2
Plug the Wacom Intuos3 into a USB port - if it's successfully recognised by Windows, the installation continues automatically.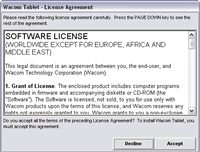 Step 3
Accept the Software License.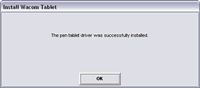 Step 4
The tablet driver is now installed!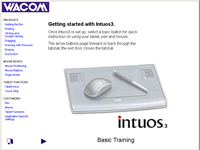 Step 5
There is a brief but helpful Tutorial, accessible from the CD Menu screen...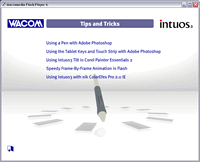 Step 6
... and also a handy Tips and Tricks section, covering Adobe Photoshop in particular.
Wacom Tablet Properties
Available by selecting Start > Programs > Wacom Tablet > Wacom Tablet Properties. You can configure almost every aspect of how the tablet, pen and mouse work.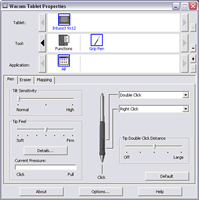 Screen 1 - Pen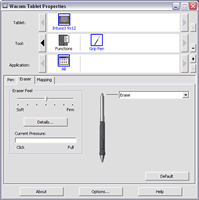 Screen 2 - Eraser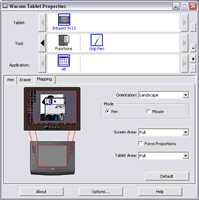 Screen 3 - Mapping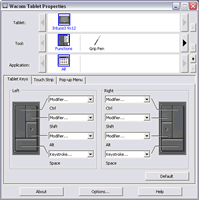 Screen 4 - Tablet Keys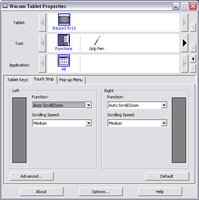 Screen 5 - Touch Strip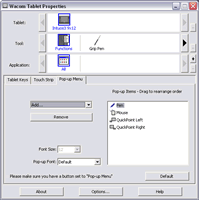 Screen 6 - Pop-up Menu
Conclusion

(out of 5 stars)
Before reviewing the Wacom Intuos3, I'd never used any kind of pen tablet product before, instead persevering with the trusty keyboard and mouse combination. I've since discovered that a pen tablet is very much like a monitor calibration device - you don't actually need to use it, and you may avoid using one for a long time, but when you do actually try one, it will revolutionise the way that you work, and you won't want to go back to the old days. Just as a monitor calibration device will help ensure that your colour workflow is accurate from viewing an image to printing it, so the Wacom Intuos3 ensures that your workflow in applications like Adobe Photoshop is much slicker, more accurate and ultimately easier and more enjoyable than with the old keyboard and mouse.
Wacom are the industry leaders in the pen tablet field and with good reason - their products are well designed, well made and customisable in virtually every way imaginable, and the Wacom Intuos3 is no exception to that rule. Neat touches like the tablet keys and touch strip ensure that the Intuos3 a joy to use, making tasks that are frustrating to do with a conventional keyboard and mouse much more intuitive. The only aspect of the overall package that I didn't find so useful was the mouse - I continued to use my current mouse along with the tablet and pen and left the Wacom mouse in the box. You will also need to think carefully about which size Wacom Intuos3 will be most suitable for you. I chose to review the A4 version, thinking that bigger was better, but actually found it a little too big in relation to my 17 inch LCD screen - I would probably opt for the A5 version instead (and save some money too). Otherwise, the whole concept of a pen tablet and the Wacom Intuos3 itself are a breath of fresh air, and well worth a place in every photographer's digital darkroom.
Related Links
Leave a Comment about this Review
Compare Prices
Support PhotographyBLOG: Buy the Wacom Intuos3 A4 Pen Tablet from one of our affiliate retailers: