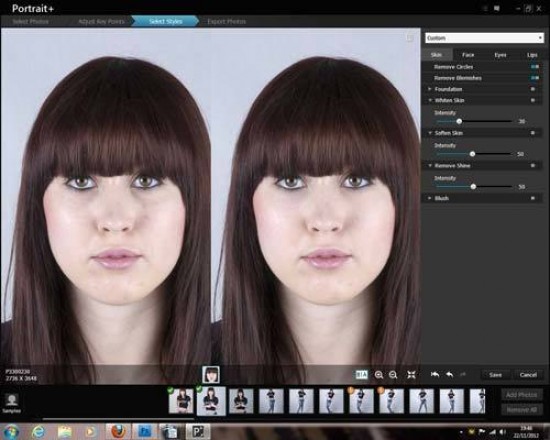 Conclusion
The key to Portrait+ is its simplicity. It looks like the designers figured they wanted to create a system that's very simple to use and they've certainly done that.
The good point is that as a base program, if you enjoy taking portraits but Photoshop really isn't your thing then this stand-alone program will certainly help with some basic enhancements. The subtlety of the changes is admirable but it's easy to start piling them on and that's something to look out for because it will make the portrait look painted.
The simplicity of Portrait+ is somewhat tarnished by the processing speed and unnecessary repetitions. For example, when you've found the face detection and have a tick on the thumbnail to confirm this, if you leave that image and go back to it, the program has to find the face all over again. It's frustrating and long winded. This is a program that professionals can use according to ArcSoft but there's no support for Raw file types. It will import TIFF files but will only export as JPEG. Once exported, the pictures are compressed to roughly half their original size which is where the processing speed comes from but is very destructive to the pictures. As we mentioned earlier, this is something that will be addressed by ArcSoft later.
If you forget or fail to create a new folder to export to, ArcSoft supply no provision when selecting the folder in the Export section. You have to right click the folder you want to create a sub folder in.
Despite all that we found, our main concern is that at £112, it's more expensive than Corel Paintshop Pro which not only gives you a full editing suite, but also has similar beautify tools such as tan, slim down and make-up enhance.
The best thing to do would be to try it on a trial run and put it through its paces. If you can find a workflow, then the simplicity will pay for itself in stress and will allow you to get out and shoot more. Isn't that what every photographer wants?
The new features that have been added are certainly both interesting and useful. The file size issue has indeed been addressed and is certainly much better as we can now languish with full size edited images. We're still disappointed about the lack of Raw export, though.
The new editing filters are better to use, ArcSoft should now start to implement the controls over the Pre-set styles. There's nothing wrong with allowing people to adjust if they want to. Because of the improvements, we've pushed the Features from a 3.5 to a 4. We've also increased the Overall rating to a 4 given that we would be comfortable recommending it now thanks to the new features.
Ratings (out of 5)
Features
4
Ease-of-use
5
Value for money
3.5
Your Comments