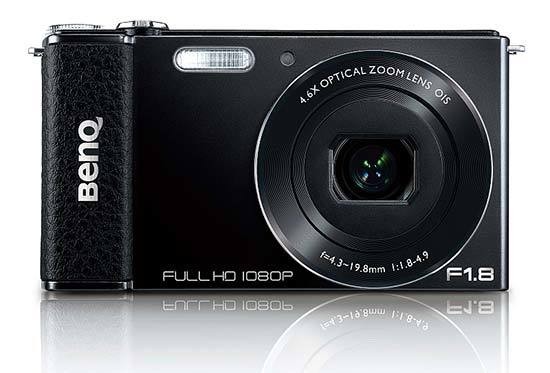 Introduction
The BenQ G1 is a compact camera with a fast f/1.8-4.9 lens and a swivelling rear screen. Billed as the world's slimmest camera in its class, the BenQ G1 is built around a 14-megapixel sensor and a 24-110mm equivalent lens that features optical image stabilisation and an ultra-bright f/1.8 maximum aperture at the wide end. The articulated, 3-inch screen offers a resolution of 920,000 dots and a wide colour gamut for more saturated colours and realistic images. Other highlights include full HD video capture, a mode dial with manual and semi-automatic shooting modes, a 'Handheld Night Shot' mode, a 'Background Defocus' filter, several creative filters and a continuous shooting mode of 6 frames per second. The BenQ G1 costs £279.
Ease of Use
At one time the BenQ brand was synonymous with the 'pile 'em high, sell 'em cheap' type of digital camera more likely found on supermarket shelves and featured in pamphlets that dropped through your letter box than in the trophy cabinets of a specialist photo retailer. Any BenQ camera I've tested in the past has also seemed more like PC peripheral than prestige photographic device, and performance has been average at best.
So what's changed? Well the brand is being re-launched with more purposeful intent, as signified by the 14 megapixel 1/2.3-inch CMOS sensor incorporating BenQ G1 - the given model iteration (subconsciously/deliberately?) making us think of the more well-received/established likes of Panasonic's Lumix G range, and Canon's PowerShot G series.
As is the vogue for premium compacts at the moment - not that this is quite as posh as say, Sony's RX100 - the BenQ comes with a bright f/1.8 aperture lens. Furthermore the camera has a fully automatic background defocus shooting option - though this is a software fix applied at the point the shutter release button is fully depressed. It selectively blurs portions of the image in much the same way that a miniature mode on other cameras operates (and yes, the G1 also has a miniature, or as it's called here 'toy', mode too, found within the 'scene' menu).
While the front of the matt black finished camera might look a little Ricoh-like in its utilitarianism, complete with flattened handgrip finished in faux leather effect and BenQ brand logo a little too prominent for our tastes, it's a different story at the rear.
Despite the camera's pocket sized dimensions and narrow-ish build, BenQ has impressively squeezed in a fold out, swivel and tilt 3-inch, 920k dot back screen. This offers similar flexibility to the adjustable monitor found on Samsung's recent, slightly broader EX2F, in that it can be flipped out parallel to the body as well as angled up or down, plus turned so that screen faces subject for more convenient self portraiture. Indeed BenQ is claiming that the G1 is the world's smallest camera to feature an angle adjustable composition/review screen in tandem with that fast maximum aperture. To the best of my recollection the brand has never been a global best or first at anything before, so initial impressions at least are positive.
| | |
| --- | --- |
| | |
| Front | Rear |
Also, it's worth pointing out that build here is mainly metal, so there's a solid feel to the BenQ when grasped - another pleasant surprise. And as further garnish to this particular lily, a tan faux leather carry pouch and matching strap are provided in the box. It's been a long while since we've been provided with a camera bag as part of the basic kit, unless we're talking about a Leica. If you care to attach the pouch it certainly adds an unexpected touch of class and elegance to the G1 overall.
So, in terms of initial comparison points, the formerly humble BenQ finds itself in more exalted company than one might have formerly expected. The price for this is a suggested £279, reasonable, if no outright bargain which suggests we are paying a slight premium for that screen. But can the G1 rise above its maker's humble computer peripheral heritage as regards handling and performance?
First off, yes it's a little boxy in design, about a third bigger than a business card at an official 114x62.5x25.5mm and with a weight of 195g. Also a little modest is the G1's 4.6x optical zoom when others are shoehorning a 20x reach into only marginally broader dimensions. Still, the G1's lens does start wider than most at an equivalent 24mm in 35mm film terms.
On examining the camera, left of lens we get a small porthole for the built-in self timer/AF assist lamp plus alongside this a lozenge shaped flash, positioned close enough to the grip that we had to watch for a finger inadvertently straying in front. The handgrip, though a welcome addition, seems more for show than practicality as it's still easy for fingers to slip; a complementary thumb rest at the back would have helped. As it is the thumb instead comes to rest against a time saving command dial at the back - another unexpected feature. While the zoom is retracted within the body when the camera is inactive, upon powering up it stands a couple of centimeters proud of the body at maximum 100mm equivalent zoom setting.
With lugs for attaching a strap found top left and right of the relatively slender chassis, the top plate of the BenQ is straightforward in terms of control layout. Indeed it helpfully comes complete with a conventional 10-option dime sized shooting mode dial. The other controls are the standard raised shutter release button surrounded by a lever for operating the zoom, plus a recessed on/off button to prevent accidental activation. Also located on the top plate are a built in mono speaker yet stereo microphones, positioned directly above the lens. A press of the power button and the camera readies itself for action in two to three seconds, lens extending to maximum wideangle setting and rear screen bursting into life. As you'd expect there's no additional optical nor electronic viewfinder on offer. A half press of the shutter release button and the G1 determines focus and exposure after a moment or so, the view on the back screen briefly blurring before snapping back into focus, with AF point/s highlighted in green accompanied by a loud beep of confirmation. Take the shot and a maximum resolution JPEG, in the expected absence of any Raw option, is committed to memory in two to three seconds in single shot mode. The alternative is up to 6fps continuous capture. Though the operational buzz of the zoom when adjusting in stills mode is noticeably gnat-like, this is slightly better disguised by a much slower movement and adjustment of the lens once video recording has begun.
| | |
| --- | --- |
| | |
| Front | Tilting LCD Screen |
Back to the shooting mode dial for a moment and it's here that we find the full creative quartet of shutter priority, aperture priority, shutter priority and manual modes. Again, manual photographic controls haven't been a big feature of past BenQ efforts. These are augmented by further settings for scene mode, a selection of digital filter effects signposted on the dial by a magic wand icon, plus a handheld night shooting mode, the aforementioned dedicated defocus mode, continuous burst mode and regular auto mode.
The digital filters on hand here are as fun as they always are and can help lift an otherwise drab scene. If you want to add a boost to contrast and colour but keep the shot looking vaguely photographic rather than impressionistic the HDR mode is the one to choose. The 'MagicQ' is the most extreme option - providing a highly stylized retro look, with further alternative options being the black and white sketch, wholly unrealistic oil painting and a Canon PowerShot-like colour accent, again an automatically applied process at the point the shot is captured. It's best to experiment with these filters to find what works as obviously some subjects lend themselves better to a highly stylized treatment than others. However it should be noted that since processing takes place at the time of capture, there's around a six second wait before you can fire off a subsequent shot.
The plentiful scenes modes here also include an HDR option, along with a 360° panorama, fisheye lens effect, Lomo camera effect (!), plus a 'toy' mode, which is a ubiquitous tilt and shift lens ape-ing miniature mode by another name.
Though inevitably the tilting and swiveling screen dominates the back of the G1, there is still some room to the right - roughly a fifth of the entire backplate - given over to physical controls.
From the top working our way down these comprise the aforementioned command dial with, just beneath, a dedicated video record button for 1920x1080 pixels video clips at a maximum 30fps frame rate. Both of these controls are easily operated by the thumb - a spin of the command dial allowing shooting mode options to be scrolled through - though in addition at the rear there is a regular four way command pad encircled by its own scroll wheel a bit further down the back plate. An equally familiar OK/function button sits at its centre. At points north, east, south and west on the pad are a means of adjusting screen display, flash settings (including anti red eye and slow sync options), self-timer and focus mode respectively. So far, so standard issue.
| | |
| --- | --- |
| | |
| Top | Memory Card Slot |
At the very base of the backplate we find a further two buttons - the self-explanatory menu plus a button marked with an enigmatic 'Q', which also doubles up as a handy delete button when the camera is in playback mode. While in stills capture mode an initial press doesn't achieve anything, its function becomes clearer when drilling into the camera menu - in that a range of functions can be attributed to it. So, for example, a press of the 'Q' button can provide a fast cut to swapping ISO settings when required. Again, user attributable customisable buttons aren't something expected from the once cheap and cheerful BenQ.
On the right hand flank of the G1 - if viewing it from the back still - we find a covered port with HDMI output, plus a joint port for standard AV output and connection of the supplied USB cable. An HDMI cable is not supplied. Incidentally the rechargeable lithium ion battery is also charged within the camera, with only a mains lead supplied. Ours came with a plug for Europe rather than the UK, but hopefully this has been put right for sales samples. As a fallback, thankfully the applied USB lead can be used to charge the camera from a device with a vacant USB port, such as a laptop.
The left flank of the camera is devoid of any features save for a vacant lug for a strap and the 'arm' of the adjustable screen. The base of the G1 meanwhile features a centrally positioned tripod screw thread plus a door protecting the joint battery and SD card compartment, opened and 'locked' here via a sliding catch. The G1's battery life is good for 260 shots from a full charge which is perfectly adequate for its class if short if exceptional.
While the above all sounds better than we'd have previously expected, how does the BenQ G1 deliver in practice? Click forward to our next section to find out.