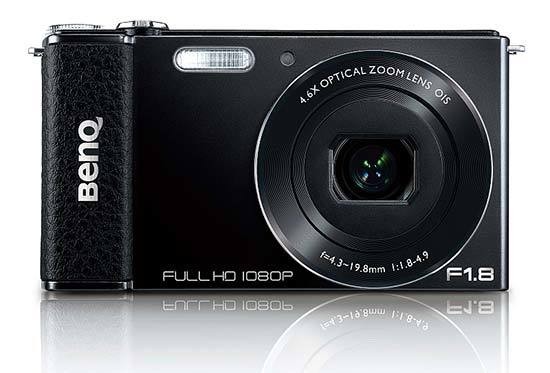 Image Quality
All of the sample images in this review were taken using the 14 megapixel JPEG setting, which gives an average image size of around 3.5Mb.
As with most pocket compacts, unadulterated images straight of the BenQ G1 can tend to look a little flat and would benefit from a Photoshop tweak, especially in terms of boosting contrast. However daylight photos do look sharper and crisper than we imagined it capable of, even if quality isn't a match for premium compacts with slightly larger sensors costing £100 to £150 more.
While a 4.6x optical zoom starting out at an equivalent 24mm suggests itself as useful for landscape shots and group portraits, so it proves, and, equipped with the benefits of both that wider reach and the flip and tilt screen, we were able to come up with less familiar interpretations of scenes that for us were already tried and tested. Being able to adjust the screen to shoot over walls and enable operation with the camera held at arm's length means that you inevitably end up with shots that you wouldn't have dreamt of attempting otherwise - which is never a bad thing.
While the camera is capable of delivering even exposures, it's not always consistent, and familiar bugbears such as blown highlights and pixel fringing rear their heads under brighter daylight conditions.
In terms of low light shooting and our standard ISO tests, this exposed some issues with colour balance and again a slight lack of consistency shot to shot if we're being picky. There is a reasonably broad light sensitivity range on offer here, from ISO100 to ISO6400 and all points in between, plus standard auto and a further auto option whereby the camera is limited at ISO3200 maximum in order to show the G1's performance at its best. As with most compacts though, ideally you'll want to stick at ISO800 and below as we started to see a loss of definition at ISO1600, getting progressively more noticeable at ISO3200. The top ISO6400 is there only if you get particularly desperate, as soft detail across the frame lends shots that distinctly watercolour-like effect.
Overall the G1's performance could be summed up as 'not too bad' and while that's not a ringing endorsement, it's especially good given our initial fairly low expectations.
Noise
There are 7 ISO settings available on the BenQ G1. Here are some 100% crops which show the noise levels for each ISO setting.
| | |
| --- | --- |
| ISO 100 (100% Crop) | ISO 200 (100% Crop) |
| | |
|   |   |
| ISO 400 (100% Crop) | ISO 800 (100% Crop) |
| | |
|   |   |
| ISO 1600 (100% Crop) | ISO 3200 (100% Crop) |
| | |
|   |   |
| ISO 6400 (100% Crop) |   |
| |   |
Focal Range
The BenQ G1's 4.6x zoom lens offers a focal range of 24-110mm, as demonstrated by the examples below.
| | |
| --- | --- |
| 24mm | 110mm |
| | |
Sharpening
Here are two 100% crops which have been Saved as Web - Quality 50 in Photoshop. The right-hand image has had some sharpening applied in Photoshop. The out-of-the camera images are sharp enough at the default sharpening setting and don't benefit that much from further sharpening in a program like Adobe Photoshop.
| | |
| --- | --- |
| Original (100% Crop) | Sharpened (100% Crop) |
| | |
|   |   |
| | |
Chromatic Aberrations
The BenQ G1 handled chromatic aberrations fairly well during the review, with some purple fringing present around the edges of objects in certain high-contrast situations, as shown in the examples below.
| | |
| --- | --- |
| Chromatic Aberrations 1 (100% Crop) | Chromatic Aberrations 2 (100% Crop) |
| | |
Macro
The BenQ G1 offers a Macro setting that allows you to focus on a subject that is 3cms away from the camera when the lens is set to wide-angle. The first image shows how close you can get to the subject (in this case a compact flash card). The second image is a 100% crop.
| | |
| --- | --- |
| Macro | Macro (100% Crop) |
| | |
Flash
Here are some portrait shots. As you can see, neither the Force On or the Auto Anti Red-eye settings caused any red-eye.
| | |
| --- | --- |
| Force On | Force On (100% Crop) |
| | |
|   |   |
| Auto Anti Red-eye | Auto Anti Red-eye (100% Crop) |
| | |
Night
The BenQ G1's maximum shutter speed is 1 second, which is not great news if you're seriously interested in night photography. The shot below was taken using a shutter speed of 1 second at ISO 400.
| | |
| --- | --- |
| Night | Night (100% Crop) |
| | |