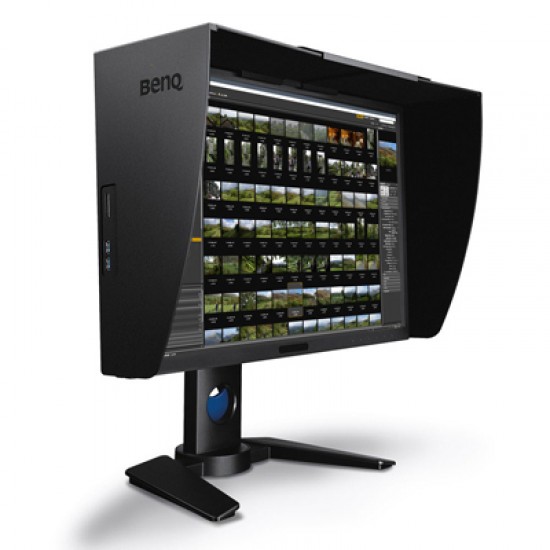 Ease of Use
We found the BenQ PV270 a pleasure to work with, and minor adjustments are easy to apply. The screen does take up extra desk space, but photographers who are currently working with two monitors may find that a single 27" display will be more than sufficient. The screen has a good viewing angle of 178 left/right and 178 up/down, a good viewing angle is essential for colour correction work.
Colour Correction and Colour Grading
There is a difference in colour correction and colour grading. Colour Correction involves removing a colour cast in a scene or on skin tones. Both image and video editing applications offer several ways to correct colours including; RGB curves, Levels, Colour Balance, Colour corrector, three way colour corrector etc. as well as RAW convertors. For video work Colour Grading is the process whereby you add mood or a look to a production, this may be an overall blue to create a sombre feel or warm colour to create a happy look. A well calibrated and profiled monitor will enable you to achieve accurate colours for both video and stills.
Conclusion
Pros
Superb colours
Large 27" display
USB 3.0 ports & SD card reader
Cons
Not 4K
No CompactFlash card reader
No audio or headphone socket
Monitor hood is awkward to assemble and fit
The BenQ PV270 is a well specified monitor with plenty of features for accurate colour correction and grading work that should satisfy any professional or keen amateur. For video work BenQ has provided both Rec 709 and DCI-P3 colour modes and is Technicolor certified.  BenQ has missed a couple of important features, namely 4K display and a CompactFlash port - given that Canon EOS 5's use CF and are possibly the most popular cameras for video work. In video audio is 50% of any production, it would have been desirable to have some audio facility i.e. a headphone socket. For Full-HD video and photo editing this monitor could be your ideal solution.
Ratings (out of 5)
Design
4.5
Features
4
Ease-of-use
4.5
Value for money
4.5
Your Comments