Canon Digital IXUS 105 Review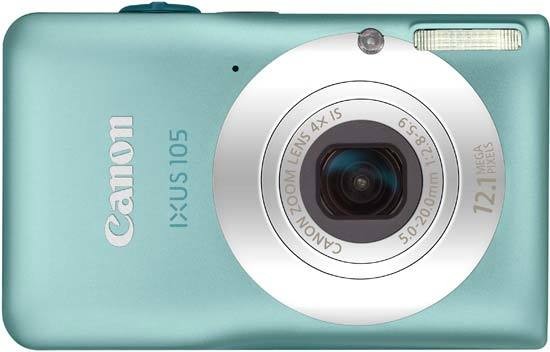 Introduction
The Canon Digital IXUS 105 (also know as the Canon PowerShot SD1300 IS) is part of Canon's extensive Spring 2010 line-up. This small compact point-and-shoot model features classic IXUS styling, combining a slim and chic body with a 4x, 28-112mm optically stabilised zoom lens and 640x480 VGA movies. Smart Auto mode with Smart Flash Exposure and Scene Detection Technology plus Face Detection, FaceSelf-Timer and Auto Red-Eye Correction should all help you to take better shots, which can then be viewed on the 2.7 inch LCD screen. Available in five different colours, blue, silver, pink, green, and brown, the Canon IXUS 105 / PowerShot SD1300 IS is priced at £189 / €219 / $199.
Ease of Use
Released in tandem with the equally new 14.1 megapixel IXUS 130 model, perhaps the first thing long-time observers of the style conscious, credit-card sized IXUS range will note about the equally diminutive 12.1 megapixel IXUS 105 compact is that, unlike its IXUS 100 and 110 predecessors, it doesn't include the initials 'IS' for image stabilisation after the model name.
This seems purely cosmetic for, despite the dropping of these digits, the fully automatic, metal-build point-and-shoot IXUS 105 does include an optical image stabilizer in support of its 4x optical 28mm wide angle zoom lens (running up to a 112mm equivalent at the telephoto end), plus Canon's shutter speed and ISO boosting Motion Detection technology to help prevent blur otherwise resulting from external hand wobble/camera shake. It also retains the smooth finish, pocket-sized dimensions and quality-feel metal build of the 'classic' digital IXUS for what at first glance seems like an affordable £189.99 in the UK; another affordable travel camera then for the happy snapper wanting decent results with minimum fuss?
That reasonable price partly dispels the shock of finding our review sample supplied in a lurid peppermint green Canon is calling 'aqua'; eye catching it may be, but nevertheless a colour more commonly associated with a bottle of mouthwash (brown, pink and more sober silver varieties are also available). The 105 otherwise retains the bar-of-soap shape of the IXUS that has remained unchanged since the early 'noughties', save for the odd gently curved edge or corner here or there to soften the look. On this model Canon has also given up on including an optical viewfinder, which for a good few years has felt slightly superfluous and pokey anyway as LCD screens grew in size and resolution. Here the 105 sports a modest 230k dot, 2.7-inch screen for picture composition and review which acquits itself adequately.
Majoring as much on ease of use as fashion-conscious style, the IXUS 105 again features Canon's Smart Auto technology (which debuted on its IXUS 100 IS predecessor), its version of arguably chief rival (at the good value, point and shoot end of the market) Panasonic's equally reliable iAuto. This is the now widely implemented technology that compares any scene or subject placed before the lens with a range of on-board presets for the likes of portraits, landscapes or macro - 18 in the case of the 105 (as with the 100 before it) - and selects the most appropriate to provide, in theory, optimum results.
So that the user can fully concentrate on the subject rather than adjusting camera settings, Canon here also provides the belt and braces of its exposure enhancing iContrast technology to avoid undue shadow or highlight detail being lost. Added to this is Smart Flash Exposure, which will automatically fire the bulb if the camera detects, for example, sunlight is throwing harsh shadows across the face. And the automatic features keep on coming, in the form of face detection that can recognize up to an enormous 35 faces in the frame and bias focus and exposure accordingly, automatic red eye correction if using flash, plus Face Self Timer which waits for an additional face to join a group shot - yours - before the camera's shutter fires.
| | |
| --- | --- |
| | |
| Front | Rear |
Unlike the 130 model that features 720p resolution HD video and accompanying HDMI-out port (as did the IXUS 100 IS), the more modest 105 makes do with standard definition 640x480 pixels clips at a respectable 30 frames per second and a dual purpose AV and USB out port, hidden under a fingernail operated plastic catch at the camera's side. On board processing is still courtesy of a zippy Digic IV processor however, first implemented among Canon's DSLRs.
In perhaps more of a notable departure from its forbears the IXUS 105 now offers compatibility with SDXC memory cards with capacity promised up to 2TB, enabling a huge (and perhaps dangerously large) amount of images to be stored on the one card, as well as earlier and more commonly available SDHC cards. With battery and required media card loaded, this Canon snapshot feels reassuringly weighty at 140g combined and solid too in the palm despite its near credit card sized dimensions, once again for the series mixing metal and well-disguised plastic to winning effect.
At the front the camera presents the classic IXUS APS film camera 'look' of studied minimalism, internally stacked zoom lens framed by a series of concentric mirrored chrome circles - the gleaming surface of which inevitably attracts fingerprints and smudges within a short period of use, so you'll feel prompted to be constantly buffing it.
Top right of the lens is a thin lozenge shaped window housing the integral flash, its positioning toward the corner edge of the camera's faceplate meaning that it's all too easy for a fingertip to stray in front when holding the camera steady with both hands; a compromise for the overall small form factor and not an issue just for Canon users either. We also get a small porthole alongside this for the AF assist/self timer indicator lamp, plus a tiny pinprick housing the built-in microphone; so far so standard issue for the IXUS range.
The 105's top plate meanwhile finds a large and obvious round shutter release button encircled by a zoom lever with a small lip protruding to the front for easier purchase by the forefinger, in turn set into a tapering strip running its length. The fact that it tapers means that the adjacent on/off button is stylistically sculpted into an arrow head shape and partially inset to avoid accidental activation while dragging the camera out of a trouser, coat pocket or handbag. Press this daintily with a fingernail and the Canon instantly responds, lens shooting outward from its storage place within the body and stopping at maximum wideangle setting as the rear LCD simultaneously bursts into life, a process taking barely a second.
| | |
| --- | --- |
| | |
| Front | Top |
The IXUS 105 is responsive all right, and this rapidity extends to it determining focus and exposure with a half press of the shutter release button - a process also taking a second or so, focus point (or points) highlighted in green with the accompanying bleep confirming that the user is able to go on and take the shot. In default single shot mode, maximum resolution JPEGs take around three seconds to write, the screen briefly blanking out to the recorded sound of a shutter firing and then freezing briefly with a display of the captured image before the user is free to take another picture. Incidentally you'll want to invest in a media card in tandem with a purchase of the camera as no internal memory, however modest, is provided to get you up and snapping straight out of the box. And again, the full manual is on CD Rom with only a quick start guide pamphlet provided in printed form that is so brief in content it's easily overlooked.
Returning to the IXUS 105's top plate we find a built-in speaker housed in the top right hand corner, its location given away by four dynamically die-cut shapes that appear to represent a squadron of flying phalluses.
This apparent homage to the giant chalk man of Cerne Abbas continues when we move to the backplate; the symbol of manhood inscribed onto the thumb-operated mode switch that slides between full (smart) auto, program auto and video modes. Whilst the sake might have been flowing a little freely when the 105's designers came up with that one, the rest of the camera's back reveals a 'clean' layout in every sense of the word, sufficiently large buttons recessed into the bodywork to maintain a smoothly minimalist profile.
Left of the mode switch we find an obvious dedicated playback button for reviewing captured images on the fly, and beneath this an indicator lamp plus the expected thumb-operated directional control pad with familiar (to Canon users) dual-purpose 'func' (function) and set button at its centre. Press this when the camera is in one of its capture modes and the regular Canon tool bar appears at the left hand side of the screen, running top to bottom, with shooting options extending out across the screen when highlighted, thus forming an L-shape. While if shooting in smart auto mode, the only active toolbar option is the one governing image size/quality, nudge the slider to program auto and additionally users can access pre-optimised scene settings (the standard portrait, night snapshot, kids & pets, indoor or face self timer setting - replacing 'sunset' on the IXUS 100) manually adjust ISO speed (here a modest ISO80-1600 range), white balance, choose from Canon's range of 'My Colors' digital effects, switch from evaluative to centre weighted average to spot metering, or jump from single shot to continuous shooting mode. These options are tabbed through and illuminated using the control pad, any changes effected with a press of that central 'set' button.
Unusually when shooting 640x480 pixels 'movies' access is likewise provided to manual white balance and 'My Colors' options. As expected there's the choice to step down quality from its maximum resolution to a slightly more email friendly 320x240 pixels at 30fps. The optical zoom cannot however be accessed once recording has commenced; it merely stays put at the point it was before filming started and, should the user toggle the zoom lever, it is only a digital zoom they'll have access to, the result being a degradation in picture quality as all the camera is doing is cropping in tighter.
| | |
| --- | --- |
| | |
| Memory Card Slot | Battery Compartment |
Returning to the four-way control pad, at points north, south, east and west around this are, in that order, a means of leapfrogging bunches of images when in playback mode or adjusting exposure compensation (+/- 2EV) when in capture mode. Next, at the bottom of the pad, is a means of deleting unwanted images on the fly or selecting the self-timer options (two seconds, 10 seconds or custom option), whilst the ability to adjust the flash settings (off, slow synchro, on, auto) and switch focus from infinity to macro (and back) complete the package.
Below these we find a self-explanatory final pairing of buttons. On the left is 'display', a press of which deactivates the shooting icons littering the screen, whilst a second press reinstates them, so a button for this alone feels a little superfluous. The button on the right meanwhile is for 'menu', and so rather more essential.
As with our review of the IXUS 100 IS last year, pressing 'menu' brings up two folders on-screen with nice, clear type - the first containing the shooting menu, the second the more general purpose set up menu. The first folder offers a range of options including the ability to activate the digital zoom, call up grid lines on screen, i-Contrast, image stabilisation modes (continuous, shoot only, active when panning, or off), plus activate a date stamp if so desired. The second featured folder of the two contains the set up menu, offering the ability to tweak various sound and start up options - there's no longer an extraneous separate menu folder within the Canon series for doing this - plus format the card in use or reset all current settings.
While the left hand side of the IXUS 105 - if viewed from the back - is devoid of any features apart from small screws top and bottom, the right hand side adds merely a means of attaching a wrist strap along with the aforementioned joint AV out/USB port. As there's not much - if anything - on this diminutive camera with which to get a firm purchase, when gripping it with both hands the user's thumb inevitably comes to rest in the middle of the LCD screen as a way of holding it steady, the result being thumbprints and smears all over the LCD.
The base of the camera meanwhile features a familiar screw thread for attaching this IXUS to a tripod, plus a sliding door protecting both the card port (with no internal memory to fall back on) and slender rechargeable lithium ion battery, good for a so-so but acceptable 240 shots from a single charge.
In summary, there's nothing over complicated here and operating the IXUS 105 is an intuitive process that doesn't require booting up the PC to read the full manual included on CD only. So this brings us to the pictures themselves. Do the results suggest that this is a camera that transcends its exterior good looks, and is, indeed, as cute where it counts? Let's find out…