Canon Digital IXUS 95 IS Review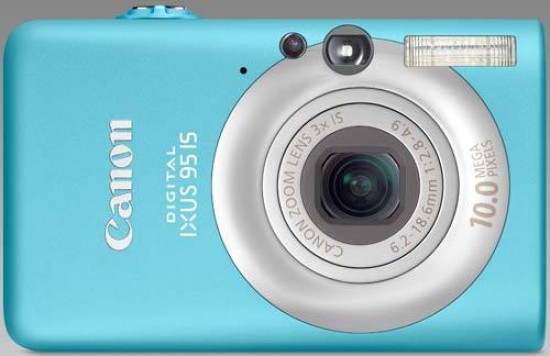 Introduction
The Canon Digital IXUS 95 IS (also know as the Canon PowerShot SD1200 IS) is a 10 megapixel entry-level compact camera. Inheriting the classic IXUS design, the Canon 95 IS' key features include a 3x zoom lens with Optical Image Stabilization, a 2.5 inch LCD screen, DIGIC 4 processor, new Smart AUTO mode, and Anti-Blur and Face Detection technologies. The Canon IXUS 95 IS is available now in silver, grey, blue and pink in the UK for £249.00, and in the US the Canon SD1200 IS is in dark gray, blue, pink, green, light gray and orange for $229.99 (in Europe it costs €299.00).
Ease of Use
On initial examination the pocket sized Canon Digital IXUS 95 IS bears a closer family resemblance to last year's IXUS 80 IS model than its numerical forebear in the IXUS 90 IS. In fact its front plate is identical to the 80 IS, with a resolution hike from 8 megapixels to ten the most obvious change.
That Canon's design team hasn't stretched itself to new heights here is no bad thing as the original look, feel and dimensions were already as stylish and attractive as you'd expect a mid priced IXUS (£249 in the UK) to be. Canon seems to be one of the last bastions of optical viewfinders on compacts, and here one is included for shot composition along with a 2.5-inch, 230k-dot resolution rear LCD screen – again the same spec as the one found on its predecessor. That said, the optical viewfinder is so small and murky most won't bother with it.
What Canon seems to have stopped doing however is including a memory card with its compacts. The IXUS 80 IS was shipped last year with a 32MB SD card in the UK. OK, that's paltry by today's 32GB SDHC standards, but at least it meant users were up and shooting after unloading the camera from the box and charging up the battery. Here there's not even an internal capacity to fall back on, so – like the vast majority of the competition – investing in a SD or SDHC card at the time of purchasing the camera is a must. Annoyingly, but not unexpectedly, the full manual is only included on CD ROM, with a heavily abbreviated quick start guide the only hard copy provided.
But back to the camera itself: the Canon Digital IXUS 95 IS feels attractively weighty in the palm at a body-only 120g without being prohibitively so, and is the size of a standard bar of household soap – its rounded corners and smooth surface and the fact that there's nothing in the way of a grip provided adding to that impression. Thankfully the standard issue 3x zoom (an equivalent 35-105mm) is optically stabilized and its dimensions do ensure that it, ahem, 'slips' readily into a jacket pocket (or summer shorts) for any spur-of-the-moment captures.
As this camera is an IXUS, and therefore aimed at the fashion conscious snapper, potential purchasers have a range of coloured faceplates to choose from. Canon states these are silver, pink, grey, blue or pink, though our not unattractive review sample appeared to fall halfway between the latter two.
Rather more interestingly, the IXUS 95 IS includes a new 'Smart Auto' mode, its own take on competitors' intelligent auto modes. Canon suggests that this analyses any given scene or subject in detail, checking subject brightness, contrast, distance from the lens plus hue, and then selects the most fitting of 18 possible modes to ensure optimum results. With the camera thus enabled, all the user truly has to do is point and shoot. That's the theory. In practice thankfully it doesn't take an age to determine what's what either, its almost instantaneous operational speediness thanks in part to an on board Digic 4 processor – the same as now found in Canon's DSLR range.
| | |
| --- | --- |
| | |
| Front | Rear |
Also now firmly part of the user friendly package are automatic red eye correction (activated by delving into the onscreen menu settings), motion detection to automatically boost ISO as necessary and avoid blur when the subject is moving, plus i-Contrast, a feature similar to Nikon's own D-Lighting mode, in that exposures are adjusted to bring out shadow detail without blowing highlight detail in the process.
Face detection technology is also on board to pinpoint faces in the frame, though here you don't get the blink detection feature found on the IXUS 100 IS. Macro shooting down to 3cm is offered – adequate, without being class leading – while manually selectable light sensitivity – via the L-shaped on-screen toolbar familiar to regular Canon users – stretches from ISO 80 to ISO 1600. Rechargeable lithium ion battery life is good for a so-so 260 shots per charge. Nothing spectacular here then, but given its price point, build quality, and intended audience, not much to grumble about either.
The big feature of the latest raft of digital compacts for spring/summer 2009 is of course HD video shooting. Yet the Canon Digital IXUS 95 IS has instead opted for good old-fashioned 640x480 pixels footage, with a frame rate of a respectable 30fps plus an added long play option. Again, adequate, but falling short of what else is out there. In the Canon range, look to the recently Photography Blog rated IXUS 100 IS if HD movies and HDTV connectivity are a must have.
So now with that in mind let's take a tour of the IXUS 95 IS, examining its features and functionality as we go in order to determine whether it's anything other than your run-of-the-mill style-conscious snapper.
As with the IXUS 80 IS, the most eye-catching aspect of the front of the camera – in its inactive state at least – is its mirror-effect chrome lens surround, with a rectangular window for the internal flash situated top right of the lens, a porthole for the aforementioned optical viewfinder directly above, plus an AF assist/self timer indicator over to the left alongside a pin-prick sized hole for the built-in microphone. As mentioned at the start, it's a surprise to find a camera this diminutive bothering to include an optical viewfinder and in practice its usefulness is rather lacking.
Moving to the top plate of the Canon Digital IXUS 95 IS we find an on/off power button, which is practically flush with the camera's metal exterior to help prevent accidental activation when sliding it in or out of a pocket. Next to this sits a raised, larger shutter release button. A press of the power button and the IXUS is up and running in just over a second, the lens rapidly extending to maximum wideangle setting while the rear screen bursts into life to the sound of an ident-like flourish.
| | |
| --- | --- |
| | |
| Front | Side |
As with the IXUS 80 IS, for a point and shoot camera the 95 IS' responsiveness cannot be faulted. If shooting in program mode it's lightning fast to determine focus, with the scene and setting-determining auto mode a mere fraction slower. Likewise, any shutter delay is imperceptible as you go on to take the shot. Maximum resolution JPEGS are committed to memory in a blink of an eye, the rear screen blanking out momentarily as this happens. Incidentally, if you do select auto mode, be prepared to put up with a low mechanical buzz as the camera continually adjusts its settings so you don't miss a trick.
Again, as with its predecessor, the Canon Digital IXUS 95 IS' shutter release button is surrounded by a lever for the zoom. Though this is also responsive, the transition through the focal range is sound-tracked by the whirr and buzz of its internal mechanics. In playback the zoom can be used to check focus when steered towards its telephoto setting, or display previously captured images (as a groups of nine thumbnails) if directed to maximum wideangle.
The rear of the camera echoes the front's minimalist design approach, with controls flush to the body. Unsurprisingly the 2.5-inch LCD dominates by taking up two thirds of the back plate, with optical viewfinder window directly above, alongside a pairing of function indicator lights. Moving along from these – still at the top left of the camera back – is a grouping of five tear-shaped holes for the built in speaker. The LCD provides adequate visibility when shooting indoors, although bright sunlight unsurprisingly results in the need to cup a hand around the screen and squint. Thus it fairs rather better when shooting indoors.
The main function controls are situated on the right hand side of the screen. These comprise an indented slider switch of plastic construction with a raised ridge that just catches the thumb. It displays three settings: Smart Auto stills capture – here just marked down as 'Auto' – plus Program stills capture and movie clip capture. All three are illustrated with self-explanatory icons.
Just to the left of this, the direct print button found on the IXUS 80 IS has been given over to a dedicated playback button, in order presumably to make room for the new Smart Auto setting on the aforementioned slider. Should you own one of Canon's portable Selphy printers you can still access print settings and earmark images for printing via the playback menu itself, so the lack of a one-touch control isn't really missed.
Beneath the playback button and slider switch is a familiar four-way control pad, with a function set button at its heart. At north, south, east and west points around the pad are settings for – in that order – adjusting exposure compensation (+/- 2EV) if in program mode only, selecting self timer (two seconds, ten seconds, a face self timer or a custom duration of your choice), adjusting flash settings (auto/on/slow synchro/off), or selecting infinity, normal or macro focus.
| | |
| --- | --- |
| | |
| Memory Card Slot | Battery Compartment |
In playback, the self timer portion doubles up as an option to delete unwanted images on the fly, indicated by the equally familiar trashcan icon, while the exposure compensation portion allows the user to leapfrog through groupings of images (i.e 10 or 00 at once) to find what they want more quickly.
Press that function set button at the centre of the control pad and the familiar Canon L-shaped tool bar pops up on screen. In auto capture mode users are limited to being able to manually tweak the size and quality of images, or opt to shoot in widescreen ratio. Flick the slider switch one setting down to program mode however and the user can, starting at the top, additionally access the camera's 15 pre-optimised scene modes that include an ISO 3200 equivalent setting (with attendant resolution drop to 1600x1200 pixels) plus underwater and aquarium options alongside the familiar portrait, night snapshot settings. Whichever of these options you choose then appears illuminated top left of screen, situated on the vertical axis of the toolbar.
If you're shooting in program mode there's additionally the chance to, moving down the left hand toolbar, adjust ISO settings (ISO80 to ISO1600), white balance, select from the range of My Colors image editing/enhancement options (including a custom colour setting with slider indicator provided), plus switch between evaluative, centre weighted or spot metering, and single shot or continuous capture (here a lowly 1.4fps).
As a default, your chosen settings are displayed around the edges of the screen when it is used as an electronic viewfinder, but a single press of the round 'display' button in the Canon Digital IXUS 95 IS' back turns these off for a clearer view, while a further press deactivates the screen entirely.
The final button on the 95 IS's back is for 'menu'. Pressing this brings up a set of two folders on screen; one governing additional shooting settings, the other providing fairly generic set up options. Among the more common settings, the shooting options let you bias the AF frame toward face detection (which appears also to be its default setting), switch on the point AF function which zeroes in on a face before you press the shutter button fully, and choose from a range of image stablisation modes; from continuous to shoot only to panning to off. Such features appear identical to those previously found on the IXUS 80 IS.
As we noted when reviewing that earlier model, all of the above is pretty much what you'd expect to find on an entry-level camera toward the higher end of the price scale for its class. So to reiterate, there are very few grumbles here. Use is intuitive, the Canon Digital IXUS 95 IS proves fast to respond, and arguably that's all any of us really want from a pocket-sized point and shoot. Apart that is from razor sharp, richly coloured and finely detailed images. So can the IXUS 95 IS also prove its mettle as the perfect travel companion when it comes to that part of the equation?