Canon Digital IXUS 95 IS Review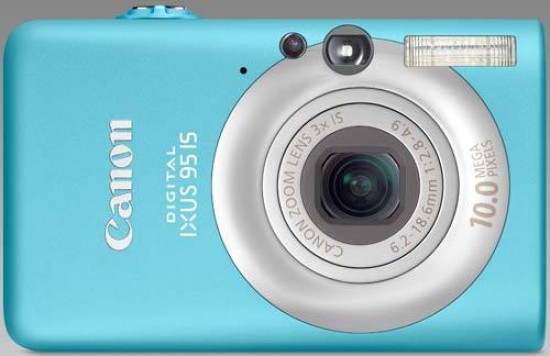 Image Quality
All of the sample images in this Review were taken using the 10 megapixel Fine JPEG setting, which gives an average image size of around 3Mb.
Though we felt the Canon Digital IXUS 95 IS' Smart Auto functionality worked pretty well, in that it quickly and accurately identified most subjects and adjusted its settings to suit, we were a little disappointed with the rather wishy-washy colour reproduction we got from the camera when left on its standard default setting. Fortunately there is also a 'vivid' alternative to choose from to lend imagery more visual bite.
The IXUS 95 IS also displays a lack of corner sharpness at its wide-angle setting if you examine images particularly closely. And, though this is largely hidden in more busy subjects, our white wall test shots show the softness at its most apparent. Likewise there is some evidence of pixel fringing if you look hard enough. That said, it's no more – and probably a lot less – than you'd expect from a snapshot camera pitched at the entry-level end of the market. Also forgivable is the occasional loss of highlight detail under sunnier conditions. Though the images from most snapshot cameras would benefit from an application of Unsharp mask in Photoshop, and the IXUS 95 IS proves no exception, the detail it delivers does impress when it's presented with ideal conditions.
While the above is more than satisfactory, as with the IXUS 80 IS, the IXUS 95 IS' low light performance is nothing to write home about. However it does appear to have delivered better results than its predecessor. Noise creeps in from ISO 400 upwards, though only if you're really looking for it. At ISO 800 it's unsurprisingly more noticeable and readily so at ISO 1600. And yet images taken at both those higher settings proved usable. True image stabilisation in optical form is a nice solution to have, but as with other cameras of this ilk, it's far from infallible. Though all said and done a better camera for holiday photos than moody interior portraits, given its market the Canon Digital IXUS 95 IS has acquitted itself in our images tests with aplomb.
Noise
There are 6 ISO settings available on the Canon Digital IXUS 95 IS. Here are some 100% crops which show the noise levels for each ISO setting.
| | |
| --- | --- |
| ISO 80 (100% Crop) | ISO 100 (100% Crop) |
| | |
|   |   |
| ISO 200 (100% Crop) | ISO 400 (100% Crop) |
| | |
|   |   |
| ISO 800 (100% Crop) | ISO 1600 (100% Crop) |
| | |
Sharpening
Here are two 100% Crops which have been Saved as Web - Quality 50 in Photoshop. The right-hand image has had some sharpening applied in Photoshop. The out-of-the camera images are just a little soft at the default sharpening setting and benefit from some further sharpening in a program like Adobe Photoshop. You can also change the in-camera sharpening level to suit your tastes via the My Colors menu option.
| | |
| --- | --- |
| Original (100% Crop) | Sharpened (100% Crop) |
| | |
|   |   |
| | |
Chromatic Aberrations
The Canon Digital IXUS 95 IS handled chromatic aberrations quite well during the review, with some purple fringing present around the edges of objects in certain high-contrast situations, as shown in the examples below.
| | |
| --- | --- |
| Example 1 (100% Crop) | Example 2 (100% Crop) |
| | |
Macro
The Canon Digital IXUS 95 IS offers a Macro setting that allows you to focus on a subject that is 3cms away from the camera when the lens is set to wide-angle. The first image shows how close you can get to the subject (in this case a compact flash card). The second image is a 100% crop.
| | |
| --- | --- |
| Macro Shot | 100% Crop |
| | |
Flash
The flash settings on the Canon Digital IXUS 95 IS are Auto, Flash On, Slow Synchro, and Flash Off, with Red-eye Correction and Red-Eye Lamp settings available via the Flash Settings main menu option. These shots of a white coloured wall were taken at a distance of 1.5m.
| | |
| --- | --- |
| Flash Off - Wide Angle (35mm) | Flash On - Wide Angle (35mm) |
| | |
|   |   |
| Flash Off - Telephoto (105mm) | Flash On - Telephoto (105mm) |
| | |
And here are some portrait shots. As you can see, the Flash On caused a small amount of red-eye which the Red-eye Correction settings successfully removed.
| | |
| --- | --- |
| Flash On | Flash On (100% Crop) |
| | |
|   |   |
| Red-eye Correction | Red-eye Correction (100% Crop) |
| | |
Night
The Canon Digital IXUS 95 IS's maximum shutter speed is 15 seconds in the Long Shutter mode, which is good news if you're seriously interested in night photography. The shot below was taken using a shutter speed of 1/3rd second at ISO 1600. I've included a 100% crop of the image to show what the quality is like. The camera takes the same amount of time again to apply noise reduction, so for example at the 5 second setting the actual exposure takes 10 seconds.
| | |
| --- | --- |
| Night Shot | Night Shot (100% Crop) |
| | |