Canon Digital IXUS 990 IS Review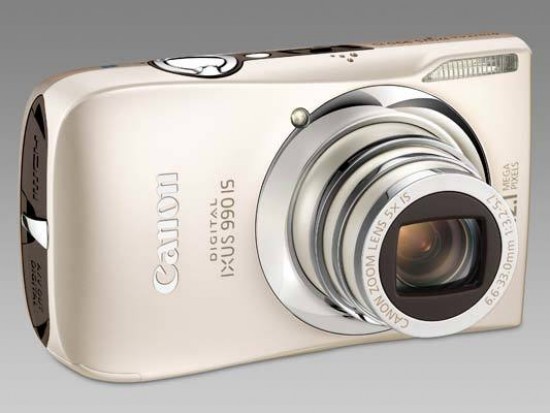 Conclusion
The Canon Digital IXUS 990 IS camera is a sound addition to the now extensive IXUS / Elph range, but it doesn't quite offer enough to justify its rather high price tag. $379.99 / £379.00 is a lot of money to pay for what is essentially a point-and-shoot compact, albeit one that's stylish, full-featured, yet still easy to use for the beginner. It also suffers in direct comparison with its predecessor, the IXUS 980 IS, which is still available and offers a lot more to the more experienced photographer, including full manual shooting mode, a live histogram, manual focusing and even more megapixels. If you're looking for a pocket camera to supplement your DSLR, then the 980 IS is clearly the IXUS model to go for. Indeed, in the US, the IXUS 990 IS is called the SD970 IS Digital Elph and is positioned below the older SD980 model, a reflection of its rather different feature set.

In its favour, the Canon Digital IXUS 990 IS does offer a longer 5x, 37-185mm lens and excellent higher-resolution 460,000 dot, 3 inch screen. As with the 980 IS camera, though, the 37mm equivalent wide-angle doesn't seem enough these days when competitors are releasing cameras with 25mm lenses. Also the extensive corner softness and barrel distortion at the 37mm setting effectively mean that you are best off using this camera in the telephoto range. The IXUS 990 IS also suffers from less than stellar images in low-light due to obvious noise appearing at ISO 200 and faster, and the slow continuous shooting speed of 1.0fps is also disappointing. The 1280x720 pixel HD Movie mode promises to tip the balance in the 990's favour, but it quickly fills up your memory card thanks to the space-hungry Quicktime format, suffers from the usual muffled mono sound, and worst of all doesn't allow the zoom to be used during recording.

So overall, the new Canon Digital IXUS 990 IS falls between two camps - it's too expensive for the casual snapper, and doesn't offer enough advanced features for the pros looking for a second pocket camera. It's undoubtedly a really nice camera to use, and therefore still easy to recommend, but there are better and cheaper alternatives, including from Canon themselves.
Ratings (out of 5)
Design
4.5
Features
4
Ease-of-use
4
Image quality
4
Value for money
3