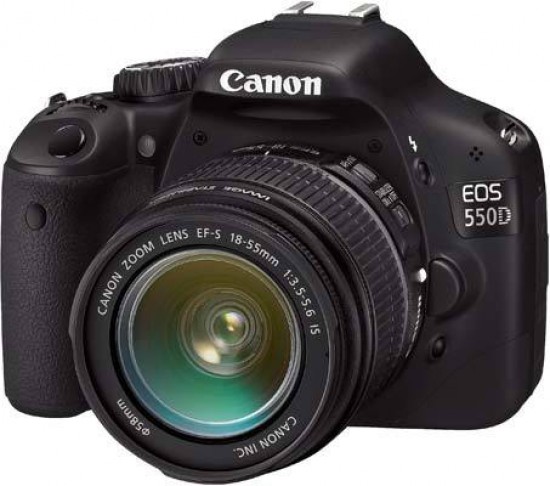 Introduction
Announced at the beginning of February, the 18-megapixel Canon EOS 550D (marketed as the EOS Rebel T2i in North America) is the successor to last year's 15-megapixel 500D / T1i. Putting aside the increase in pixel count, the 550D / T2i offers a 1,040,000-dot LCD screen with an aspect ratio of 3:2, a 63-zone metering sensor - identical to the one used in the higher-specified EOS 7D - subtly redesigned controls, standard ISO settings of 100-6,400 (expandable to 12,800), simplified Live View focusing and an improved video mode featuring 1080p Full HD recording at 24/25/30fps and 720p HD capture at your choice of either 50 or 60fps, with full manual control over exposure and gain. Supporting SD, SDHC and even SDXC memory cards, the Canon EOS 550D / T2i is currently available priced at £699.00 / $799.99 for the body in the UK / US, respectively.
Ease of Use
Outwardly, the Canon EOS 550D / Rebel T2i looks a lot like its predecessor. It is a fairly small camera with a largely plastic shell and a pretty narrow, thus mildly uncomfortable hand-grip. The emphasis is on the word "mildly", though - in actual use, the size and shape of the grip proved not to be a real annoyance. In terms of build quality, the Canon EOS 550D / T2i certainly feels solid enough for a consumer-grade DSLR, although not in the same league as the semi-professional EOS 50D and 7D models. Like all of Canon's APS-C digital SLR cameras, the EOS 550D / T2i is compatible with the manufacturer's entire line-up of lenses, including both EF and EF-S glass. When changing lenses, EF lenses need to be aligned with the red dot on the lens mount, whereas EF-S lenses must be aligned with the white mark.
Most of the controls are in the same place as on the 500D, with the changes being mostly cosmetic in nature. The mode dial is now black instead of silver, the four-way controller has been subtly redesigned and now features matt rather than glossy buttons, and the Live View / Record button has found a new home closer to the thumb rest. The shape of some buttons has also changed somewhat, and there is a new Q button that provides quick access to the interactive status screen. The buttons are clearly labelled but, being flush to the body, can be a little hard to press at times. The 1,040,000-dot resolution of the rear LCD panel may not sound like a lot more than the 920,000 dots of the 500D's display, but given that the new screen has an aspect ratio of 3:2 - i.e. identical to that of the sensor - the photos now fill the screen completely, with no black stripes along the top and bottom.
The EOS 550D's top-mounted shooting mode dial has a multitude of letters and icons. The so-called Creative Zone features Programmed Auto (P), Shutter Priority (Tv), Aperture Priority (Av), Manual (M) and A-DEP modes. The first four of these need no explanation, but A-DEP might be new to those who have never used a Canon SLR camera before. The abbreviation stands for Automatic Depth of Field, as in this mode, the camera will pick an f-stop that allows all the subjects covered by the nine AF points to be  sharply rendered, and will also calculate and set the necessary shutter speed on its own.
| | |
| --- | --- |
| | |
| Front | Rear |
The camera also has a Full Auto and a Creative Auto mode, differentiated by the amount of user control provided over certain image parameters; and a host of scene modes. These include Flash Off, Portrait, Landscape, Sports, Night Portrait and, oddly enough for an interchangeable-lens camera, a close-up mode as well. The majority of these scene modes allow users who do not want to fiddle with shutter speeds, f-stops, white balance or ISO settings to let the camera know what type of photo they are about to take, which helps the EOS 550D / T2i to optimise these settings for that particular subject. We struggled to see the point of the close-up mode though, as the quality of one's close-up shots depends more on the use of the right kinds of accessory - such as a macro lens and possibly a ring flash - than any camera setting.
In the Creative Zone, the photographer gets to set a lot of shooting variables, including white balance, sensitivity, AF mode, exposure compensation, drive mode and so on. Most of these functions have their own dedicated buttons - ISO on the top panel, the rest on the back - while others can be set on the interactive status screen accessible via the new Q (quick control) button. Examples for the latter include file quality settings, metering mode, flash exposure compensation and Auto Lighting Optimiser.
The available white balance settings are Auto, Daylight, Shade, Cloudy, Tungsten, Fluorescent and Custom; there is no way to enter a Kelvin value manually. You can fine-tune any of the presets using the White Balance Correction feature. The ISO speed can be changed by pressing the ISO button and turning the control wheel in front of it. You do not have to hold down the button while turning the wheel. The ISO speed can be set from ISO 100 to ISO 6,400 in full-stop increments. If you turn ISO Expansion on in the Custom Functions menu, you can even dial in ISO 12,800; a boosted setting. Auto ISO is also available. The chosen ISO speed is also displayed in the viewfinder.
The EOS 550D / T2i offers a range of three auto focus modes (One Shot, AI Focus and AI Servo) and there's a 9-point AF module with a cross-type centre point and eight line-type AF sensors. One Shot AF is equivalent to AF-S, while AI Servo is the same thing as AF-C on other manufacturers' models. AI Focus is similar to what some other camera makers call AF-A in that it automatically switches from One Shot AF to AI Servo if a still subject starts moving. As regards AF point selection, it can be done manually by  hitting the AF point selector button first, then using the four-way controller to select the AF point. The chosen/active AF point lights up in red in the viewfinder. In use, we have found the AF system to be pretty quick even with the kit lens, although the focus motor was a bit loud for our tastes (not surprisingly, given that the 18-55mm IS lens does not have USM).
| | |
| --- | --- |
| | |
| Top | Pop-up Flash |
There are a number of drive modes available on the Canon EOS 550D / T2i. These include Single Shot, Continuous Shooting, Self-timer and Remote Controlled Shooting. In Continuous Shooting mode, the camera can take pictures at a speed of 3.7 frames per second for up to 34 Large Fine JPEGs or 6 raw files. This is marginally faster than the EOS 500D but much slower than the 8fps of the 7D - which is no wonder given that the 7D has two Digic 4 processors, while the 550D / T2i has only one.
The metering modes offered by the camera include Centre-weighted, Evaluative, Partial and Spot. The difference between Partial and Spot metering is that the former uses 9% of the frame area, whereas the latter uses only 4% (still a bit too much for spot metering, but there you go). Both of these selective metering modes are midtone-based; there is no highlight- or shadow-based spot metering available as with some rivals. In use, we've found that the Evaluative metering mode provided fairly good exposures with a variety of subjects, thanks to the advanced 63-zone metering sensor. When shooting contrasty scenes, it is worth using the Evaluative mode in conjunction with the Auto Lighting Optimiser feature, accessible by hitting the Q button and using the interactive status panel.
As noted earlier in this review, the Live View button has been moved to a new position, and is now within easy reach of your right thumb. Using this button it is easy to enter Live View, but it takes a surprising amount of time for the camera to actually display the live image (think several seconds). A grid line display and very useful live histogram can be enabled to help with composition and exposure, and you can zoom in by up to 10x magnification of the image displayed on the LCD screen. Focusing in Live View has been simplified, you no longer need to use the * button to initiate auto focus but can use a half-press of the shutter release as normal.
There are three auto focus options in Live View, including Quick, Live and Face Detection. The use of the Quick mode briefly interrupts the live view feed as the mirror is momentarily lowered so that the AF sensors can be engaged, and it also involves a lot of mirror slapping for the same reason. Live view mode circumvents this problem by employing a contrast-detect method. While this is slower, and sometimes it may still take up to three seconds for the camera to lock focus in this mode, I have found that about half a second was enough most of the time. This is still too slow for anything that moves - use the optical finder and the regular auto focus module for that type of shooting - but it is perfectly OK with still subjects. Obviously, you can also opt to focus manually - the large and high-res screen is a real boon to those who do this on a regular basis. As noted above, you can even magnify into the live image, by up to 10x, which allows very accurate focusing. The only criticism that can be levelled against the screen is that it isn't articulated - this is something that's hard to understand given that Canon was amongst the first manufacturers to put vari-angle displays on some of its compacts - long-long years ago.
| | |
| --- | --- |
| | |
| Memory Card Slot | Battery Compartment |
Live View is also used for the feature that will arguably generate the most interest in the Canon EOS 550D / T2i: its movie mode. If you turn the mode dial to the position denoted by the movie camera icon, the camera will enter Live View automatically. Before you start filming, you need to focus on the subject either manually or using auto focus as described above, and optionally set exposure and ISO. To be able to do this, you first need to enter the menu, highlight "Movie exposure" on the relevant tab, and select "Manual". Now you can set aperture, shutter speed (within limits) and ISO manually. (Note that even if you do not enable manual exposure for movies, you can still use functions like AE lock and exposure compensation if you feel a need for it.) Once everything is set up, you can start filming by hitting the Live View/Record button on the back of the camera. The EOS 550D / T2i will not automatically adjust focus during filming, but you can initiate auto focus at any time while recording a clip. However, be warned that this can do more harm than good, as the microphone can pick up the sound of the focus motor, and the subject might even go out of focus for a few seconds. Setting a small aperture and relying on depth of field for focus is a better idea. Of course you may wish to utilise the DSLR's ability to produce footage with a shallow depth of field, but in that case, it might be a wise idea to purchase a couple of third-party accessories that make manual focusing and focus pulling easier.
One big improvement over the 500D is the much wider choice of frame rates. Where the older model allowed users to shoot either 1080p movies at 20fps or 720p video at 30fps, the EOS 550D / T2i offers a choice of 24, 25 or 30fps when recording Full HD video clips, and 50/60fps when shooting at 720p or VGA resolution. Note however that the available frame rates are also dependent on what you have set in the menu under "Video system": NTSC or PAL. Another novelty of the EOS 550D / T2i is that if you shoot a standard-definition clip, you can use a new function called "Movie crop". This means that you can tell the camera to use only the central 640×480 pixels on the sensor to record video, which effectively gives you nearly 8x magnification. This can come in handy when you do not have the necessary telephoto reach to film something that is happening at a distance. There is a built-in microphone for mono recording, and you can connect an external microphone equipped with a stereo mini plug to the camera's external microphone IN terminal.
The camera runs on a proprietary LP-E8 battery which, according to measurements that conform with CIPA standards, provides enough power for 400-440 images when using the optical viewfinder, and about 150-180 shots with Live View or about one and a half hours of video recording. The battery can be charged in the supplied LC-E8(E) charger. Also in the box is a neck strap, a software CD and a user manual, which Canon thankfully provides in printed form, in several languages.
In use, we found the Canon EOS 550D / Rebel T2i to be a responsive and versatile camera that almost never got in the way of picture taking. As noted earlier, the auto focus was fast when using the optical viewfinder, and not always painstakingly slow when using Live View, either. Its continuous shooting speed is about average for its class, though its six-frame raw buffer is smaller than we'd like. It takes a bit of time for the camera to fully start up if you wait for the sensor cleaning cycle to be completed, but as sensor cleaning can always be interrupted at a half-press of the shutter release, this is not a real issue. The only thing we found to be truly and somewhat inexplicably slow was entering Live View - it invariably took several seconds for the camera to raise its mirror and display the live image.
This concludes our evaluation of the EOS 550D's ergonomics, handling, feature set and performance. Let us now move on to the image quality part...