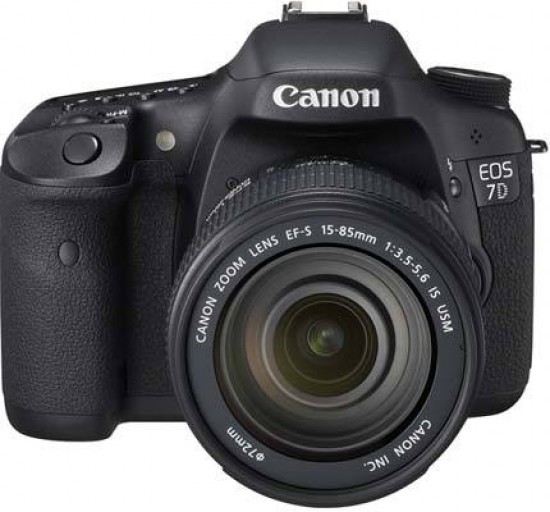 Introduction
The Canon EOS 7D is an 18 megapixel digital SLR camera incorporating a new APS-C CMOS sensor designed and manufactured by Canon. Featuring a revised photodiode and microlens construction, the 7D's sensor offers a versatile ISO range of 100-12,800. Other new additions include dual DIGIC 4 processors offering continuous shooting at 8fps, improved 19-point cross-type auto-focus system including Zone and Spot AF, Focus Colour Luminance metering system which measures from 63 zones, and an Intelligent Viewfinder with 100% frame coverage and 1.0x magnification. The Canon 7D's 3 inch Clear View II LCD screen with 920,000 dot resolution is used for the camera's Live View and Movie modes, with Full HD 1080 video supported. The Canon EOS 7D is equipped with an integrated Speedlite Transmitter, making it easy to control external Speedlite flashguns with no additional accessories required. The magnesium alloy body offers weather sealing, an Integrated Cleaning System and 150,000 release shutter durability. The Canon EOS 7D is available now for £1699 / €1999 / $1699.
Ease of Use
In terms of its design, the EOS 7D is outwardly very similar to the full-frame Canon EOS 5D Mark II. Sharing almost exactly the same dimensions (148.2 x 110.7 x 73.5mm) and weight (820g), the 7D is a little smaller but 10g heavier than its big brother. The 7D has a magnesium alloy body which should make it more durable in the longer term than plastic-bodied cameras, and it also adds a level of weather-sealing that the 5D Mark II notably lacks. The 7D has a proven, well-thought-out design - the most serious design flaw is the rubber cover for the extension system terminal on the bottom of the camera, which will take you about five minutes to lose as it's completely unsecured.
There's a textured area on both the deep hand-grip and around the thumb-rest on the rear of the camera, and the Canon 7D is perfect for everyone with normal to large-sized hands. Like other semi-pro cameras, the 7D offers two control wheels; a small one on the top of the handgrip, and a large, spinning dial on the back of the camera. This rear 'quick control dial' is characteristic of all high-end Canon EOS cameras. It's a bit of an acquired taste compared to more conventional control dials, but you quickly get used to it and it is easy to 'spin'. This dial can be used to apply rapid exposure adjustments, with the new Lock button preventing any further changes being made, useful if you want to maintain the current settings.
The quick control dial takes up the space where you'd normally expect to find a four-way controller, which means that for menu navigation Canon has had to incorporate an additional small joystick on the back of the camera. This joystick works well enough, but it's not as positive or as easy to use as a conventional four-way controller. On the 7D, Canon has extended the joystick's capabilities; it can be used in conjunction with the new Q button to use the Quick Control screen. Depending on which shooting mode you're using, this lets you set various parameters via the LCD screen, using the joystick to move around the options and the Set button to change them. First featured on the EOS 50D and similar to the system that Sony Alpha DSLRs have used for a while, the Quick Control screen is particularly well-suited to beginners and tripod work.
On top of the Canon EOS 7D, positioned above the large monochrome status LCD display, are three buttons, each of which has two functions. You press a button and then turn either the top dial or the rear dial to change the corresponding setting. It takes a little while to memorise which button does what, and which dial you need to turn. The 7D also shows the settings on the main LCD screen as well as the status LCD. There's also a smaller fourth button which activates the status LCD display light so that you can use it in the dark.
The EOS 7D offers a significantly upgraded auto-focus system, with some options that are completely new to the EOS system. There are still the usual three Auto focus modes (One Shot, AI Focus and AI Servo), but there's a totally new AF sensor with 19 cross-type AF points, each of which is a standard-precision cross-type sensor. The center AF point also has a separate, diagonal pair of high-precision line sensors, which provide even greater precision when used with lenses with a maximum aperture of f/2.8 or faster.
| | |
| --- | --- |
| | |
| Front | Rear |
The M-Fn , or Multi-function, button is a new addition to the top of the camera, which toggles through the five different AF area choices after pressing the AF Point select button The AF areas are Manual AF, Spot AF, AF point expansion, Automatic AF point selection and Zone AF, and they can also be selected via the Quick Control Screen menu. Spot AF mode is especially noteworthy, allowing you to manually choose any single AF point and actually reduce the size of that AF point, useful for precise focusing in macro or portrait photography.
Conversely, AF Point Expansion allows you to manually choose any one AF point to be the primary focus, but also makes additional surrounding points active, useful for sports photography and other moving subjects. Automatic AF point selection in AI Servo AF mode has also been tweaked - you can now pre-select any of the 19 AF points and use that as a starting point to begin tracking the subject, rather than having to start with the center AF point. Finally, Zone AF selects a small cluster of AF points (either 9 or 4) in the viewfinder, with five different zones available, especially useful for action photographers.
The 7D's metering system has also been improved, with the new 63-zone dual layer metering sensor analyzing focus, colour and luminance information to produce the exposure. There are four metering modes including a 4% Spot metering mode, useful in tricky lighting conditions as an alternative to the excellent and consistent Evaluative metering system.
There are two LCD displays on this camera; the 3-inch colour LCD on the rear and the smaller status panel on the top. On cheaper DSLR cameras, the LCD on the rear usually has to do both jobs, but on this model all the camera settings are visible from above on the smaller panel. This makes the Canon EOS 7D quicker to use, and also helps to extend the battery life, as you can turn off the rear LCD screen and still be able to change the main settings.
The rear LCD screen offers a fantastic VGA resolution with 920K dots, so you may find yourself using it more often than you thought. It allows you to judge the critical sharpness of your photos using the LCD screen, which has been a long-standing issue on Canon's entry- and mid-range DSLRs. The optical viewfinder has been upgraded, now offering an improved 100% coverage compared to the 5D Mark II's 98%, 1.0x magnification, and even a new Dual Axis Electronic Level which helps to ensure perfect horizons in your images (also available on the main LCD screen). New to the EOS system, a transmissive LCD has been incorporated into the viewfinder with various overlay features on offer, including AF points, spot metering circle and composition grid - all useful aids when framing a shot.
| | |
| --- | --- |
| | |
| Front | Front |
Like most DSLRs aimed at prosumers, the EOS 7D offers all the usual serious manual and semi-automatic shooting modes for users who want more advanced exposure control, via a chunky and positive dial on the top-left of the camera body. Canon refers to these advanced operations as the 'creative zone' and provides all the normal settings including Program, Aperture and Shutter Priority and a full manual mode. There are two auto shooting modes aimed at beginners - Full Auto (the green mode) and Creative Auto (CA). The latter was first featured on the cheaper 50D model, and is targeted at beginners who have grown out of using the Full Auto mode, allowing you to change a few key settings using the LCD screen, with a simple slider system for changing the aperture and exposure compensation, or Background and Exposure as the camera refers to them.
Once the EOS 7D is in the 'creative zone', users can adjust the ISO setting into one of nine positions from 100 to 12,800 (you need to to enable the 12,800 mode via the "ISO expansion" custom function option). This extensive ISO range allows you to shoot in almost any lighting conditions without having to resort to using the built-in pop-up flash or an external flashgun. The pop-up flash has a moderately powerful guide number of 15 and can be used with lenses up to 15mm wide. Canon have also equipped the EOS 7D with an integrated Speedlite Transmitter, making it easy to trigger external Speedlite flashguns with no additional accessories required.
The 7D's menu system is the same as on most EOS cameras, utilising a simplified tab structure that does away completely with scrolling. There are 11 colour-coded horizontal tabs and up to 7 options in each one, providing quick and easy access to the various options. You can even setup your own customised menu page for instant access to frequently used settings via the My Menu tab. Only the complex Custom Functions menu detracts a little from the overall usability. The documentation that comes with the 7D is very clear, as it is with all Canon cameras. You get a detailed manual in English throughout and you'll find everything you need to know about the camera's operation in here, without the need to search through the supplied CDs for an electronic manual.
I tested the EOS 7D with the new EF 18-135mm f/3.5-5.6 IS lens, which is offered as one of two 7D kit lenses in some regions. This combination offered fast, positive autofocus which can track moving subjects very well, isn't too heavy and is also pretty quiet. It does exhibit some noticeable distortion though, particularly at the wide-angle end. The 18-135mm lens also crucially features image stabilisation. This is important for Canon, as several competitors offer image stabilisation that's built-in to the camera body. The difference between Canon (and Nikon) and the other manufacturers is that Sony, Olympus and Pentax have opted for stabilisation via the camera body, rather than the lens, which therefore works with their entire range of lenses. Canon's system is obviously limited by which lenses you choose, but it does offer the slight advantage of showing the stabilising effect through the viewfinder. Canon and Nikon also claim that a lens-based anti-shake system is inherently better too, but the jury's still out on that one.
The EOS 7D features not one but two DIGIC 4 processors, which produces noticeably faster image processing, start-up and image review times than previous Canon DSLRs that we've reviewed (as you'd expect), and better noise reduction in high-ISO images (jump to the Image Quality page for ISO samples). The twin DIGIC 4 processors also allow the 7D to shoot a lot faster than most other EOS models, obtaining a very fast speed of 8fps at 14-bit for up to 126 full-sized JPEGs or 15 RAW images when used with a UDMA (Ultra Direct Memory Access) Compact Flash memory card.
| | |
| --- | --- |
| | |
| Top | Pop-Up Flash |
The 7D has a very similar Live View system to the 5D Mark II. If you're new to DSLRs and don't understand the terminology, basically Live View allows you to view the scene in front of you live on the LCD screen, rather than through the traditional optical viewfinder. This is an obvious attraction for compact camera users, who are familiar with holding the camera at arm's length and composing via the LCD screen. It's also appealing to macro shooters, for example, as it's often easier to view the screen than look through the viewfinder when the camera is mounted on a tripod at an awkward angle.
Thankfully Canon have made Live View much easier to actually turn on, with a new dedicated switch and Start/Stop to the right of the optical viewfinder which toggles between the Movie mode and Live View mode. When activated a grid line display and very useful live histogram can be enabled to help with composition and exposure, and you can zoom in by up to 10x magnification of the image displayed on the LCD screen. Focusing is achieved via the AF-On Lock button or the traditional method of half-pressing the shutter-button. Live View can also be controlled remotely using the supplied EOS utility software, which allows you to adjust settings and capture the image from a PC.
The EOS 7D's Live View mode attempts to satisfy both the consumer and more technical user, with three types of focusing system on offer. The first, Quick AF, works by physically flipping the camera mirror to engage the auto-focus sensor, which then momentarily blanks the LCD screen and causes a physical sound, before the image is displayed after about 1 second. The other methods, Live AF and Live AF with Face Detection, use an image contrast auto-focus system, much like that used by point-and shoot compacts, the main benefits being the complete lack of noise during operation, and no LCD blackout. Unfortunately these are much slower than the Quick AF mode, taking over 3 seconds to focus on a clearly-defined subject in bright light, which I think will put off most users that are attracted by the promised point-and-shoot experience. On a more positive note, you can move the AF point around the screen, and the 7D I successfully detected faces in most situations.
Live View is also used for the 7D's movie mode. The 7D supports full 1080p HD - it can record high-definition, wide-screen video in 1920 x 1080 pixel resolution, at a frame rate of 24fps, in the Quicktime MOV format using the H.264 codec. The maximum size of a single video clip is either 4 gigabytes or one second below 30 minutes. You can also take either single or continuous stills during recording, with video capture continuing after the final still frame has been taken. Audio is recorded in linear PCM format without any compression. There's a built-in microphone on the front of the camera for mono recording, and also a socket on the side for connecting an external stereo microphone. It also has an HDMI port for playing back 1920 x 1080 still images on a HD TV. It uses the industry-standard HDMI mini-out connection, but note that you'll need to purchase a suitable cable separately. You can also still connect the 7D to a standard TV set via NTSC/PAL. The new Movie switch/button combination makes it a one-touch process to begin recording, a big improvement on the 5D Mark II's convoluted system.
There are, however, some notable drawbacks to the Canon EOS 5D Mark II's video mode. Although you can autofocus during movie recording, the camera uses the painfully slow contrast-AF mode, and even the user guide warns against trying to auto-focus "since it might momentarily throw the focus way off or change the exposure". Focusing manually is a much better idea, although most AF lenses have MF rings with very little 'travel' between their close-focus point and infinity, and in a quiet environment it's also possible to hear the sound of the focusing ring. You can set the aperture and shutter speed when shooting movies, but only both at the same time with the Mode Dial set to M (Manual). You can't set the aperture and let the camera set the shutter speed, or vice versa, so you either have to be confident setting both values or rely on the camera's auto-exposure system while filming. Exposure compensation and AE-Lock can, thankfully, both be used.
| | |
| --- | --- |
| | |
| Memory Card Slot | Battery Compartment |
You can take a single/sequence of still shots whilst shooting video, but this causes a 1 second delay which you'll need to edit out later. Handholding the EOS 7D and shooting video is very difficult, with the DSLR form factor not lending itself well to controlled shooting at arm's length. It's a much better idea to mount the camera on a dedicated video tripod. Having said all that, I've no doubt that experienced videographers will be able to achieve some fantastic footage with the EOS 7D. More casual users hoping to grab some quality footage of the kids may be put off by the inherent difficulties of shooting video using the relatively alien SLR format.
The EOS 7D implements the same dust-removal technology as the EOS 50D and 5D Mark II, where the sensor is shaken briefly at high frequency to dislodge any dust particles from its surface. This could delay the need for manual sensor cleaning, perhaps indefinitely, but it won't be able to remove 'sticky' deposits like salt spray, pollen or the smears left behind by careless sensor cleaning or the wrong kind of solvent. The 7D also inherits the internal Dust Delete Data system from the 50D, which can map the position of visible dust on the sensor. This can then be deleted automatically after the shoot with the supplied Digital Photo Professional software.
Peripheral Illumination Correction is a feature that's actually a lot simpler that it initially sounds. Basically it corrects the unwanted effects of vignetting, typically seen in wide-angle photos in the corners of the frame. The 7D contains a database of correction data for various Canon lenses and, if Peripheral Illumination Correction is enabled, automatically applies it to JPEG images. For RAW images the correction is applied later in the Digital Photo Professional software. Up to 40 lenses can be programmed into the 7D, with over 80 currently available to choose from. Peripheral Illumination Correction is a useful and effective addition, particularly for JPEG shooters, and can safely be left turned on all of the time.
Even more useful, especially if you have a number of older lenses, is the AF Microadjustment feature that has trickled down from the pro Canon EOS-1D Mark III. Very similar to Pentax's AF Adjustment custom function, it allows you to alter the focus of each lens, then use a focusing target to test if the lens focuses correctly, and if it doesn't, alter it slightly using the AF Microadjustment option, then test again until perfect focus is achieved. With most other DSLR systems you'd have to send the camera and lens off for calibration (and maybe even have to pay for it), but with the 7D you can calibrate all of your lenses in the comfort of your own home (up to 20 lenses can be stored in the camera).
Once you have captured a photo, the Canon EOS 7D has an average range of options for playing, reviewing and managing your images. More information about a captured image can be seen on the LCD by pressing the Info button, which brings up a brightness image histogram and all the shooting Exif data, including shutter speed and the time and date it was captured, with a second press displaying an additional RGB histogram. Highlight Alert and AF Point Display can also be turned on via the Playback menu. It is simple to get a closer look at an image as you can zoom in up to 15 times, and it is also possible to view pictures in a set of nine contact sheet. You can also delete an image, rotate an image, view a slideshow, protect images so that they cannot be deleted, and set various printing options. Unlike some competitors, there are no digital styles or effects that can be applied to an image after it has been taken - the more subtle Picture Styles are the only way of tweaking your JPEGs in-camera, before they are captured.
The Canon EOS 7D's software suite is very good. Admittedly, photographers who've graduated to a camera like this one will almost certainly have chosen image browsing and editing software already, so they won't need the basic image browsing program included here, but there's more than that. You also get Canon's simple but effective PhotoStitch application for making panoramic shots, a utility for using the 7D remotely (while tethered to a PC) and Canon's Digital Photo Professional application for converting RAW files. This is a big bonus, because other makers don't always include such good RAW conversion software. Digital Photo Professional certainly isn't the best RAW converter on the market, but importantly does mimic the camera's Picture Styles 'retrospectively'. In addition the supplied Picture Style Editor software can be used to create custom Picture Styles on your computer instead of in-camera.
In summary, the Canon EOS 7D is an impressive DSLR for the prosumer, with a solid no-nonsense design, excellent auto-focus and metering systems, and several noteworthy features making their debut on an EOS system camera.