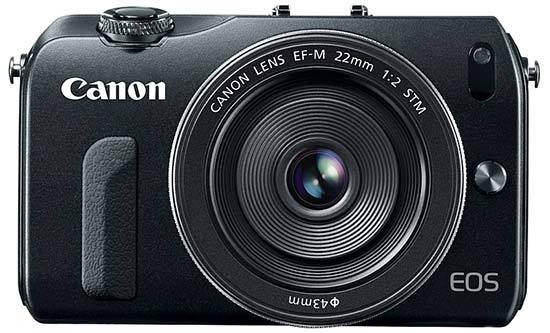 Introduction
The Canon EOS M is the very first compact system camera from Canon, who are the last major manufacturer to release a mirrorless model. The EOS M has an 18-megapixel APS-C CMOS sensor, new EOS M lens mount, a touch-screen interface, Full 1080p HD Movie mode, ISO 100-12800 (expandable to ISO 25600), a 3-inch 1,040,000-dot LCD monitor, and a flash hot-shoe. The Canon EOS M is available in four different colours (black, silver, white and red) with the new EF-M 22mm f/2 STM kit lens for $799.99 / £879.99 / €1,049.99, with the 18-55mm f/3.5-5.6 IS STM lens for £769.99 / €909.99, and a two-lens kit for £949.99 / €1,129.99. All kits will ship with the new Speedlite 90EX flash as standard.
Ease of Use
Considering Panasonic launched the first ever mirror-less compact system camera (CSC) in the Lumix DMC-G1 in September 2008 – back when we were still referring to such models as 'hybrids' – and even Nikon is on its second generation '1' system cameras now, Canon has taken an absolute age in a fast-changing market to come up with its (so far) single response in the equally mirror-less EOS M.
Is this camera, which more obviously resembles one of Canon's Power-shots than an EOS DSLR from which it borrows at least part of its name, too little too late? Or, going by the metal-bodied solid-feel chassis we currently hold in our hand, has the company cleverly bided its time and delivered a product that in one fell swoop will blow the increasingly fierce competition out of the water?
Perhaps sensibly, given a level of expectation that has been building over four long years since Panasonic started the mirror-less ball rolling, the EOS M arrived to very little initial fanfare from its maker. Certainly its launch here in the UK was very low-key compared to the pan European and pan-global unveilings its rivals afforded their own CSC debuts. So is this because Canon wanted to lower our expectations and then leave us pleasantly surprised, or because – as is the case when movie studios suspect they have a dud on their hands – did the lack of early preview samples signal that the EOS M wasn't something to get overly excited about?
Thankfully now that we have finally got one to play with, initial impressions are mostly favourable – at least as regards the black version we were sent. Despite being one of the smallest compact system cameras currently on the block, and comparable in that respect to the Nikon J2, the camera feels reassuringly solid and weighty when held in the palm – and particularly so when the metal construction 18-55mm kit zoom is crewed into place via the new EF-M mount. For a suggested total spend of a pricey £769.99 for body and optic, this lens offers the 35mm equivalent focal range of 28-88mm, plus there is additionally a 22mm 'pancake' optic available for those wanting to maintain the most slender profile possible.
Unlike a DSLR and most CSCs, we did manages to squeeze the EOS M with zoom attached into a jacket pocket, despite it not being particularly comfortable to do so. Our black version also had a slightly roughened non-slip feel to its surface subconsciously recalling a pro-grade DSLR. This is a bonus as there is not otherwise much in the way of what could be termed a handgrip on the EOS M, save for a narrow raised strip at the front which doesn't even extend the height of the faceplate.
Of course it's what's inside that counts and here the 'jewel' is an enthusiast pleasing APS-C sized sensor pumping out 18 megapixel images, with the choice of shooting in Raw as well as JPEG, or both in combination. Choose any Raw option though and you miss out on the ability to automatically apply digital filter effects in camera; those options are simply de-selected on the EOS M's on-screen tool bar. Rival APS-C sensor incorporating CSCs of course include Sony's NEX range, the Samsung NX family and the Fuji X series (in the X-Pro1 and X-E1) to name but three.
| | |
| --- | --- |
| | |
| Front | Rear |
It's also worth mentioning that while the LCD on the back of the Canon is fixed, so unfortunately cannot be swiveled or tilted as we'd have ideally liked in the absence of an optical or electronic viewfinder, it is both three inches in size and boasts a massive 1040K dot resolution which has the benefit of making any shot look immediately amazing.
Furthermore it's a touch screen, though you wouldn't automatically know it from looks alone, as we also get the basic physical controls ranged alongside it. Apart from just three choices being offered on the shooting mode dial, otherwise the EOS M layout is pretty much business as normal for a consumer level compact camera.
The other obvious thing this Canon has going for it is that it is an 'EOS'. This means in theory that users can utilize any of its manufacturer's 70+ EF lenses and accessories, the former screwed into place with the aid of an adapter ring, albeit with a resultant 'front heavy' appearance. There's also the fact that said adapter costs an additional £160 – bringing total spend in just shy of £1000. Of course alternatively you could buy an EOS 650D and a couple of lenses for that outlay, and still have change. Also shared with EOS DSLRs in the Digic 5 processor that makes up the guts of the EOS M, and the fact that sensor cleaning takes automatically place upon powering down the camera; not something typically witnessed with competing CSCs.
There is no flash built into the EOS M's body however. Instead a plastic clip-on variety – the 90EX Speedlite – that is admittedly of higher build quality than alternative supplementary flashes provided with competing Sony NEX or Olympus Pen models, is bundled in the box of the £769.99 kit version. This slides deftly into position on the vacant hotshoe, with a locking mechanism provided on the unit itself. The cool-looking 90EX also comes with its own on/off button and integral battery, and charges up almost immediately it's summoned into action.
From the front then, the EOS M more closely resembles a PowerShot camera than an EOS DSLR, rounded corners stopping it looking completely boxy and in fact going one further and imbuing it with a smidgeon of style. The form factor is compact enough that the new EF-M lens mount swallows up roughly half of the faceplate, with a porthole for a self-timer/AF assist lamp located top right, and beneath that a springy and obvious lens release button. Underneath this again we have a low-key black-on-black EOS logo.
Top left of the lens and beneath the hand painted Canon logo is located that narrow raised leather-effect sliver of rubber masquerading as a handgrip. Comfortably, the shutter release button, which is encircled by the shooting mode dial, is positioned both forward of the top plate and on a section that dips down and slopes slightly forward. When holding the camera in the right hand your forefinger therefore automatically slips onto these ergonomic controls. So, once the camera is powered up, your fingers are suitably positioned to immediately fire off the first shot.
| | |
| --- | --- |
| | |
| Flash | Top |
Rather than cram this shooting mode dial with eight or 10 settings, Canon has pared it back to what can barely be described as the 'essentials'. There are three settings – two for stills, and one for video – and that's it. The two photo settings are, firstly, for 'Scene Intelligent Auto' – the camera's default setting which, as it sounds, is pretty much point-and-shoot all the way, the EOS M recognizing common scenes and subjects – which it does consistently and reliably – and optimizing the results for you. The second setting on the dial, manual controls looking conspicuously absent at this stage, is for 'Creative Auto'.
This mode is actually where the program, shutter priority, aperture priority and manual options are 'hidden', though the first thing we're presented with on selecting Creative Auto is a range of digital filter effects. It seems that, with the EOS M, Canon is really attempting to ensnare the mass consumer market and those trading up from a pocket snapshot or a smartphone wanting better quality shots, rather than its photo enthusiast heartland per se. At first glance the EOS looks and feels unthreatening, and that is deliberately so.
Indeed, press the four-way control pad at the rear of the camera, or spin the scroll wheel that surrounds it, and it would appear at first that Creative Auto doesn't actually offer as much 'creativity' as one might expect for a camera in the region of £700.
However don't walk away just yet. Press the 'Q Set' button at the centre of this backplate pad and via the on-screen options you can choose the AF method – either face recognition/subject tracking, multi zone or single point AF – and select image quality and compression level. The latter ranges from Large compression level, full resolution JPEG through to Small 720x480 pixels JPEG, along with Raw and JPEG plus Raw capture options. You can also select the flash options, though these are limited to auto flash, forced fill-in flash, or off. There's additionally the ability to blur the background of a shot selectively using an incremental four stage on-screen slider to determine the degree of de-focusing.
Next up at the bottom of the same on-screen toolbar are the seven creative filters, which admittedly are fun and effective in smaller doses. Provided here are a grainy B&W option, the self-explanatory soft focus, the perspective warping fish eye effect, a vivid 'art bold' effect, a washed out 'water painting' effect that is rather insipid, a 'toy camera' Lomo-like vignetting effect, and the ubiquitous tilt and shift lens ape-ing miniature effect, which provides a narrow band within which the image is sharply focused. Users can shift this focus area selector up or down the screen, thereby biasing a particular portion of the shot.
It's only after playing with the camera for a little while that it becomes apparent that a finger tap of the 'CA' mode icon in the top left of the LCD screen reveals a hidden cornucopia of further shooting modes.
At first those revealed are rather uninspiring scene mode-type icons for portrait or landscape shots, close up images, sports, night portrait, handheld night scene, plus a backlight adjustment/HDR feature which takes three consecutive shots to even up otherwise tricky exposures. It's only when you come to the end of tabbing through these options with successive finger prods that the hands-on quartet of manual, aperture priority, shutter priority and program finally reveal themselves. Apart from the obvious, it's only in these modes that we appear to be able to manually adjust the likes of ISO, and again this is with a finger tap of an on-screen icon rather than the press of any 'hard' control. Here light sensitivity runs incrementally from ISO100 through to ISO12800, which isn't a bad range by any consumer camera standards.There's even a faster boosted setting of ISO 25600 buried deep within the menu system.
| | |
| --- | --- |
| | |
| Side | Side |
In the above modes we're also entrusted with an on-screen slider for adjusting exposure, the options running +/- 3EV. A press of the actual 'Q.Set' button on the backplate, or the small 'Q icon top right of screen in the above modes, and we're also presented with a range of 'Picture Style' settings familiar from Canon DSLRs, for in-camera adjustment of shots pre-capture.
The 'Picture Style' selection comprises Auto, Standard, Portrait, Landscape, Neutral, Faithful, Monochrome, plus three further user definable settings. Sharpness, contrast, saturation and colour tone can be individually adjusted for each. White balance and metering modes can further be manually selected if the user has chosen one of the P,A,S,M modes. Metering options comprise evaluative metering, partial metering, spot metering, and centre weighted average.
Flick the shooting mode dial around to the video option meanwhile and access to exposure compensation is provided here too, whilst likewise carried over to the moving image are manual white balance and Picture Style settings. As with Canon point and shoots, its maker has also provided a 'video snapshot' feature here that, when enabled, shoots four second bursts of video and no longer. As with any touch screen device, it's easy to accidentally adjust certain settings just in the process of handling the camera. Thus we found ourselves scratching our heads on one occasion as to why our video clip recordings were suddenly cutting out prematurely, until we twigged that 'video snapshot' had erroneously been turned on.
As one might expect, there are several video quality selections to choose from, running the gamut from the Full HD 1920x1080 pixels at a maximum 25 frames per second, stepping down to the industry standard 24fps as our next option, and then on to 1280x720 pixels at a cinematic 50fps as a further choice. The lowest resolution video option is a bog-standard 640x480 pixels, though again at 25fps.
It's worth obviously mentioning in all of this that a press of the top plate on/off button, which is recessed level with the bodywork, powers the camera up for action in around two seconds. Squeeze the shutter release button and there's a second or so whilst the EOS M focuses, image momentarily blurring as relayed to the LCD before finally snapping into focus. As other reviewers have remarked, this response could be quicker – and certainly it's no match for one of Canon's own DSLRs, despite the inclusion of the Digic 5 processor. Whether you're shooting a highest resolution JPEG or JPEG and Raw in combination, there's barely a noticeable difference in the time it takes to commit either to removable media – here an SD card of every description, sharing a compartment with the rechargeable lithium ion battery at the base.
With vacant hotshoe plus left and right stereo microphones and embedded mono speaker rounding off the top plate features, the rest of the controls on the backplate of the EOS M likewise look familiar – or will do so to anyone used to a digital snapshot camera of any description.
| | |
| --- | --- |
| | |
| Memory Card Slot | Battery Compartment |
A subtly curved thumb pad sits top right of the rear panel, whilst a small video record button rests to the right of it. The action of this is commendably stiff, so avoiding inadvertent recording when you're merely in the process of attempting to establish a firm hold of the EOS M.
Directly beneath the video record button are self-explanatory menu and playback buttons. 'Menu' calls up the sort of screen selection and near enough the exact same layout that, unsurprisingly, one would nowadays see on a consumer level DSLR such as the 550D, 600D or 650D, with a series of folders covering both basic camera operation and set up; a lot of the camera options obviously doubling up on the on-screen icons and options presented when in the various shooting modes, as we've previously described.
Sitting beneath Menu and playback buttons we have the multi-directional control dial and surrounding scroll wheel we've also already touched upon. Ranged around this are self-timer and continuous shooting options, plus exposure compensation and image deletion controls. At the very centre is of course that 'Q.Set' button for implementing the various changes applied throughout the course of handling the camera, and exploring the options offered within, again as previously described above.
The very bottom of the EOS M's backplate is where we find a button marked 'info' – which is basically the display button. A press of this either selectively removes on-screen icons, should you want a clearer, unimpeded view of your photographic quarry, and replaces them with a subsequent press.
With lugs for attaching a camera strap provided either side of the EOS M, on the left hand flank – if viewing the camera from the back as the user will be doing when engaged in operation – we find not only the expected separate AV/USB output and HDMI ports, but also one for supplementary microphone. The base of the camera meanwhile features a screw thread located directly behind the lens mount, for the attachment of a tripod, and, over to one edge we naturally get the compartment for media card and battery. Unlike an increasing number of compact system cameras, we do actually get a standalone mains charger with the EOS M, so the battery can be removed and charged independently of the body. Which means that if you do sensibly invest in a spare, the camera isn't tied up each time you need to re-charge.
Though it takes time to find where everything is on the EOS M, and the more point and shoot aspects of the camera seem to have been pushed to the fore at the expense of the more obvious 'enthusiast' attributes, both are present and correct.
The menu system blends point and shoot style accessibility with the more labyrinthine choices afforded to DSLR users, so perhaps it was never going to be a totally happy and quirk-free marriage. However, once you have familiarized yourself with this unusual blend, then the riches of the EOS M begin to reveal themselves. Can the same be said of the images and videos it delivers though? Things look good on paper thanks to that APS-C sensor, but how does it strut its stuff in practice? Click forward to our next section to find out…