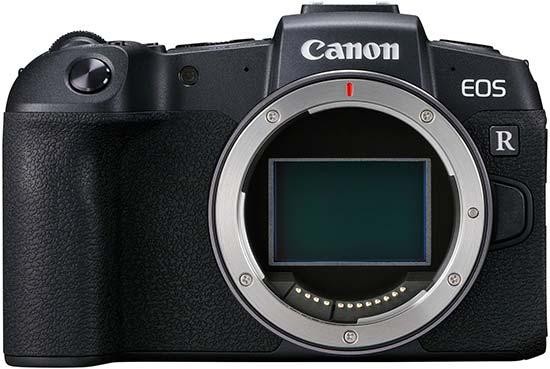 First Impressions
The Canon EOS RP is a new full-frame mirrorless camera, offering 26 megapixels and using the Canon RF lens mount.
We were shown a final version of the EOS RP by Canon ahead of today's launch. We weren't allowed to take any photos with the camera or of the presentation slides, but did get some hands-on time with the EOS RP.
So read on for our initial first impressions of the new Canon EOS RP full frame mirrorless camera...
Canon only recently launched the EOS R camera back in September 2018, but they obviously feel that they still have some room to grow their market share, hence their announcement of another new compact system camera, this time at a much more aggressive price point.
The lower-resolution, cheaper Canon EOS RP is taking on the likes of the Nikon Z6, Panasonic Lumix S1 and the Sony A7 III, but it significantly undercuts all of those cameras in terms of price - it will be very interesting to see how Canon's rivals respond.
Indeed, it's so cheap that smaller format cameras like the Fujfilm X-H1 and X-T3, Panasonic Lumix G9 and Olympus OM-D E-M1 II are also under threat price-wise from the EOS RP.
With regards to the new camera's name, the P in EOS RP stands for "popular" in Japan, signalling that it's intended as a camera for the masses, just like the 80D and 800D DSLR cameras that have gone before it.
Canon told us that the APS-C EOS-M series will definitely continue as a small, lightweight camera system. Canon feel strongly that it's really important to have a mix of products, both mirrorless and DSLR. There's no question that there's still a place for the DSLR, as there isn't just one camera type that suits everybody.
The EOS 5D Mark IV, EOS R, EOS 6D Mark II and the new EOS RP now constitute Canon's mainstream full-frame camera line-up.
Key Specifications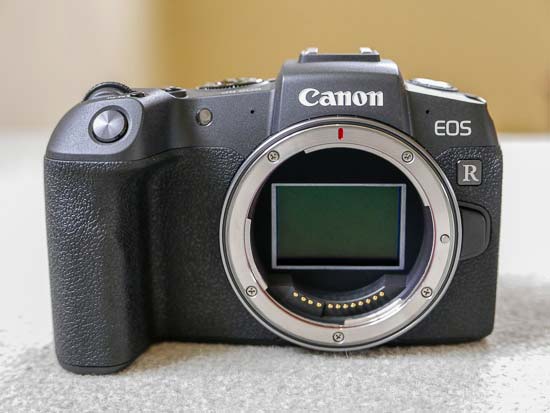 Here's a list of the key specifications for the EOS RP:
26.2 megapixels, low pass filter
DIGIC 8 processor
2.36-million-dot, 0.39-inch OLED electronic viewfinder
Vari-angle 3-inch touchscreen LCD with 1.04-million-dot resolution
ISO 50-102400
Dual Pixel CMOS AF, 4779 AF points
0.05 sec autofocusing down to -5EV
Eye AF in one-shot and continuous AF modes
4fps burst shooting with continuous AF/AE, 5fps fixed at the first frame
4K video at up to 25/24p, no Dual Pixel CMOS AF
1080p video at 60fps with Dual Pixel CMOS AF and full-sensor readout
Bluetooth and wi-fi connectivity
Single SD memory card slot
USB battery charging
250-shot battery life
Size: 132.5x85.0 x70.0 mm
Weight: 440g
Design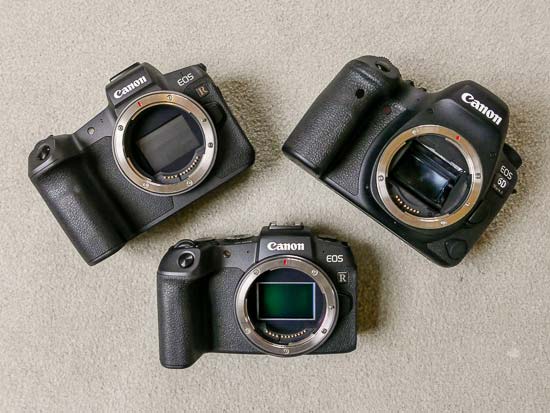 The size and weight, or lack of it, is one of the key attractions of the new EOS RP - it weights a mere 485g including the battery and memory card, 440g body only, and measures 132.5x85.0 x70.0mm, making it the smallest and lightest full-frame camera currently available on the market.
The Canon RP is smaller than the EOS 6D Mark II and very similarly sized to the EOS 800D DSLR camera, which is actually slightly heavier at 485g body only.
The chassis is made of magnesium alloy, and it offers the same level of weatherproofing as the EOS 80D.
Note that officially we were using a pre-production camera and the design may change before the final launch, although we wouldn't expect too many tweaks to the body at this late stage.
Megapixels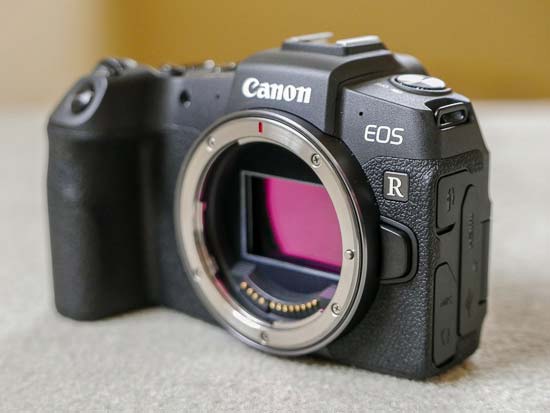 The EOS RP has 26.2 megapixels, making it the lower resolution model below the EOS R which has 30 megapixels. Canon describe the EOS RP's sensor as being "very, very similar to the 6D Mark II" DSLR, so expect to see similar image quality from the EOS RP.
ISO Speed
The EOS RP uses the latest DIGIC 8 processor, so its highest native ISO speed is 40,000, which can be expanded to ISO 102,400 if required.
Autofocusing
Canon continue to use Dual Pixel CMOS AF for auto-focusing on the EOS RP and EOS R mirrorless cameras, inherited from their DSLR range.
The EOS RP's AF system is capable of reacting in just 0.05 seconds, which Canon claim make it the quickest full-frame mirrorless camera in the world, and there are a whopping 4,779 AF points to choose from.
Autofocus also works in low light all the way down to -5 EV, comparable to the Canon EOS R, although note that this is measured using the rather expensive RF 50mm F1.2 lens.
Unlike the EOS R, which offers full frame coverage, the cheaper EOS RP only offers 88% horizontal and 100% vertical coverage.
The EOS RP also boasts a couple of features that the more expensive EOS R doesn't offer, namely Eye AF which works in both the One-shot and Servo AF modes (on the EOS R it only works in One-shot AF mode) and a new Single-Point Spot AF mode. We're unsure at this point if and when these new features will make it onto the EOS R via a firmware update.
Image Stabilisation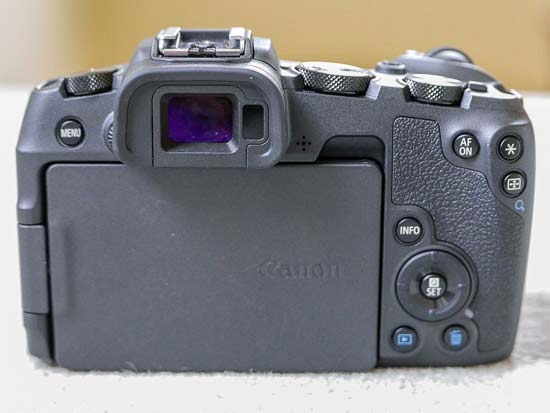 Sadly, there stil isn't any image stabilisation built-in to the camera body. There is a new Dual Sensing IS system that reduces camera shake for handheld photography, and also the Movie Digital IS mode provides 5-axis movie stabilisation to counteract shake during video recording, but that's it, so as with the EOS R, image stabilisation is only available if the lens supports it.
Electronic Viewfinder
The Canon EOS RP uses exactly the same viewfinder as the EOS M50 APS-C camera, a 0.39-inch OLED unit with 2.36-million-dots.
LCD Screen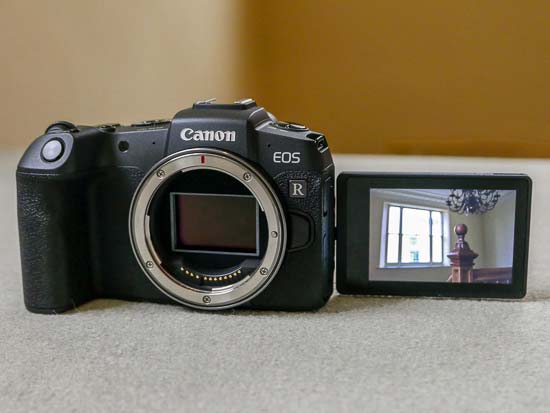 There's a 3-inch vari-angle touchscreen display on the rear with 1.04-million-dot resolution, which can be flipped 170° both vertically and horizontally, making it ideal for vlogging or shooting from more unusual angles.
Burst Shooting
In terms of burst shooting, the EOS RP can shoot at 5fps with focus locked at the first frame, or 4fps with continuous focusing, a respectable but hardly earth-shattering rate.
The number of recordable images in a single burst is 50 14-bit RAW images or an unlimited number of JPEGs (until the memory card is full).
4K Video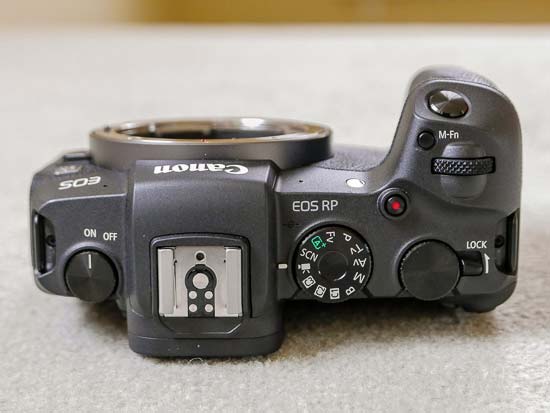 The EOS RP can shoot 4K video at up to 25/24p in 8-bit, but there's no Dual Pixel CMOS AF and it's also cropped, both very much like the EOS R and EOS M50 cameras were.
In 1080p mode the camera can shoot at up to 60fps with Dual Pixel CMOS AF and full-sensor readout.
Focus Bracketing
The EOS RP is the first ever Canon camera to offer focus bracketing. You can take up to 199 shots in total and then blend them together in the Digital Photo Professional software.
Memory Card Slot
The new camera features a single UHS-II memory card slot, just like the more expensive EOS R model.
Battery Life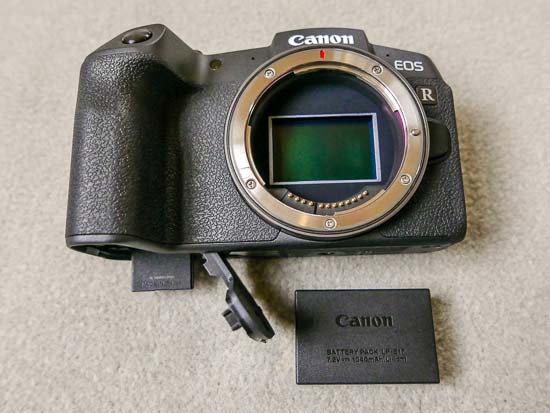 The EOS RP uses the same LP-E17 battery as the EOS 800D and M50 cameras, providing a CIPA rated life of 250 shots. You can also recharge the camera via its USB port, as well as using the supplied charger.
Connectivity
The Canon EOS RP offers two different connectivity options:
Bluetooth
Create a constant, low-power connection between the EOS RP and a smartphone/tablet to transfer images and video using the Canon Connect smartphone app

Wi-fi
Remotely control the EOS RP via a 2.4Ghz wi-fi connection using a smartphone or tablet and the Canon app, and transfer images and video
Extension Grip EG-E1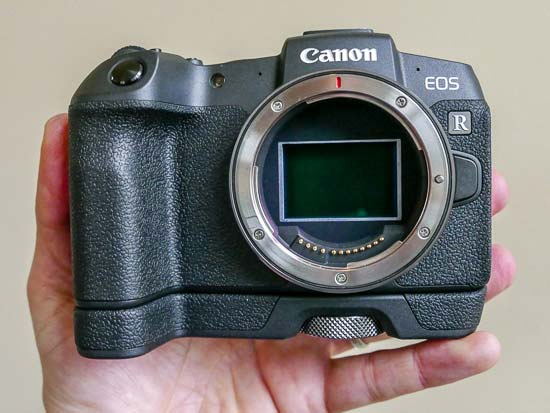 The EG-E1 is a nicely designed handgrip extension for the EOS RP, which makes this diminutive camera better suited to those people with larger hands.

New RF Lenses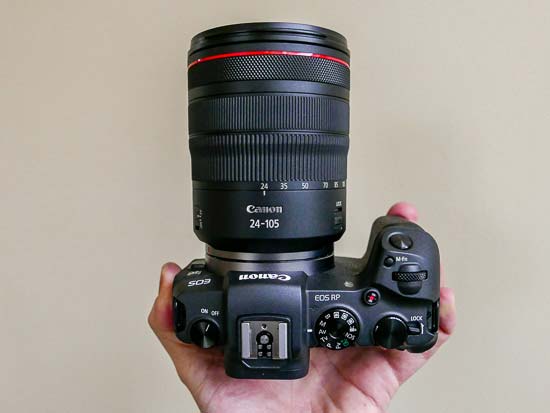 In addition to the four RF lenses that were launched in 2018, Canon have announced that six more RF lenses will be introduced by the end of 2019. They are:
15-35mm F2.8
24-70mm F2.8
70-200mm F2.8
24-240mm F4-6.3
85mm F1.2
85mm F1.2 DS - extra bokeh blur
UK Pricing
EOS RP body with EF lens adapter - £1399
EOS RP with EF 24-105mm STM lens - £1599
EOS RP with RF 35mm lens - £1799
EOS RP with EF 24-70mm F4 lens - £1999
EOS RP with RF 24-105mm lens - £2329
US Pricing
EOS RP body with EF lens adapter - $1299
Initial Conclusion
Canon have certainly put the cat amongst the pigeons with the pricing of the new EOS RP camera, significantly undercutting the likes of the Sony A7 III, Nikon Z6 and Panasonic Lumix S1. Sure, it can't match those cameras in terms of out-and-out specs, particularly on the video side, but Canon's name and that aggressive price tag should ensure that the RP sells in large numbers, bringing full-frame mirrorless to an even wider audience in the process...
So what do you think? Leave a comment on the new Canon EOS RP full-frame mirrorless camera below...