Canon IXUS 1100 HS Review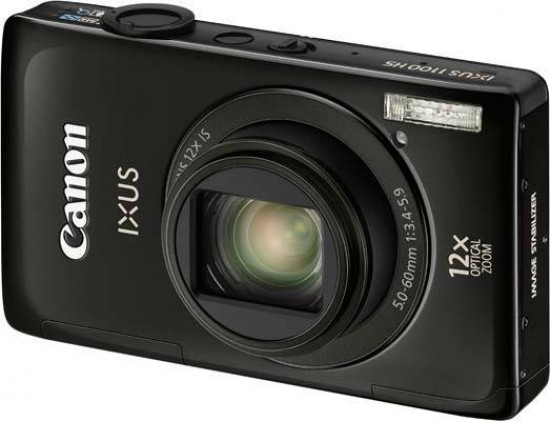 Conclusion
We were excited to receive the Canon IXUS 1100 HS digital compact camera as the specification looks impressive, and actually holding the camera in front of us we were inclined to agree. It meets all your expectations in terms of looks, start-up times, features and technology. The 12x optical zoom will benefit everyone using the camera along with the wide-angle 28mm setting. The Canon IXUS 1100 HS is full of new gizmos to entice the tech-savvy while the intuitive user interfacI will please people who are less technologically minded.

The Canon IXUS 1100 HS's design is blocky, yet futuristic and typically IXUS in its execution. If we were to improve anything, we'd either upgrade the zoom rocker to metal or remove it altogether. The massive screen on the back looks like a cinema screen it's that wide, but surprisingly, it's not the widest on the market.

We love the marriage of the new back-illuminated sensor and DIGIC IV processor. They work perfectly together and this is no more obvious than in the noise results. To say the ISO pictures are impressive is an understatement.

In fact, we're finding it tough to find fault with the 1100 HS. If we had to be picky, the touchscreen can't rival the tactile experience offered by many smart phones. If mobile phones can have a harmonious sensitivity without being too sensitive, then so can digital cameras. With an iPhone, we have to gently touch the screen to launch an app. With the IXUS 1100 HS we have to repeatedly stab the menu to try and get it to respond. Ok, so it's maybe not quite THAT bad – we've seen worse - but compared to a phone it needs some improvement. It's a personal preference but we prefer the 3:2 aspect ratio over 4:3 but this drops the resolution and it annoys us. On the other hand as we mentioned before, it's only 1 megapixel and shouldn't adversely affect the pictures.

The Canon IXUS 1100 HS is heavily priced to reflect the amount of quality that's been poured into it. At around £350 it could be out of reach for most people, being around £100 more than an average camera of reasonable build and performance. £350 is actually skirting around entry-level DSLR territory. Of course this begs the question: is it worth the extra?

It could very well be. Check out the noise results then go to a shop and try the touch-screen to see if you could manage with it. We think we could probably get used to it after a while which makes the Canon IXUS 1100 HS a cracking camera.
Ratings (out of 5)
Design
4.5
Features
4.5
Ease-of-use
4
Image quality
4.5
Value for money
4