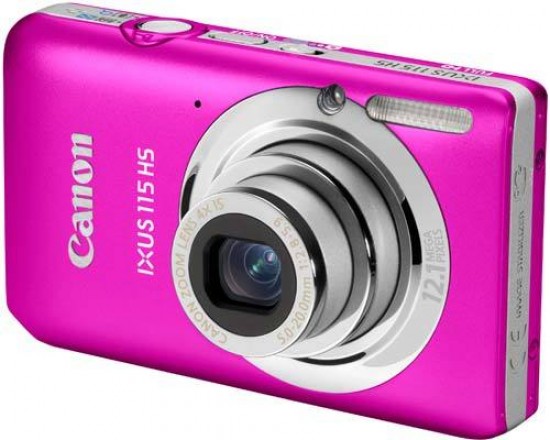 Image Quality
All of the sample images in this Review were taken using the 10 megapixel Fine JPEG setting, which gives an average image size of around 2.5Mb.
For general snapshot photography this little IXUS is a great tool, slotting unobtrusively about your person to be ready and able to perform when confronted with everyday point and shoot opportunities. In comparison with the IXUS 220 HS that offers a maximum wide-angle 24mm equivalent setting, we didn't notice as pronounced softening at the edges of the frame at the IXUS 115 HS' less ambitious 28mm equivalent wide setting. Nor did we notice corner shading when using the flash, nor particularly pronounced barrel distortion - which is all good news. However, familiar bugbears such as pixel fringing between areas of high contrast do inevitably remain. But, if this is one of the few criticisms we can level at the IXUS 115 HS it isn't doing too badly at all.
We were lucky enough to be shooting with the camera outdoors during some early spring sunshine. Colours were largely naturalistic from the camera's default settings, and when we felt the need to dip into the camera's My Colors shooting mode and select the vivid option when shooting landscape and spring flowers, this rewarded us with added punch rather than straying into the realm of the overly-saturated and warm. The bottom line is that here is a camera capable of delivering very usable results that don't require much in the way of post processing - save perhaps for the occasional boost to contrast - and without much forethought or scrutiny of the manual required (quick start guide in the box, full details on CD). Results from Smart Auto mode are commendably consistent.
Results from shooting in low light are probably the most impressive aspect of the IXUS 115 HS when it comes to picture quality however, and performance is pretty much like for like in that respect with the IXUS 220 HS and 310 HS.
At manually selectable ISO100 and ISO200 settings we're not seeing any noise at all. At ISO400 the image is marginally softer if we're looking particularly closely, but there's also no noise to report. Our test shot is also clean at ISO800 if we're losing a bit of edge detail on really close scrutiny. Some slight softening again at ISO1600, only really noticeable because the image is otherwise so clean of noise - unusually at this setting and particularly from a budget point and shoot camera.
It's only really at the top whack setting of ISO3200 that the image becomes both grittier and softer and at the same time with it. That said, we'd still use this top setting if pushed. On the whole and given its expected limitations, we're very pleased with the IXUS 115 HS's performance.
Noise
There are 6 ISO settings available on the Canon IXUS 115 HS. Here are some 100% crops which show the noise levels for each ISO setting.
| | |
| --- | --- |
| ISO 100 (100% Crop) | ISO 200 (100% Crop) |
| | |
|   |   |
| ISO 400 (100% Crop) | ISO 800 (100% Crop) |
| | |
|   |   |
| ISO 1600 (100% Crop) | ISO 3200 (100% Crop) |
| | |
Focal Range
The Canon IXUS 115 HS's 4x zoom lens provides a focal length of 28-112mm in 35mm terms, as demonstrated below.
| | |
| --- | --- |
| 28mm | 112mm |
| | |
Sharpening
Here are two 100% crops which have been Saved as Web - Quality 50 in Photoshop. The right-hand image has had some sharpening applied in Photoshop. The out-of-the camera images are a little soft at the default sharpening setting and benefit from some further sharpening in a program like Adobe Photoshop. You can also change the in-camera sharpening level to suit your tastes via the My Colors menu option.
| | |
| --- | --- |
| Original (100% Crop) | Sharpened (100% Crop) |
| | |
|   |   |
| | |
Chromatic Aberrations
The Canon IXUS 115 HS handled chromatic aberrations well during the review, with limited purple fringing present around the edges of objects in certain high-contrast situations, as shown in the example below.
Example 1 (100% Crop)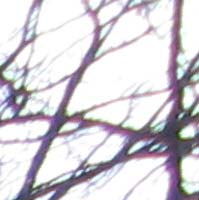 Macro
The Canon IXUS 115 HS offers a Macro setting that allows you to focus on a subject that is 3cms away from the camera when the lens is set to wide-angle. The first image shows how close you can get to the subject (in this case a compact flash card). The second image is a 100% crop.
| | |
| --- | --- |
| Macro Shot | 100% Crop |
| | |
Flash
The flash settings on the Canon IXUS 115 HS are Auto, Flash On, Slow Synchro, and Flash Off, with Red-eye Correction and Red-Eye Lamp settings available via the Flash Settings main menu option. These shots of a white coloured wall were taken at a distance of 1.5m.
| | |
| --- | --- |
| Flash Off - Wide Angle (28mm) | Flash On - Wide Angle (28mm) |
| | |
|   |   |
| Flash Off - Telephoto (112mm) | Flash On - Telephoto (112mm) |
| | |
And here are some portrait shots. Neither the Flash On or the Red-eye Correction settings caused any amount of red-eye.
| | |
| --- | --- |
| Flash On | Flash On (100% Crop) |
| | |
|   |   |
| Red-eye Correction | Red-eye Correction (100% Crop) |
| | |
Night
The Canon IXUS 115 HS's maximum shutter speed is 15 seconds in the Long Shutter mode, which is good news if you're seriously interested in night photography. The shot below was taken using a shutter speed of 1/8th second at ISO 800. I've included a 100% crop of the image to show what the quality is like. The camera takes the same amount of time again to apply noise reduction, so for example at the 5 second setting the actual exposure takes 10 seconds.
| | |
| --- | --- |
| Night Shot | Night Shot (100% Crop) |
| | |